Tea Party Politics At The State Level: Less Libertarian, More Authoritarian
If you look at the Tea Party's impact on state politics, you see it really isn't much different from the Religious Right.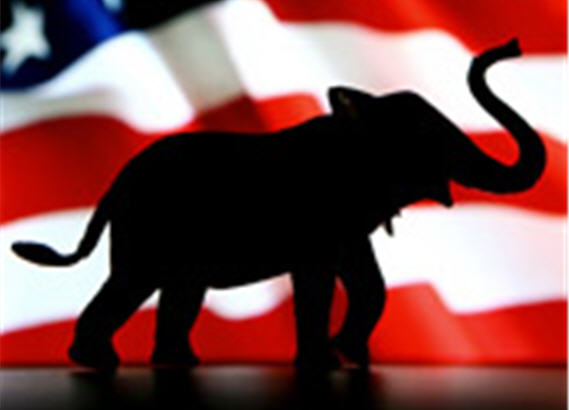 The standard talking point about the Tea Party movement at it is principally, if not exclusively, concerned with fiscal issues like the national debt and the growth of government. When you look at it at the state level, though, you get a very different picture:
After the tea party helped stake Texas Republicans to huge majorities in the state Legislature last fall, the Republicans had a curious response. They did not immediately take on the state's $27 billion deficit; instead they considered a series of bills straight from the religious right's playbook – antiabortion legislation foremost among them.

Even now, as the Legislature tackles the budget deficit, social issues are near the surface. A member of the tea party caucus proposed a budget amendment that calls for funding "family and traditional values centers" at some universities.

In November, the tea party swept candidates into Congress and statehouses on promises of setting America's financial house in order. But today, the tea party's track record suggests that a great reckoning is under way.

(…)

In Oklahoma and South Dakota, tea party lawmakers have proposed strict antiabortion bills. Montana has challenged gay rights, and Indiana recently passed a bill that would outlaw same-sex unions. At the national level, congressional Republicans fought to the 11th hour on April 8 to cut federal funding for abortion provider Planned Parenthood and to ban foreign aid to countries that would use funding for family planning services.

In Texas, the first few weeks of the legislative session this year were spent passing measures like a controversial bill requiring women to have a sonogram before undergoing an abortion. The bill's author, Republican Sen. Dan Patrick, chairs the Legislature's tea party caucus.

"Social issues are coming up because they're easier to pass," says Sean Theriault, a political scientist at the University of Texas at Austin. "And there are huge [Republican] margins in the Texas House, so if there was ever a time to pass this kind of legislation, it's now."

Clearly, the tea party's small-government mantra resonates with conservatives – including those who do not share libertarian views on social issues. A recent study by the Pew Forum on Religion and Public Life showed more than 40 percent of tea party supporters identify as Christian conservative, and nearly 60 percent said abortion should be illegal.

But in Texas, the tea party is indistinguishable from the religious right, in many respects. During last November's race for speaker of the state House, tea party groups targeted incumbent Speaker Joe Straus, a Jewish Republican, saying they wanted to replace him with what one legislator called a "true Christian" leader.

This focus on social issues is alienating the tea party's libertarian supporters, some of whom predicted the religious right would try to co-opt the movement. "I want to build on our success, not ruin the coalition by bringing 'God's will' into it," Maine Tea Party Patriots' coordinator Andrew Ian Dodge, a leading libertarian voice, told Newsweek last year.

It is a concern for the tea party. According to a recent Monitor/TIPP poll, 26 percent of respondents said their opinions of the tea party had worsened since November. Some 11 percent said their opinions had improved, and 57 percent reported no change.
It's not just abortion, of course, the upsurge in GOP control of state legislatures has led to a record number of bills attempting to mandate the teaching of so-called creation science in classrooms, or restrict the teaching of evolution. And then, there are the birther bills which are the product of a far-right conspiratorial mindset that seems to have been all-too prevalent in the Tea Party movement. At the national level, the House GOP nearly shut the government down over $300,000,000 in funding to organizations like Planned Parenthood. All of this is evidence of a movement that is less about fiscal conservatism than it is about the same social conservatism that has been part of the GOP base for decades.
None of this should be too surprising, after all, in many of the states mentioned the GOP base is incredibly socially conservative. Nonetheless, one has to wonder how long the Tea Party is going to maintain the illusion that it's independent of the GOP when it's pretty clear from evidence like this that it isn't.
Back in December, Reason's Nick Gillespie wondered why it is that the Republican Party can't talk about economic freedom without also taking up the banner of those who would restrict personal freedom in other ways:
Why oh why does it seem that everyone who wants to save a nickel in federal spending has to also have a fixation on gay- and single-woman sex when she is not calling for drug testing for losing your job in the worst recession in years? Is there a necessary connection between wanting to cut Washington spending and hating on the gays (even or especially when your argument is that the federal government shouldn't be concerned with the places said gays may be working)?

What the hell is wrong with this country – and the Republican Party – that it can't generate more pols like Gary Johnson, who is actually libertarian as opposed to playing one on TV? Is it that hard, or that off-putting to simply admit that getting the government out of the boardroom and the bedroom (and the classroom!) is part of the same process?

I should note that I can't legally vote for any of the folks above anyway, even if I wanted to. And I'm well aware that senators and even governors have limited abilities to intrude on anybody's personal life. But the sorts of statements above make it hard to convince anybody who doesn't agree with you already that small-government rhetoric is not a stalking horse for a repressive, retrograde regime that will start clamping down on anything that bothers that folks who happen to be in power. That's a real problem in building a true limited-government coalition because I know plenty of liberals (including gays and lesbians and single women!) who would be basically ready to sign onto a libertarian anti-government agenda if they didn't feel deep down that it's simply a way for the state to control their lifestyles.
As Gillespie points out, even Rand Paul, the son of the GOP's most well-known libertarian, couldn't resist taking up the social conservative banner recently when he suggested, incorrectly, that it was a Federal Department of Education that put books like Heather Has Two Mommies, while at the same time saying that his position on the Department of Education is the same as Ronald Reagan's, even though Reagan campaigned in 1980 on eliminating that department (something he never actually did, of course).
Even on fiscal issues, of course, Republicans don't exactly have a record to be proud of either. During the eight years of the Bush Administration discretionary spending increased at a faster pace than Lyndon Johnson, a Republican President and Congress  proposed programs that are usually associated with "big spending Democrats", Republicans in Congress sat back and participated in a massive expansion of spending and debt, supported the TARP bailout, and gave billions in taxpayer dollars to the auto companies.
Only a fool would believe, without actual evidence, that the GOP has suddenly seen the error of its ways, or that the Tea Party has really changed the GOP in a significant way.
This is one of the reasons I can't be as optimistic about the Tea Party movement as others. While it's nice to see people getting excited about an idea as abstract as limited government, I have serious questions about just how committed many of its adherents are to limited government at all levels. So far, their performance hasn't been very impressive.