Ted Cruz For President?
Is someone who's only be a Senator for just over 100 days a serious contender for the Republican nomination in 2016?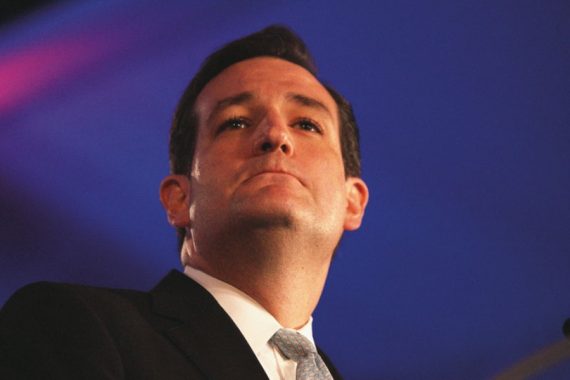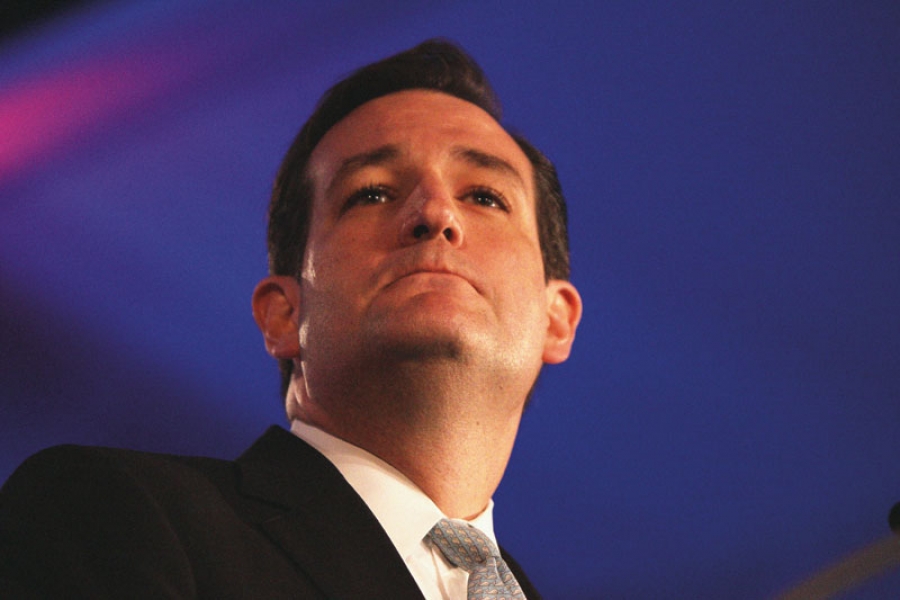 National Review's Robert Costa is reporting that Texas Senator Ted Cruz, who has been in office just over 100 days, is considering a run for President in 2016 according to his close his friends:
Freshman senator Ted Cruz is considering a presidential run, according to his friends and confidants.

Cruz won't talk about it publicly, and even privately he's cagey about revealing too much of his tho ught process or intentions. But his interest is undeniable.

"If you don't think this is real, then you're not paying attention," says a Republican insider. "Cruz already has grassroots on his side, and in this climate, that's all he may need."

"There's not a lot of hesitation there," adds a Cruz donor who has known the Texan for decades. "He's fearless."

For the moment, Cruz's inner circle is small: mostly aides from his Senate campaign; his father, Rafael; and his wife, Heidi. They didn't plan on having these presidential conversations so early in his first term. Yet Cruz's rapid ascent and a flurry of entreaties from conservative leaders have stoked their interest — and Cruz's.

"Ted won't be opening an Iowa office anytime soon, but he's listening," says a longtime Cruz associate. "This is all in the early stages; nothing is official. It's just building on its own."

Behind the scenes, there is a palpable fear on the right that the GOP will nominate a moderate Republican in 2016. There's also growing unease with the field of likely contenders.

Enter Cruz. His supporters argue that he'd be a Barry Goldwater type — a nominee who would rattle the Republican establishment and reconnect the party with its base — but with better electoral results.
Well, to be accurate, it's kind of hard to have worse electoral results than Barry Goldwater did in 1964 with a loss that ranks right up there with Alf Landon, George McGovern, and Walter Mondale as one of the worse Presidential election defeats in American history. Doing better than Goldwater did probably wouldn't be too hard for a Republican in today's political climate simply because there are a larger number of solid red states that Cruz would likely win. That doesn't mean he'd be able to win the election, though. NBC's First Read reviews some of the obstacles that Cruz might face in a run for the White House:
While Cruz has charmed figures ranging from conservative bloggers to former Alaska Gov. Sarah Palin, he could encounter a Republican primary field that would hardly cede the most conservative bloc within the GOP to Cruz.

It's easy to conceive of a series of Republican presidential hopefuls – Florida Sen. Marco Rubio, Kentucky Sen. Rand Paul, Wisconsin Gov. Scott Walker (and possibly more) – vying for the same segment of the Republican primary vote as Cruz. Any one of those candidates will almost encounter difficulty in harnessing the political power of the Tea Party, a movement that has never been particularly well-known for acting in concert.
In addition to his fellow conservatives, Cruz would face opposition from the party establishment:
In 2012, the GOP establishment quickly rallied around Romney, if only after it became apparent that there would be no other serious contenders for the presidency available. And when it seemed as though the more conservative Rick Santorum might emerge to dethrone Romney during the primaries, there were serious rumblings that GOP money men might scramble to find an alternative candidate who they regarded as more formidable versus President Barack Obama in the general election.

Given Cruz's conservatism, it isn't tough to imagine the GOP establishment rallying around a candidate perceived as more electable to if a Cruz candidacy  came too close to victory.

It doesn't help Cruz that he's forged few alliances during his short time in the nation's capital. He most recently derided many of his congressional colleagues as "squishes," and spoke publicly about internal Republican debates that were supposed to remain confidential. Cruz has worked with a few fellow conservatives, but two of them – Paul and Rubio – could end up being rival candidates for the GOP nomination in 2016.
Commentary's Seth Mandel points out another potential problem:
[T]here are two aspects to a Cruz candidacy the party might consider. First, it isn't necessarily a good thing for the party for its leading agenda-setters in Congress to also be its leading presidential candidates. The skills needed to advance a successful legislative agenda in Congress often clash with the considerations that go into a presidential candidacy. This isn't to single out Cruz specifically. But if the party's principal House and Senate figures are all considering a run for the presidency, that will shape the legislation they put forward and the bills they choose to support or oppose. In one sense, that's productive: the instant-accountability to GOP voters means they know they'll answer for their vote. In another sense, it's counterproductive: the state or district that elected each lawmaker is not the same he'll face in a GOP primary, which may mean he'll sacrifice his constituents' interests on the altar of national ambitions.

Second, as Christian Heinze points out, Cruz could absorb enough of the conservative vote to clear a path for a candidate seen as more moderate. That may be good for the party's general-election fortunes-Heinze mentions Chris Christie as a possible beneficiary of this, and Christie is almost surely a more electable general-election candidate-but it might not be what primary voters had in mind.
Mandel makes good points here, but it strikes me that the more likely outcome would be something akin to what happened in the GOP races in 2008 and 2012 when there were a number of "conservative" candidates that essentially divided the primary vote and cleared a path for the centrist candidate. In 2008, it was Romney and Huckabee dividing the loyalties of conservatives and clearing a path for John McCain. In 2012, it was Santorum and Gingrich doing the same thing and clearing a path for Mitt Romney. Of course, it was a bit more complicated than that during both elections. Both McCain and Romney had the backing of the party establishment and the big money Republican donors during their successful races to the nomination, and that gave them a huge advantage over their more conservative opponents even with the help of grassroots enthusiasm and, in 2012, SuperPAC money. In 2016, there could be as many as four conservative stalwarts in the Republican field, Marco Rubio, Rand Paul, Scott Walker, and Bobby Jindal. Add Cruz into that mix and you have five potentially strong conservative candidates that could divide the conservative vote. Even if all five of them didn't make it all the way through the primaries, their presence in the race would at least divide loyalties among activists and donors to such an extent that a more moderate candidate like Christie or Jeb Bush, either one of which would likely have the strong backing of the GOP's business community, would be at a distinct advantage.
On some level, it seems kind of silly to be talking about the Presidential prospects of someone who hasn't even been a Senator for a full year yet and who just a year ago was the underdog in the race for the Republican nomination for the Senate seat that he now holds. So far, other than riling up the conservative base, he really hasn't done anything to distinguish himself. Indeed, the one thing he's probably best known for so far is his rather distasteful McCarthy-like questioning of Defense Secretary Chuck Hagel during his confirmation hearings. He's also gotten a reputation among his fellow Senators of being kind of a jerk. Perhaps that's all it takes to be taken seriously as a Presidential contender on the right these days, or perhaps this is just one of those early fascinations that the right will have with a candidate who ends up being a flash in the pan. We'll have to wait and see. On paper, though, it's kind of hard to see Cruz's candidacy as being a viable one. But, then, stranger things have happened.