The 25th Amendment Fantasy
The zombie idea for ousting an erratic and dangerous President.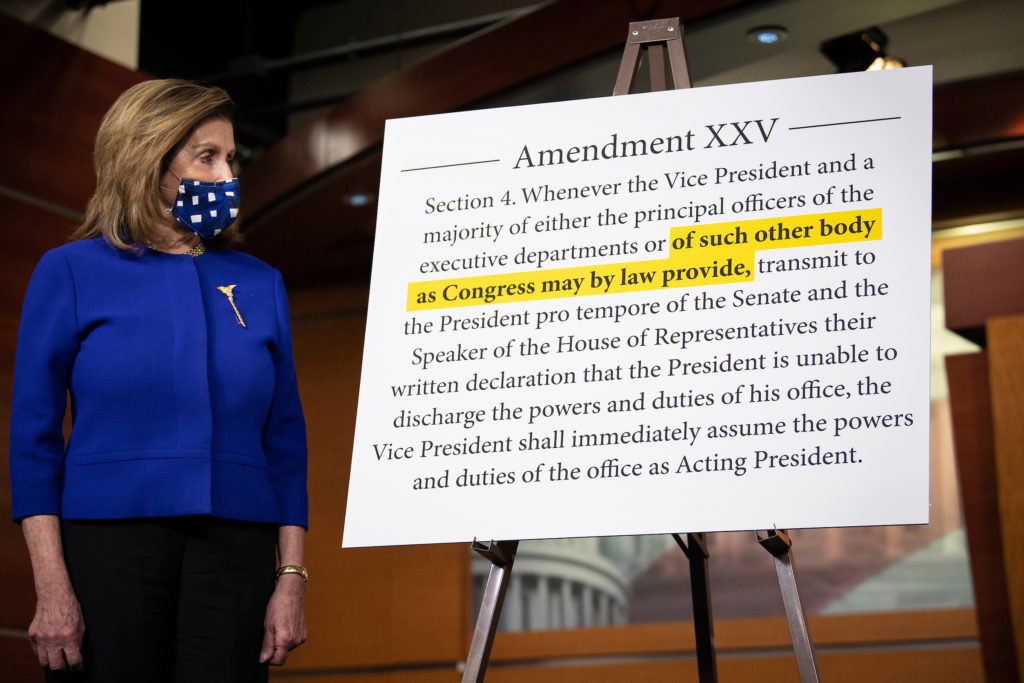 Given that he has demonstrated mental instability since the earliest days of his administration, calls for invoking the 25th Amendment to oust President Trump have been with us for nearly four years. I joined those calls last May. Speaker of the House Nancy Pelosi called for setting up a special commission a month before the election.
With pardons flying and rumors of coup plotting taking place inside the White House, Paul Campos argues that Vice President Mike "Pence Should Remove Trump From Office on Sunday."
Members of the administration reportedly discussed the possibility of invoking the amendment in the early days of Trump's presidency, but that possibility has been dismissed as purely theoretical, especially given one obvious problem: To do so, two-thirds of each house of Congress would have to vote to allow the vice-president to continue in the position of acting president. But as we reach the final days of the Trump presidency, this obstacle is about to be removed. The mechanics of the amendment allow the vice-president to remain in the position of acting president for a minimum of 25 days, as long as a simple majority of at least one chamber of Congress is willing to cooperate.

It may seem extremely unlikely that Mike Pence, who up to this point has been one of Trump's most craven enablers, would even consider taking advantage of this constitutional power. But it's always possible that, between now and January 20 when Trump's term expires, the situation may become so extreme that he and eight other Cabinet members may find the modicum of personal courage and moral decency necessary to do the right thing.

Trump would put up a fight, but it wouldn't matter this late in his presidency. Once Pence has transmitted the letter to Congress that makes him acting president, Trump may contest the vice-president's actions via a letter of his own. Section Four, however, would give Pence four days to respond to this letter. After Pence did so, the Democrat-controlled House of Representatives could — by simple majority vote — decline to act on the substantive dispute for the remaining 21 days. (Meanwhile, Democrats could filibuster any action in the Senate.) Were it not the end of his term, Trump would return to office after 21 days if Congress failed to act.

This, in effect, means that Pence could become acting president on Sunday, December 27, and would remain in the position for the rest of the current administration's term in office, as long as House Democrats acceded to the new status quo. For the good of the nation, he should do so this weekend.
Aside from being pure fantasy, this is a bad idea all around. Joe Biden will be the 46th President come noon January 20, notwithstanding Trump's ravings and plotting. Given the political climate that he has created, Pence's move to oust Trump would be seen as a coup, simply adding fuel to the fire that the whole system is rigged against Trump and his supporters.
Yes, it would be perfectly legal. It's almost certainly justified. But, at this late stage, it would do more harm than good even if Pence and company somehow developed spines.