The Democratic Party Joins The GOP In Abandoning Civil Liberties
Based on its recently passed platform, the Democratic Party has given up any pretense of putting civil liberties ahead of "national security."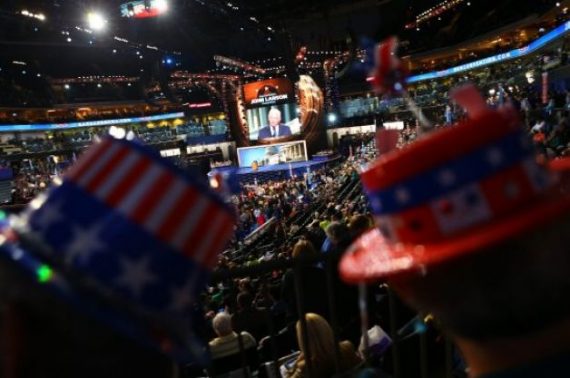 In this Cato Institute Daily Podcast, Julian Sanchez discusses the extent to which the modern Democratic Party has largely abandoned the idea of protecting civil liberties:
On the same point, Adam Serwer points out the extent to which Democrats have abandoned civil liberties in a wide variety of areas:
Warrantless Surveillance/PATRIOT Act

2008: "We support constitutional protections and judicial oversight on any surveillance program involving Americans. We will review the current Administration's warrantless wiretapping program. We reject illegal wiretapping of American citizens, wherever they live. We reject the use of national security letters to spy on citizens who are not suspected of a crime. We reject the tracking of citizens who do nothing more than protest a misguided war…We will revisit the Patriot Act and overturn unconstitutional executive decisions issued during the past eight years."

2012: The platform is silent on this issue. This isn't surprising since, at the urging of the Obama administration, congressional Democrats passed up the opportunity to reform the PATRIOT Act when they had a majority in both houses of Congress.

(…)

Racial Profiling in Fighting Terrorism

2008: "[W]e will ensure that law-abiding Americans of any origin, including Arab-Americans and Muslim-Americans, do not become the scapegoats of national security fears."

2012: Nothing. The Obama administration has in fact retained the FBI's Bush-era guidelinesallowing race or religion to play some role in investigations.

Torture

2008: "We reject torture."

2012: "Advancing our interests may involve new actions and policies to confront threats like terrorism, but the President and the Democratic Party believe these practices must always be in line with our Constitution, preserve our people's privacy and civil liberties, and withstand the checks and balances that have served us so well. That is why the President banned torture without exception in his first week in office." Despite Obama's executive order banning torture, Americans who allege they have been detained abroad by foreign governments at the United States' request say they have been abused while in custody. It does not appear as though anyone will face charges over the Bush administration's torture program, including those who went beyond its legal guidelines.
What a difference when the guy in charge is from your own party, eh?
To all of this, of course, we could add the extent to which President Obama has not only continued the Bush Administration's policies with regard to the War On Terror, but he has expanded upon them significantly. At the top of the list, of course, is the President's decision to assassinate an American citizen without any due process and, indeed, while blocking any efforts by family members of that individual to require the Administration to present evidence in Court justifying a death sentence without trial. The President has also expanded the Bush Administration practice of using the Constitutionally suspect "states secrets" document to prevent any judicial review of its actions in areas such as warrantless wiretapping. As Serwer noted, he failed to make any effort to amend the PATRIOT Act tone down it's more unfortunate provisions. Finally, just last week, the President's Justice Department declined to prosecute two CIA agents involved in the torture of terror suspects:
Attorney General announced Thursday that no one would be prosecuted for the deaths of a prisoner in Afghanistan in 2002 and another in Iraq in 2003, eliminating the last possibility that any criminal charges will be brought as a result of the brutal interrogations carried out by the Central Intelligence Agency.

Mr. Holder had already ruled out any charges related to the use of waterboarding and other methods that most human rights experts consider to be torture. His announcement closes a contentious three-year investigation by the Justice Department and brings to an end years of dispute over whether line intelligence or military personnel or their superiors would be held accountable for the abuse of prisoners in the aftermath of the terrorist attacks of Sept. 11, 2001.

The closing of the two cases means that the Obama administration's limited effort to scrutinize the counterterrorism programs carried out under President George W. Bush has come to an end. Without elaborating, Mr. Holder suggested that the end of the criminal investigation should not be seen as a moral exoneration of those involved in the prisoners' treatment and deaths.

"Based on the fully developed factual record concerning the two deaths, the department has declined prosecution because the admissible evidence would not be sufficient to obtain and sustain a conviction beyond a reasonable doubt," his statement said. It said the investigation "was not intended to, and does not resolve, broader questions regarding the propriety of the examined conduct."

The Justice Department did not say publicly which cases had been under investigation. But officials had previously confirmed the identities of the prisoners: Gul Rahman, suspected of being a militant, who died in 2002 after being shackled to a concrete wall in near-freezing temperatures at a secret C.I.A. prison in Afghanistan known as the Salt Pit; and Manadel al-Jamadi, who died in C.I.A. custody in 2003 at Abu Ghraib prison in Iraq, where his corpse was photographed packed in ice and wrapped in plastic.

Mr. Holder's announcement might remove a possible target for Republicans during the presidential campaign. But the decision will disappoint liberals who supported President Obama when he ran in 2008 and denounced what he called torture and abuse of prisoners under his predecessor.

"It is hugely disappointing that with ample evidence of torture, and documented cases of some people actually being tortured to death, that the Justice Department has not been able to mount a successful prosecution and hold people responsible for these crimes," said Elisa Massimino, president of Human Rights First. "The American people need to know what was done in their name."
As The New York Times pointed out in the wake of the decision, this is incredibly disappointing:
The public deserves a more detailed explanation of why charges could not be brought. In these egregious cases, it appears as though the C.I.A. interrogators tortured prisoners to death, going beyond even the harsh techniques authorized by the infamous torture memos cooked up by Justice Department lawyers to try to justify the unjustifiable. Not pursuing criminal charges may remove an avenue of attack against the Obama administration by Republicans, who continue to defend the use of torture. But absent a more persuasive explanation, the implications for the rule of law are deeply troubling.

In June 2011, Mr. Holder said that about 100 cases of detainee treatment had been reviewed and none warranted further investigation. The decision not to bring charges on these last two cases puts into sharp and shameful focus the Obama administration's overall record of trying to avoid legal scrutiny of Bush-era abuses.

Not only have those responsible escaped criminal liability, but the administration has succeeded in denying victims of the harsh methods any day in court, using exaggerated claims of secrecy and executive power to get federal judges, who should know better, to toss out claims for civil relief. The broad denial of justice to victims disgraces both the administration and the courts.

At the start of his administration, President Obama said he wanted to "look forward," not back, on the actions of C.I.A. interrogators. In practice, the administration has chosen to look back selectively, eschewing prosecutions and civil relief for victims while pursuing criminal charges against a former C.I.A. officer, John Kiriakou, on charges he disclosed the identity of other C.I.A. officers who participated in the interrogations.

These are not old, musty issues that the nation has moved beyond and the public can afford to ignore. Just a few months ago, during the Republican primary campaign, Mitt Romney expressed support for the use of waterboarding as a counterterrorism method, and he even denied that it amounts to torture. In the absence of any sort of legal accountability, there is no assurance that this lawless practice would not happen again.
That, indeed, is the real problem. By sweeping these abuses of civil liberties under the rug, the Obama Administration has essentially guaranteed that it will happen again in the name of "national security." It's bad enough that we have one political party that has this much disregard for civil liberties, now it seems as though we have two of them and the American people are much the worse off because of it.