The Election Isn't Over Quite Yet
Don't be fooled into thinking that the election is "over," because it isn't.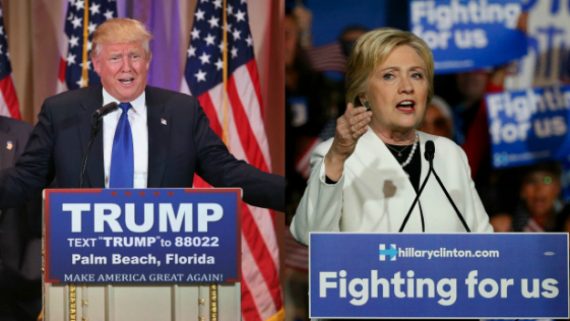 While all the polling right now is pointing toward what could end up being an historically large victory by Hillary Clinton in November, Harry Enten at FiveThirtyEight reminds us that the election is far from over, and points to several historical examples to support his argument:
Simply put, the polls aren't perfect at this point in the cycle — there's still a good deal of uncertainty inherent in trying to predict who will win the election and by how much based on the polls. We have more than two months until the election, and polls have coverage error, measurement errorand non-response error.

(…)

In 1980, Jimmy Carter, after a successful convention, was tied with Ronald Reagan according to the national polling average.2 But Reagan ended upwinning by nearly 10 percentage points. Reagan's gains were greater than the deficit Trump faces now.

Just four years before Reagan's victory, Gerald Ford nearly pulled off the greatest comeback in the modern polling era. Ford was down by double digits in 1976. But aided by a decent job approval rating and perhaps by Carter's missteps, Ford narrowed Carter's lead and even inched ahead in thefinal Gallup poll of the campaign. Ford didn't win another term, but he proved that a race can change even after both conventions are in the rearview mirror.

Perhaps the most interesting potential precedent for the 2016 campaign is 1968.3 Richard Nixon was up by 8 percentage points and opened an evenlarger lead in the fall. But Hubert Humphrey was able to consolidate a previously divided Democratic base (as Trump needs to do with Republicans) and cut into Nixon's lead. Humphrey was also aided byPresident Lyndon Johnson's rising approval ratings and the original October surprise (an announcement by Johnson that the U.S. was halting the bombing in Vietnam). Humphrey ended up losing in the second-closest presidential election of the 1900s. It's not too difficult to imagine Republicans rallying behind Trump — perhaps Clinton is hit with a scandal or WikiLeaks drops an October surprise.

Indeed, half the presidential elections included in the table saw the difference between the candidates' support change by more than 5 percentage points. Three races experienced a shift that was greater than Clinton's current lead in the national polls. There are a lot of undecided voters this year, so we could still see a large shift.
Given the way in which recent elections have gone, it should hardly be necessary for Enten to issue this caveat. At various times over the course of each election going back to 2000, we've seen the position of the two candidates fluctuate depending upon the issues being discussed at that point or the events of the day. Ultimately, of course, the final polls for each of these elections ended up being relatively close to where the election result was but in between this point in the election cycle and then, there were times when one candidate was up and the other was down, and vice versa. The only "recent" example where that wasn't the case was the 1996 election, in which Bill Clinton led Bob Dole in every pre-election poll without fail, but that seems to be the exception rather than the rule in that the only other example we can find for that is in the polling for the 1984 election. In this case, the vast majority of the polling both before and after the conventions has shown Hillary Clinton leading Donald Trump, but not all of them have so we already know that 2016 won't be like those two elections. There's been fluctuation at both the state and national level and that's likely to happen again as we get closer to Election Day. Given that, Clinton supporters would be well advised not to rest on their laurels and assume that current polling, combined with Donald Trump's seeming inability to avoid putting his foot in his mouth and the fact that his recent campaign changes are likely to make it more likely that we'll see more of the outrageous behavior that has turned off voters, means that the election is effectively over.
As Enten notes, there are any number of things that can happen in the next eighty or so days that could turn this election around. As unlikely as it seems, Donald Trump could end up seeing the error of his ways and put together a more traditional national campaign that hits on the public's desire for change from the status quo and their dissatisfaction with 'politics as usual' to put together a winning coalition. Clinton's campaign could stumble over its own problems, such as the response to questions about the Clinton Foundation or Hillary's email server, in much the same way that it did during the primary campaign during those occasions when Bernie Sanders seemed to become a more serious challenge than he ended up being. There could be any number of outside events, whether it's developments on the international front, another domestic or international terror attack, or developments out of Syria and/or Ukraine, that could throw a curve ball into the race. Or, something else could happen that has some impact on the outcome of the race. For all of those reasons, it's important to remember that the polls we're looking at now are just snapshots in time. They don't tell us where the race will be in 30 or  60 days, and they most certainly don't tell us where the race will be after the debates, which could be even more decisive this time than they have been in the past. For all those reasons, it's best to reserve judgment on the election for now.
With all that in mind, if I were asked to make a prediction today I would say that the most likely outcome is that Hillary Clinton will win the Presidential election and that she'll do so quite handily. Thanks to the Democratic Party's advantages in the Electoral College, I've believed this for the better part of a year now, though, and the nomination of Donald Trump has only made that conclusion more certain in my mind. At this point, I tend to think it's more likely that  60 days from now we'll be spending our time concentrating more on the battle for the Senate and, possibly, the House of Representatives, than on the Presidential election. However, I'm open to the possibility that the wind could shift and we could find ourselves with Donald Trump picking up steam and making a race out of this election, even if he doesn't end up overtaking Clinton in the polls. When that happens, the media will likely give any Trump surge overstated importance only to find that Clinton remains in control in the end, but you should definitely be prepared for the "Trump is back" meme that the political media would push if such a surge did happen. Then as now though, the stories should be treated with a grain of salt because, in the end, what will matter is where the race is on November 8th, not where it is on October 13th.