The End Of Paul Ryan's Honeymoon?
Five months after becoming Speaker of the House, Paul Ryan seems to be running into some of the same difficulties that John Boehner did.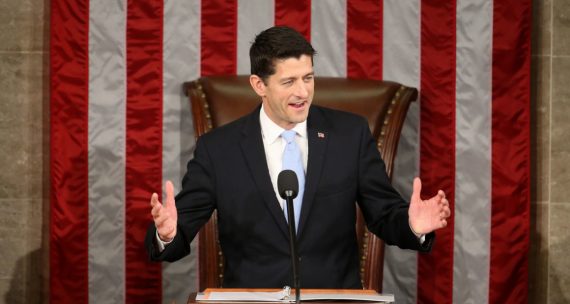 After five months of relatively smooth sailing, it appears the honeymoon may be over for Speaker of the House Paul Ryan:
When Rep. Paul D. Ryan (R-Wis.) took over as House speaker, it was supposed to signal a new era for Republicans — the arrival of a younger, more conservative visionary, who scrubbed the cigarette smoke stains from outgoing Speaker John A. Boehner's Capitol office, and promised a fresh start.

Republicans craved the upbeat, button-down image Ryan offered. And his team served up the Ryan brand with marketing flourish — lofty speeches, a TV blitz and videos galore, including a cheeky snow-cam from the speaker's balcony showing the winter blizzard over the National Mall.

But five months in, Ryan finds himself with a familiar problem. As Congress is careening toward another budget crisis and the Republican Party is ripping itself apart over Donald Trump's rise, the man best known as the architect of the GOP's austere spending blueprint is likely to miss an April 15 deadline to approve a new funding plan for 2017.

He's been unable to overcome the same resistance from the conservative House Freedom Caucus that doomed his predecessor, and is so far similarly unwilling to use the power of the speaker's office to force stragglers to fall into line.

On the top issue of the day, the turbulent presidential race, Ryan has refused to wade into the muck, fearful of alienating House Republicans who back Donald Trump, but also worried about tarnishing his own image in case the party needs his help at a brokered convention in July.

To some, Ryan's repeated calls for Republicans to "raise our gaze" and his frequent attempts to position himself as the GOP's deep thinker are starting to give off an air of ivory tower insignificance. Conservatives wonder if he's still a "young gun" trying to shake up the party.

At a Trump rally in Ryan's Wisconsin hometown of Janesville last week, the crowd booed the mention of his name.

"Now we understand why he didn't want the job: Congress is broken and it's hard for anybody to fix it," said John Feehery, a former Republican aide and now a GOP strategist. "Jumping on the back of this tiger has not been easy."

Allies see Ryan, who declined to be interviewed for this story, as a leader who is slowly and deliberately piecing back together a Republican Party that appears to have imploded during President Obama's years in the White House.

In many ways, the speaker's problems are of his own making, the result of a leadership strategy he helped forge to recruit the most conservative candidates to run for office and then, after Republicans won the House majority in the 2010 midterm election, reject almost all of Obama's initiatives.

"It's led to all this anger," said Norman J. Ornstein, a scholar at the American Enterprise Institute. "They tried to make this entire process look ugly and illegitimate. It worked. In the process of winning these short-term victories in the midterms, they laid the groundwork for Trump."

Now, some of the same Freedom Caucus lawmakers who forced Boehner's early retirement are bearing down on Ryan.

Many are scoffing at the higher government funding levels Boehner had accepted as part of a compromise with Democrats last year. That deal was supposed to "clear the barn" for Ryan by reversing some of the automatic "sequester" cuts that factions of both parties said were too severe. But many Republicans who didn't like the deal then don't like it any better now, and Ryan doesn't have enough votes to pass the budget without them.

Without an approved budget, it will be harder for Congress to pass the annual appropriation bills needed to fund government services. Ryan can't rely on Democrats, as Boehner did, because the proposed budget contains Republican priorities, like a Medicare overhaul with a new voucher program, that Democrats oppose.

Ryan initially escaped blame from conservatives for the deal Boehner made, but the honeymoon is now over and Congress risks a government shutdown if new money is not approved by Oct. 1.

"Victory would be not shutting down the government," said Ron Bonjean, a former House Republican leadership aide who is now a strategist.

Some in the Freedom Caucus appreciate Ryan's willingness to work with them, but see little change in the outcome. "Paul was part of the Boehner entourage," said Rep. Paul Gosar (R-Ariz.), a Freedom Caucus member.
To a large degree, of course, Ryan's initial months in office have gone well largely because it was set up that way for him, apparently at his insistence. Before Ryan was sworn into office, the House signed off on a spending bill that covered the remainder of the current Fiscal Year, raised the debt ceiling in a manner that guaranteed that it would not be an issue until after the new Congress takes office in January, and passed several other pieces of legislation that had been sitting in the hopper for some time. The only job that remained for Congress after Ryan took office was to pass the individual spending bills for each branch of government and Ryan was able to use the honeymoon period to get those measures passed relatively easily. Now, though, the House must turn its attention to passing a spending bill for the fiscal year that ends in September and, thanks to the combination of election year politics and the fact that the so-called 'House Freedom Caucus' didn't really change when Ryan took office, it would appear that Ryan may face some of the same fights that John Boehner did during his time in office.
None of this is to say that things will end up the same for Ryan as they did for Boehner, of course. For one thing, Ryan still seems to have far more goodwill with the conservative win of the House GOP Caucus than Boehner ever did so it's likely that he'll be able to maintain some control over his members and get the measures passed that need to be passed. Boehner never really had that kind of relationship with the conservatives, and it was a large part of the reason why they were so quick to rebel against him so often. With Ryan, they're dealing with someone that in many ways was one of them not very long ago and who they openly embraced as an intellectual leader from the time he took over the House Budget Committee in 2011. Additionally, the fact that we're in an election year means that rebellion in the form of a refusal to pass a budget in September is unlikely both because of the damage it could theoretically do to the GOP heading into the election and because Members of Congress will be eager to return to their districts to begin the final stretch of campaigning before Election Day. As a worst prospect, this will mean that the House will likely at least pass a temporary spending bill that pushes finalizing the budget to the lame duck period in December. Nonetheless, it does appear that Ryan is finding that being Speaker is indeed the thankless task that he seems to have long suspected it would be. Unless the Freedom Caucus falls into line, which seems unlikely, it's likely that things will just get more frustrating for Ryan as time goes on.