The Fourth Of July And The Fourth Amendment
Contemporary Americans accept actions by the state that were once the cause for revolt.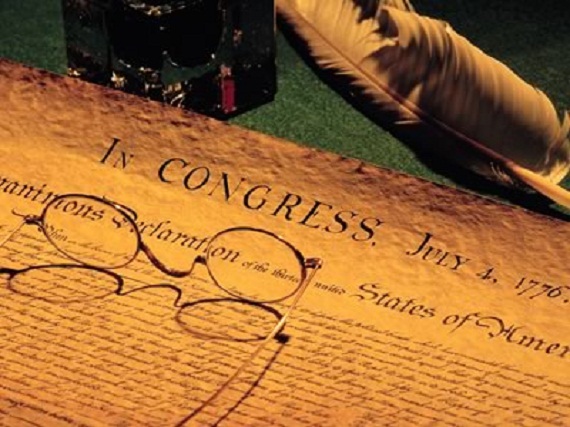 Jazz Shaw reminds us today that John Adams had a pretty good idea of what the Fourth Of July ought to be like:
The records show that Congress actually voted for the resolution of independence on July 2nd, but it took a couple of days to get the announcement in order and signed. Actually, even that has been the subject of some debate, with various historians claiming that the declaration wasn't actually signed until August. But in any event, this is the day we settled on eventually. As to its meaning, I think John Adams summed it up nicely in this letter to his wife.

The second day of July, 1776, will be the most memorable epoch in the history of America. I am apt to believe that it will be celebrated by succeeding generations as the great anniversary festival. It ought to be commemorated as the day of deliverance, by solemn acts of devotion to God Almighty. It ought to be solemnized with pomp and parade, with shows, games, sports, guns, bells, bonfires, and illuminations, from one end of this continent to the other, from this time forward forever more.

Old John had a way with words. This was not intended to be just a solemn day, but a day of bold, brash strutting and an affirmation of the rejection of tyranny and dedication to God, nation and freedom.
As noted, Adams was incorrect in predicting that July 2nd, the day that the Second Continental Congress actually voted in favor of declaring independence from King George III, would be the day that Americans would celebrate. As it turned out, through one of those vicissitudes of custom and history, that the celebrations came to be marked on the day two days later when the text of the Declaration Of Independence was formally approved. (It was actually several weeks later, on August 2nd, that the document was signed, although it had been read aloud in public for the first time on July 8th) Whatever the day, though, the day set aside to mark the birth of the new nation did indeed become the vision of "bells, bonfires, and illuminations" that Adams predicted, and rightfully so. Imperfections aside, after all, the Declaration of Independence marked the first time in history that a nation was founded on an idea rather than based on conquest or the whims of Royal Decrees. Moreover, even though that idea was far from fully realized in 1776, the history of the nation has been a constant struggle toward implementing the idea that "all men are created equal, that they are endowed by their Creator with certain inalienable rights, that among these are Life, Liberty and the pursuit of Happiness." It's a never-ending struggle, but one that we can proudly say that, for the most part, we have always moved toward. So yes, let's celebrate.
At the same time, it's worth remembering some of the reasons that those early Americans decided to stand up to the most powerful nation on Earth at the time, which they conveniently listed for his in their Declaration of Independence. As Juan Cole reminds us, one of those reasons remains highly relevant today:
On the Fourth of July, Americans should be celebrating the freedoms enshrined in the US constitution, especially the Bill of Rights. At one time, Americans minded when the government usurped their rights and made over-reaching claims to be able to invade their privacy. No more. Most Americans have become little more than bleating sheep, perfectly happy to be sheared by faceless bureaucrats. They are willing to surrender to the state their most private information, the contemporary electronic records of everywhere they go, who they talk to and for how long, who they email, and even the contents of their communications. With the rise of datamining software, this information can be extremely revealing, and government and contractors with access to it can engage in all sorts of blackmail, insider trading, and corruption. Since the surveillance apparatus is "classified" and top secret, there is no effective oversight to ensure against public harm.
Though not listed directly in the Declaration of Independence, the rights set forth in the Fourth Amendment were put there precisely because, prior to the Revolution, British authorities routinely invaded the homes of American colonists and conducted searches without warrants. Colonial legislatures routinely attempted to pass laws to restrict the ability of British authorities to do these things, but the King would just as routinely issue writs that would override those legislative actions, and Colonial citizens continued to be subjected to warrantless searches and other indignities for the purpose of, among other things, ensuring that the taxes and customs duties being imposed by London were being paid as due. So, when the time came for those colonists, now citizens of an independent United States, to enact a Bill of Rights, the protection of the people to be "secure in their persons, houses, papers, and effects, against unreasonable searches and seizures" seemed to naturally belong in any such list. Indeed, similar protections had already been written into the various declarations of rights adopted by many of the several states over the years.
As Cole points out, though, things have changed significantly over the years:
America's current national security state, which is a profound betrayal of the Constitution, holds that our email and our documents in the cloud are like postcards and thus can be examined at will by intelligence analysts and law enforcement. I doubt any ordinary Americans thinks that their email correspondence and digital documents are anything at all like a postcard.

Another exception, instituted as recently as 1979, is the stupid "third-party doctrine," which comes out of a fascist court ruling that since you share your phone records with your telephone company, you can't expect them to be private from the government. What? What brain-dead jurist thought that up. When I contract as a private citizen with a business for a set of legal transactions, that is none of the government's business. A law is needed to overturn this ridiculous doctrine.

(…)

The argument that we have to give away the 4th amendment because of "terrorism" is equally stupid. (King George III set aside the need for warrants and specific searches on the grounds of fighting "smuggling," the precedent for our current use of "terrorism" for this purpose). Charles Kurzman points out thatthere have only been 100 terrorist plots on US soil since 2008 and that the NSA only claims to have disrupted 10 of them through electronic surveillance. There have in those 5 years been 25,000 terrorist attacks worldwide, of which the NSA claims to have foiled 50 through electronic surveillance. So they are not actually so effective that we should be eager just to abrogate a whole amendment to the Constitution over it. And, moreover, there were 70,000 violent fatalities in the United States during this period since 2008, and 20 of those were owing to terrorism.

This is why I say those willing to kick the constitution to the curb over fear of "terrorism" are sheep, not bravehearts. And the government officials who issue thousands of 'national security letters' for warrantless searches every year and requisition Verizon business records on millions of customers, are frankly betraying the Constitution.
Many, perhaps, will be turned off by some of Cole's strong language here, but he makes an important point. For decades now, Courts have been interpreting it the Fourth Amendment in a manner that expands the powers of law enforcement while restricting the zone of privacy that citizens are entitled to. At the same time, governments at the State and Federal level have been expanding those powers on their own in the name of fighting the "War On Drugs" and the "War On Terror" while citizens have stood rather meekly by and allowed it to happen. Even today, with the revelations that have come out regarding the extent to which the National Security Agency and law enforcement are engaging the collection of massive amounts of data regarding everything from phone records, to Internet activity, to credit cards, and even our snail mail, polls seem to indicate that the American public  is largely accepting of what the government is doing, a sharp turn of events from 237 years ago when the idea of agents of the King snooping into the lives and affairs of private citizens was one of the motivations for an act of revolution.
There can be honest disagreements about where the boundaries of the Fourth Amendment begin and end, but one would think that we can all agree that there are boundaries that the government should not cross, at least not without a warrant issued by a judge based on probable cause (and preferable not a judge from a secret court unless absolutely necessary.) More importantly, it seems axiomatic that the American people should know when these things are happening to them without having to depend on someone who, depending on your perspective is either a whisteblower pointing out wrongdoing or a leaker with questionable motives. We owe at least that much to those who worked so hard 237 years ago to take the risks necessary to create the nation we now enjoy living in. So, as we celebrate today, and indeed for many of us for the rest of what will be a long, hopefully relaxing, weekend, let's keep in mind those British agents that used to break into the homes of colonial citizens at will and ask ourselves how those colonists would feel about what we're letting our government do to us today. Something tells me they wouldn't approve.