The Myth Of Newt Gingrich The Great Debater
Conservatives seem to believe that Newt Gingrich can beat Barack Obama merely by debating him. They are delusional.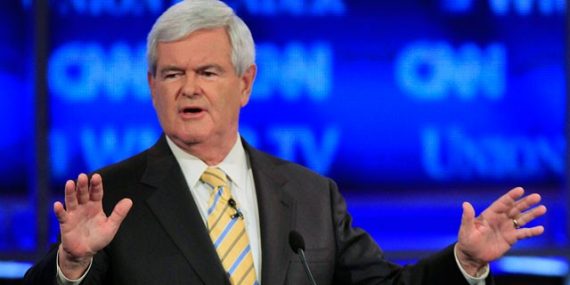 One of the things that you hear most frequently from supporters of Newt Gingrich in his favor is the idea that, were he to become the Republican nominee for President, he would be a formidable debate opponent for President Obama. In fact, most of them seem convinced, based on little more than Gingrich's performance in the multi-candidate joint press appearances that have passed for debates in this election cycle, that he would "out debate" the President quite easily. Gingrich himself has reinforced this idea by saying repeatedly that, upon becoming the GOP nominee, he would immediately challenge the President to a regular series of "Lincoln-Douglas style debates" that would stretch from the summer to Election Day.
I've always been skeptical of this idea that Newt Gingrich could win the General Election just be humiliating the President in a series of debates. First of all, the entire premise is based on how he's performed in these multi-candidate forums where the job for each of the candidates is to appeal to as many Republicans as possible. The task in a General Election Debate is quite different, and would require Gingrich to make the case to voters who might not be sympathetic to him at all for why the President isn't entitled to a second term in office. You simply don't do that by being an aggressive, bombastic hard-core conservatives. If Gingrich performs in one-on-one debates with Obama the same way he has in the Republican debates, he's likely to turn away independent and swing-state voters. I discussed the other problems with the Gingrich-as-the-great-debater scenario last month:
For one thing, the format of those debates is going to be far, far different from the debates that Gingrich has participated in so far. The moderator and reporters will mostly likely predominantly be from mainline news organizations, and the questions are likely to be far more detailed, for one thing. For another, Gingrich would be standing next to the President of the United States, not just a bunch of people who think they can be President. The difficulty of competing with that image shouldn't be underestimated, just ask people like Walter Mondale, Bob Dole, and John Kerry. Finally, I think Republicans vastly underestimate how the President is likely to come across in those debates, and overestimate how well Gingrich will do. Say what you will about the President, but Barack Obama is no slouch as a debater, something he proved during the primary race with Hillary Clinton in 2008 and in the General Election.The idea that he's going to cower in fear over Newt Gingrich is just silly. As for Gingrich, the same qualities that have helped in appeal to GOP voters in the Republican debates could make him come across as arrogant and egomaniacal in the more disciplined atmosphere of a General Election debate. Those Republicans eager for a Newt-Obama matchup on debate nights should be careful what they wish for.
Not every conservative buys into the myth of Newt's debating skills, though. John Ziglar, who's been behind several films that have been popular on the right as well as being a prominent Palin booster, isn't buying it either:
First of all, there is absolutely zero chance that Obama would agree to the debate format which Newt pretends he could somehow force the sitting president to accept. The only way to dictate the terms of such an event is to be ahead in the polls and to have the media take up your cause to pressure the other side. Newt has about as much chance of either of those things being reality as he does getting his second wife to tape a campaign ad for him.

Quite simply, that isn't happening, and yet absolutely no one ever even bothers to point this out.

Once forced to combat the president in a clash of 60-second sound bites refereed by Obama's politically-correct buddies, Newt's supposedly great debating strengths will backfire badly. In a Republican primary, his haymakers draw cheers from the partisan crowd and the commentators marvel at what a crafty street brawler he is. In a general election debate, the crowd of "independents" will boo and the very same "news" people will suddenly he horrified by the bull who just smashed their china shop to bits.

For example, let's take the most recent debate. Newt somehow got rave reviews for calling his ex-wife a liar (after saying that morning that he wouldn't say anything negative about her) and angrily lambasting the media for asking a legitimate question. CNN's panel universally praised Newt's answer as the highlight of the debate (this, despite the fact that he guaranteed that everyone in the country would know he has an ex-wife who hates him because the clip of him fuming was assured to get tons of airtime).

Does anyone really believe that if a similar circumstance occurred against Obama that Newt would be let off the hook like that? At best he would be portrayed as angry, unhinged, and lacking the temperament to be president of the United States. At worst, they would make him seemed like a rabid, uncaged, animal and, inevitably, maybe even racist.

Newt would be disarmed in this fight on multiple levels. First, he would lose the expectations game before he even started. Then, knowing his bar would be nearly impossible to hurdle; his massive ego would provoke him into lunging for a knockout on every punch. This would play right into the hands of the super coolheaded Obama who will be confident knowing that the referees will score anything his way as long as he simply stays on his feet.

In short, the whole affair would be an unmitigated disaster
I don't typically agree with Ziglar, and I think his talk about the media being out to get conservatives is mostly silly nonsense, but he's absolutely right in his assessment of what's likely to happen if Newt debates Obama. As he said, there's no chance the Obama campaign is going to agree to Gingrich's "Lincoln-Douglas" debates, they will stick with the schedule that has already been set by the Commission on Presidential Debates, which calls for three Presidential debates and one Vice-Presidential debate starting in late September. That's the schedule that we've been following since at least 1992, and Gingrich really has no argument for changing something that has been followed for 20 years now. Secondly, as Ziglar notes, the idea that Gingrich would be able to be as free-ranging in one of these debates as has been in the General Election debates ignores 20 years of history, along with the fact that acting like a jerk while standing next to the President isn't exactly the way to win friends and influence people.
I'm convinced that Gingrich's supporters, and perhaps Gingrich himself, think that Newt would be able to repeat what Ronald Reagan did in 1980. In that election, there was only one debate between him and President Carter, and it occurred just one week before Election Day. Prior to the debate, Reagan and Carter were basically even in the polls and it was unclear if Reagan would be able to pull off a victory notwithstanding the state of the economy and Carter's other flaws. After the debate, Reagan began to pull away in the polling and was able to pull off a landslide victory that sent Carter back to Georgia.
There are just a few problems with this particular fantasy.
For one thing, Barack Obama is not Jimmy Carter. As I noted above, Obama is quite good in one-on-one debates himself and he's unlikely to come across the same way Carter did in October 1980. Secondly, as I've noted before, Newt Gingrich is no Ronald Reagan. Unlike Reagan, Gingrich is not going to come across as a likeable person to people not already predisposed to agree with him on ideology or policy. Reagan got the votes of the Reagan Democrats not only because of what he said, but how he said it. As many remarked at the time and in the years that have passed, it was hard to dislike Reagan even if you disagreed with him. In Newt's case, it's hard to like him even if you agree with him completely. In fact, the entire logic of the Gingrich supporters seems to be that they're supporting him because he's a bombastic, in-your-face, guy who comes across as kind of a jerk, not in spite of it. It's hard to see someone like that winning the hearts and minds of independent voters in swing states.
If this is the logic that is causing conservatives to rally behind an ethically and morally flawed big government conservative who betrayed the Republican Revolution while he was Speaker and lobbied Congress to pass the biggest entitlement program since Medicare, then they are in for a huge surprise on the night of November 6th.