The Political Center Is Dead, At Least On Capitol Hill
It's no wonder there's no compromise in Congress.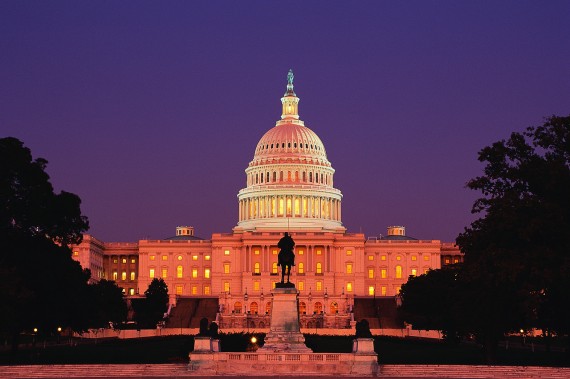 There's been much commentary over the past three years or more about the extent to which American politics has become more polarized and how the Republican Party in particular has become far more ideologically conservative than it ever really was in the past, even in the days of conservative uber-hero Ronald Reagan. The effects of the polaraization are so apparent at this point that they don't really need to be stated, but the recent shutdown is both the most recent and the worst example of a phenomenon that has become all too common on Capitol Hill. Unfortunately, it appears that it's something that's unlikely to disappear anytime soon.
In a new post at The Fix entitled "The death of the political center," Chris Cillizza explains why, and it starts with this chart that notes the makeup of the House going back 31 years: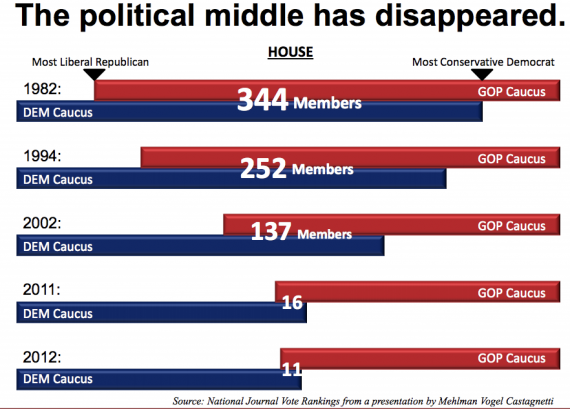 Cillizza:
In 1982, there were 344 Members whose voting records fell somewhere between the most conservative voting Democrat and the most liberal voting Republican in the House. Thirty years later, there were 11. That means that in 1982 the centrists — or at least those who by voting record were somewhere near the middle of their respective parties — comprised 79 percent of the House. In 2012 they made up 2.5 percent of the House. So, yeah.

(…)

The slide above also explains why there will be no grand or even big bargain on debt and spending — or much of anything else — anytime soon. The political incentive to make deals simply does not exist in the House and, in fact, there is almost always a disincentive for members to work across the aisle. (This is less true in the Senate where a centrist coalition — Susan Collins, Lisa Murkowski, Kelly Ayotte, Joe Manchin, Mark Pryor, Mark Begich etc — exists although that coalition has shrunk in recent years too.)

The deal-makers — as we have seen from the last month in the House — are largely gone. The two people who do seem capable of crafting deals — Vice President Joe Biden and Senate Minority Leader Mitch McConnell — come from a different time in politics.
There isn't anything particularly new about this observation, actually. Last December, Nate Silver took of the dwindling number of swing districts in the House and at that time, I made this comment:
As Silver notes, though, the main problem that this high number of non-competitive districts creates is the fact that the Members in those districts have very different incentives from the ones that you might expect a politician to have. Instead of worrying about losing to a member of the opposing party in a General Election, their primary concern ends up being avoiding a primary challenge from the left or the right if they happen to stray from the party line. That's why calls for compromise fall so often on deaf ears. There is more political risk for these Members of Congress in compromising than there is in holding the line. As long as that's the case, then things are not likely to change on Capitol Hill.
This is an observation that has pretty much become an axiom at this point, of course, but it doesn't entirely explain what we see in the chart above. It shows that just as much as the GOP Caucus has moved to the the right, the Democratic Caucus has moved to the left. Much of this can be attributed to the decimation of what came to be known in as the Blue Dog Democrats, meaning Democrats who represented districts that leaned Republican or which had a more conservative political leaning generally even if they tended to elect Democrats. At one time, the "Blue Dog" Caucus was quite a considerable force that tended to temper some of the more left wing members of the Democratic caucus. However, many of those members saw their careers cut short thanks to the 2010 elections when their constituents decided to elect a conservative Republican instead of a mostly conservative Democrat who would still be part of a caucus that tilted to the left. As a result, the "Blue Dog" Caucus today is down to a handful of members at best and has almost no influence inside the House Democratic Caucus.
The same is true of whatever name you want to give to old style "moderate" Republicans. Thirty years ago, the House GOP Caucus was headed by Bob Michael, a moderate Republican out of Illinois and the House Caucus included people as conservative as Phil Crane, also a Congressman from Illinois. The Democratic caucus included anti Vietnam War activists along with Scoop Jackson Democrats. Today, I'm not sure you can find nearly as much ideological diversity inside the individual caucuses, and it means that there is far less room for agreement when it comes to the truly contentious issues of the day.
Back in the 1980s, President Reagan was able to hammer out things like the 1981 tax cut, the agreement to reform Social Security, and the landmark deals in 1986 on both tax reform and immigration reform both because he was able to work with Democrats like Tip O'Neill and because Democrats and Republicans on Capitol Hill were able to work together to get important legislation done. When was the last time we saw that happen? Perhaps my memory is failing me, but it seems to me as though that every major piece of legislation passed in the last several years, even going back before Barack Obama was President, was passed along highly partisan lines. Indeed, even the laws authorizing Social Security and Medicare passed with relatively respectable bipartisan majorities. Even if you think those were both bad laws, you have to recognize the difference between a law passed by the brute force of one party majority rule and one passed with a bipartisan majority.
Whatever the reasons might be, it seems clear that we've got two sides of a political argument that are pretty much just yelling at each other at this point rather than talking to each other. And that is completely unhealthy.