The Politics Of Scandal
President Obama faces some perilous times ahead now that his Administration is under fire.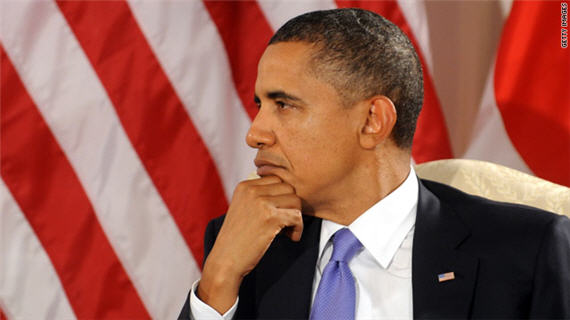 For most of his Presidency, President Obama has managed to avoid the one thing that most recent Presidents have been able to avoid, the political scandal. There have been attempts by Republicans to tie the Administration down on one issue or another,  but in general the narratives that they have relied upon have been either so weak or so convoluted that they never really went anywhere. Over the past two weeks or so, that seems to have changed. The Benghazi story, which has been percolating since the election, seems to have become revived due in no small part to emails that seem to indicate that the State Department was more concerned about drafting talking points that didn't bring criticism from Congress than ones that were an accurate reflection of what the government knew in the immediate days after the attack on our diplomatic outpost. Last Friday, we learned that a division of the Internal Revenue Service was engaging in a what looks for all the world like politically motivated targeting of applicants for tax-exempt status. Then, earlier this week, it was revealed that the Justice Department had secretly seized the phone records of the Associated Press in connection with the investigation of the alleged leak of classified material.
With the possible exception of the IRS story, which defies an innocent explanation, it's difficult to call all of these stories a "scandal" largely because it's unclear whether they belong wrongdoing. Benghazi appears to be a combination of bad decision making beforehand and an effort to engage in some "CYA" work after the fact, which quite honestly is a common thing in government. The seizure of the Associated Press phone records, while it does raise some serious First Amendment issues, appears to have been conducted in a completely legal matter pursuant to relevant Court rules and internal Justice Department rules. The fact that an incident doesn't raise legal issues, however, isn't the only factor that goes into creating a Washington scandal. As Alexander Burns and John Harris write today at Politico, scandals often take root most quickly when they become part of a narrative, and that may be the problem that the President is facing in the weeks and months ahead:
No contemporary American politician has benefited more from the power of good storytelling than Barack Obama. He vaulted from obscurity to the presidency on the power of narrative — invoking his biography and personal values to make a larger point about how he would lead the nation.

So presumably no one understands more vividly than Obama and his close aides just how toxic and potentially paralyzing his situation has become this spring, as four distinct ethical and policy controversies have simultaneously converged.

Obama's critics now have a narrative — a way of connecting four discrete episodes to a larger point about this president's leadership style and values. In other words, they didn't merely happen on his watch but were in important ways caused by his watch.

And for the first time, this anti-Obama storyline is being presented in a way that might seem reasonable to people who are not already rabid anti-Obama partisans.

The narrative is personal. The uproars over alleged politicization of the IRS and far-reaching attempts to monitor journalists and their sources have not been linked directly to Obama. But it does not strain credulity to suggest that Obama's well-known intolerance for leaks, and his regular condemnations of conservative dark-money groups, could have filtered down to subordinates.

The narrative is ideological. For five years, this president has been making the case that a growing and activist government has good intentions and can carry these intentions out with competence. Conservatives have warned that government is dangerous, and even good intentions get bungled in the execution. In different ways, the IRS uproar, the Justice Department leak investigations, the Benghazi tragedy and the misleading attempts to explain it, and the growing problems with implementation of health care reform all bolster the conservative worldview.

(…)

This time, said conservative economist Douglas Holtz-Eakin, voters may look with deeper suspicion on Obama and government-growing policies they have previously viewed as benign.

"In the 2010 midterms, there was a successful narrative that said: the middle class is suffering and the problem is government overreach. But that faded [and] now it's back with a much more sinister over-face," Holtz-Eakin said, suggesting Obama would suffer to the extent voters consider these scandals and conclude "the tone is set at the top."

"If you spend most of your time on politics, the tone that's set throughout the federal agencies really is, politics is paramount," continued Holtz-Eakin, who heads the nonprofit American Action Forum. "If you think about a generic argument about Obamacare — which happens to be true — is that it's going to run an enormous amount of American insurance and health care decisions through D.C., that no longer sounds benign."
Indeed there have already been a number of articles speculating on the consequences that these series of stories coming out of Washington could have on the 2014 elections  both from Politico and from Nate Silver speculating on what impact these various stories may have on the 2014 elections. On some level, of course, it seems far too early to be able to say anything insightful about that with any degree of certainty given that the election is still some 18 months away. At the same time, though, it strikes me that there could be significant political risks for the President going forward if the narrative that is described above takes hold. For one thing, it's a narrative that has the potential  to serve as a rallying point for a revived Tea Party movement that focuses on the 2014 elections in the same way that it did on the 2010 elections. This would especially seem to be true, as Silver points out, with respect to the IRS story which seems to play write into the worst of the "big government" fears that the Tea Party seeks to stoke among its members. Secondly, all three of these stories seem to carry the potential in them of undercutting the aura of competence that the Obama Administration has successfully been able to build up over the past four years. Benghazi, for example, appears to be mostly a story of missed warnings, inadequate security, and bungled public relations efforts. In the case of the IRS, a group of low and mid level IRS employees were apparently permitted to undertake a program of political targeting without their superiors either knowing or caring. Certainly, President Obama can't be held personally responsible for all of these things, but the Administration's efforts to try to distance the White House from them doesn't seem like it's going to work either. For most Americans, the President is the person who's in charge, and an argument from the White House that they had no idea what was going on until they heard about it in the news isn't likely  to sound very convincing to most voters.
We're entering a very interesting time now. It's one that every Presidency has reached at some point when stories about misdeeds or mistakes start to gain the attention of a news media looking for a story. Added into the mix this time is a story, the  seizure of the phone records of the Associated Press, that hits the press in a very personal place. Add into that the always popular "process story" of how the Administration is handling the hits that they're taking, and it seems fairly certain that Benghazi, the IRS, and the Associated Press are going to be in the news for some time to come. If nothing else, that's going to derail the President's agenda for a couple months, and it could have a significant impact on efforts to enact immigration reform and deal with the budget. Depending on how long it lasts, we could find ourselves heading into the end of 2013 without the President having accomplished any of his major objectives. By that point, we'll be heading into the 2014 elections with the prospect of any major legislation making it through Congress gone out the window. For that reason, the White House better hope that they get beyond these stories sooner rather than later.