The Quixotic Quest for the Radical Center
Americans don't trust their government or each other. There's no reason to hope it'll get better.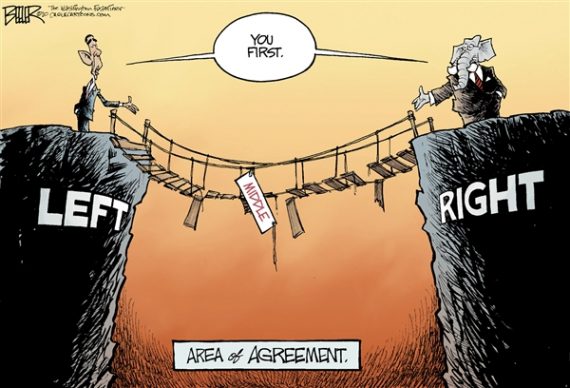 Dave Schuler points with bemusement to a Bloomberg editorial that gushes over poverty-fighting measures recommended by "the (conservative) American Enterprise Institute and the (liberal) Brookings Institution" and concluding that "The most effective way to make policy is not from the left or the right, but from the radical center."  Dave retorts:
What world are they living in? The reason the two sides can't reach agreement isn't because they don't agree. It's because the objectives of modern politics are to help your allies and injure your opponents while encouraging wealthy donors to give you more of their money. Agreeing with your political opposition doesn't get you any of that.

The history of American politics over the last 40 years is that the two political parties, both of which were "catch-all" parties, representing broad swathes of the political spectrum and in which centrists held considerable sway, have increasingly evolved into programmatic parties dominated by their most radical members. Every year there are fewer centrists in the Congress and they're almost completely absent from the Congressional leadership.

Explain to me again how we're going to make policy from the radical center.
I've come to roughly the same point of cynicism, which is a big reason for my ongoing blog fatigue. The American public seems to be there, too, which partly explains the state of play in the 2016 presidential contest to date.
That the American right has been spinning off its axis for quite some time is not exactly news. I've written dozens, if not hundreds of posts lamenting the state of the conservative movement.  While there has been a lunatic fringe since well before I was born, and politicians on the right have often cultivated their support, the lunatics started taking over the asylum at some point. It became clear with the emergence of the Tea Party and it's coming to a head with the 2016 cycle and the bizarre spectacle of Donald Trump remaining the Republican frontrunner for months.
Commenting on a Facebook thread on Doug Mataconis' recent posting "Republicans Say They Want a 'Conservative' Presidential Nominee," an old Army buddy rightly questioned, "Then why has been and is Trump leading in the polls? He's not a conservative." To which one of our former bosses replied,
"My guess is because he's saying what a lot of people think. We've voted for 'conservatives' and look what it got us – I'm OK with a guy who's smart enough to make a billion or two. He's a businessman and he's selling something. If he's an honest businessman he'll deliver. If not, he'll just be another Republican." He's a smart, decent, successful man who spent over 20 years in uniform. And yet he's so cynical about American politics that he honestly believes Trump is better than the alternatives.
There's no direct parallel on the left. As much as I personally disdain and distrust Hillary Clinton, the Democratic frontrunner is running a fairly standard campaign rather than pandering to the crazies. The closest she has to a serious challenger, Bernie Sanders, calls himself a Socialist and rails against the system but he's not exactly calling for confiscation of land and the nationalization of industry. Martin O'Malley, who has no shot at all, is probably closer ideologically to Mitt Romney and John Kasich than to Sanders. But, while Democrats seem resigned to Clinton as their nominee, the hope for an Elizabeth Warren or someone else outside the establishment—thus the Sanders boomlet—is indicative of serious dissatisfaction.
A recent Pew poll found that only 19% of Americans trust their government all or most of the time and 74% believe politicians put their own interests ahead of those of the country's most of the time. 55% in the same survey thought that "ordinary Americans" would do a better job than the political class at solving America's problems. It's perhaps not surprising that 89% of Republicans trust their government never or only sometimes. But the same was true of 72% of Democrats—and their man is in the White House.
The malaise goes deeper than mere distrust of politicians:
While overall views of the federal government are very negative, there also are several indications of widespread dissatisfaction with the current state of politics. In politics today, far more people say "their side" – however they perceive it – is losing more often than it is winning.

Overall, nearly two-thirds of Americans (64%) say that on the issues that matter to them, their side loses more often than it wins. Just 25% say their side comes out ahead more often.

This sense of "losing" is more widely shared among Republicans than Democrats – large majorities of both conservative Republicans (81%) and moderate and liberal Republicans (75%) say their political side loses more often than it wins.

But while most Republicans feel like they lose more often than they win, most Democrats do not feel like "winners" either. Overall, 52% of Democrats say their side loses more often than it wins, while 40% say it usually wins. Liberal Democrats are divided over whether their side wins or loses more often (46% winning vs. 44% losing) – the only ideological group in which a majority does not think its side is losing.

Cynicism about politics also is reflected in the public's attitudes regarding money in politics. Fully 76% say that "money has a greater influence on politics and elected officials today than in the past." Just 22% say the influence of money in politics is little different than in the past.

And, as both parties' nominating contests continue, 64% of all Americans – including 68% of Democrats and 62% of Republicans – say that the high cost of a presidential campaign "discourages many good candidates from running." Just 31% overall say that the high cost of presidential campaigns does not discourage good candidates from running.

Increasingly, Americans even express less confidence in their own collective political wisdom. Just 34% say they have a very great deal or good deal of confidence in the wisdom of the American people when it comes to making political decisions, while 63% have little or no confidence. In January 2007, these opinions were almost the reverse – 57% had at least a good deal of confidence in the political wisdom of the people, while 41% did not.

The loss of confidence cuts across the political spectrum: 36% of Republicans have at least a great deal of confidence in the public's political wisdom; 61% did so in 2007. The decline has been about as large among Democrats (57% then, 37% now).
While Republicans are clearly much more frustrated, given back-to-back losses in presidential races (and four of the last five in terms of the popular vote), continued defeats on social policy, and a sense that Republican winners fail to deliver conservative policies, there's been a strong disillusionment among Democrats that's fueled by the same sentiment that the wishes of the voters don't really matter. While President Obama's job approval remains remarkably high among his co-partisans, there remains deep frustration about the bail-outs of the big banks and a sense that big money is more important in American politics than the little people. Occupy Wall Street and Black Lives Matter happened with Democrats in control of government, after all.
There's little reason for optimism that any of this will turn around. In 1988, George H.W. Bush got elected to carry on a "kinder, gentler" version of Ronald Reagan's policies. In 1992, he was defeated by a Bill Clinton who promised to be a new kind of Democrat. George W. Bush succeeded him in 2000 promising to be a "compassionate conservative" who would have a "humble foreign policy." Barack Obama sailed to victory in 2008 on "hope" and "change." The one continuity over their presidencies is that the country has become ever more polarized.
Hillary Clinton is a less soothing, more polarizing Obama. Trump is the most divisive major political leader in my lifetime and the challengers for the Republican nomination most likely to be able to govern from something like a "radical center" are precisely those doing least well in the polling thus far.