The Return Of Donald Trump, Serial Liar
Donald Trump lies about even the most trivial matters, How are we supposed to believe anything else he says?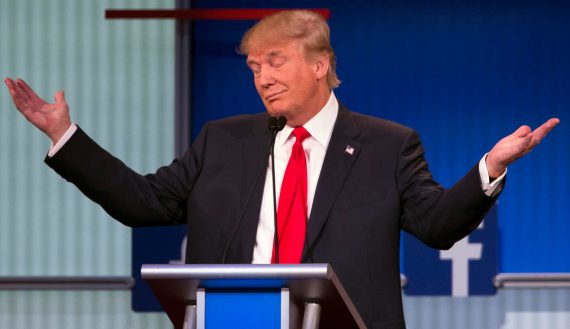 Once again, President Trump is making claims that aren't supported by facts about a seemingly trivial matter:
WASHINGTON — President Trump on Thursday boasted, incorrectly, that his State of the Union address drew the highest number of viewers in history. He was off by millions of people.

Mr. Trump's claim that his address was "the highest number in history," is wrong because it ranks ninth out of the annual addresses delivered by presidents since 1993.

President Barack Obama's first State of the Union speech in 2010 beat Mr. Trump's by about 2 million, with some 48 million viewers.

Even factoring in online streams, Mr. Trump's address would not outrank Mr. Obama's. It is impossible to do a conclusive tally, but the White House's official stream of Mr. Trump's address on YouTube has drawn roughly 51,000 views while Mr. Obama's 2010 address has been viewed 524,000times.

But wait, there's more. According to the Nielsen Company's ratings, President George W. Bush's addresses in 2002 and 2003 drew even more viewers than Mr. Trump and Mr. Obama, topping off at 51.8 million and 62.1 million; and President Bill Clinton's addresses in 1994 and 1998 were viewed by 45.8 million and 53 million people

Mr. Trump's own joint address to Congress — which takes the place of a traditional State of the Union address in a president's first year in office — drew a larger audience than his speech this year, at 47.7 million. Factoring in the joint addresses, Mr. Obama's 2009 joint address drew 52.4 million viewers and Mr. Clinton's 1993 speech tops the rankings with an audience of 66.9 million television viewers.
Here's Trump's Tweet on the subject, which quickly became a subject of ridicule on Twitter:
Thank you for all of the nice compliments and reviews on the State of the Union speech. 45.6 million people watched, the highest number in history. @FoxNews beat every other Network, for the first time ever, with 11.7 million people tuning in. Delivered from the heart!

— Donald J. Trump (@realDonaldTrump) February 1, 2018
This isn't the first example of Trump making false claims about something so trivial, of course. On his very first day in office, both Trump and his former Press Secretary Sean Spicer made the demonstrably false claim that his Inauguration Day crowd was the largest ever, a claim that Spicer recently apologized for playing a role in spreading. Even before he became a candidate and on several occasions after that, for example, Trump claimed that his television shows The Apprentice and Celebrity Apprentice were massively successful when it came to television ratings. In reality, while The Apprentice was a Top 25 show in its two first seasons, it never came close to being the top-rated show on television.(Source) Celebrity Apprentice, meanwhile, was never a Top 25 show and only made it into the Top 50 in its first season, and both shows declined in their ratings as the years went along. (Source)  Similarly two years ago, Trump claimed that the National Football League had sent him a letter complaining about the fact that two of the planned Presidential debates had been set for nights on which the league had scheduled games. The NFL denied that any such letter had been sent, and Trump never produced a copy of such a letter despite numerous requests from the media. More recently, several Trump golf courses had hung a Time Magazine cover featuring Trump that turned out to be utterly fake.
As The New Times notes, there have been other examples:
In May, Mr. Trump said that when he appeared on the CBS program "The Late Show," the broadcast had its highest ratings ever. But he was off by a million or so viewers on that, too. The episode that aired when Mr. Trump was a guest in September 2015 was watched by 4.6 million people, whereas the first "Late Show" that Stephen Colbert hosted drew 6.6 million viewers, according to a CNN report.

In late December, Mr. Trump said his "so-called low approval rating" was approximately the same as Mr. Obama's at the same point in that presidency. Real Clear Politics research, however, shows that Mr. Obama's average approval rating across major polls was about 10 points higher than Mr. Trump's in the December of his first year in office.

Just last month, Mr. Trump falsely claimed that his approval rating among black Americans had doubled (it has actually declined). In July, he also tweeted that his 40 percent approval rating, as recorded by an ABC/Washington Post poll, was "not bad" at this point in his presidency. The same poll shows that Mr. Trump's approval rating at six months was the lowest recorded since World War II.
This behavior has carried itself over to more serious matters, of course, and at one point Trump suggested that he was too busy to tell the truth.
All politicians have engaged in some version of inflating the truth or not providing complete information at some point in their careers, of course, and this has been particularly true of Presidents. This has happened in the past and it will happen in the future. I believe it's fair to say, though, that we've never seen a President who lies quite as easily as Donald Trump, though, not even from Richard Nixon during the height of the Watergate investigation. Whether it is about trivial or serious matters, we have never seen a President and Administration for whom it is so easy to lie about even the most trivial matters, and in many cases, one gets the impression that they actually believe the obvious lies that they're telling. Additionally, a President who lies or doesn't tell the complete truth about official matters is, of course, something we all ought to be concerned about regardless of party. There's obviously something concerning about a President and an Administration that finds it so easy to lie on a regular basis. Furthermore, the fact that the President is compelled to lie even about trivial matters like the size of a television audience raises even more concerns. As I've said before, it raises real concerns about his judgment, his morality, and his ability to lead the nation. And, finally, if we can't believe this President when it comes to something trivial what happens when there is a serious international or domestic crisis that requires Presidential leadership and honesty are essential? How will we know if we're being told the truth? We've never really had to ask these questions about previous Presidents, although perhaps we should have,. Now it's essential that we do because as I've said before, we're living in the Homer Simpon Presidency:
The difference, of course, is that at least Homer is likable in his own buffoonish way.