The Rise of Negative Partisanship
Yes, partisanship is real. And it influences more than just voting behavior.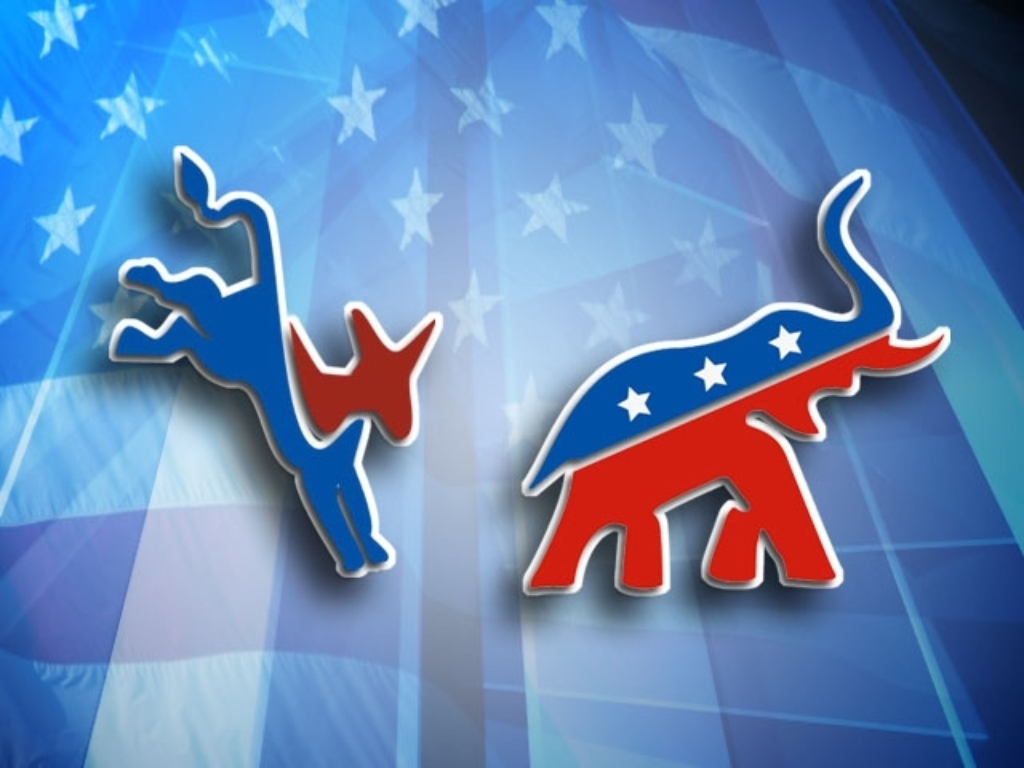 One consistent theme in the comments on Steven Taylor's weekend post "Partisanship is Real" is the notion that only members of the other party are influenced by their political leaders on seemingly commonsensical issues like mask-wearing and vaccinations. Alas, while there is definitely some asymmetry of polarization, the evidence simply doesn't support this.
The political science literature on what has been dubbed "negative partisanship" has been overflowing in recent years, mostly as a function of the extreme sorting of America's two major political parties and the information environment in which politics are debated. This discussion has spilled over into the popular press as well. I'll cite a couple of exemplars.
New America's Lee Drutman, writing at FiveThirtyEight ("How Hatred Came To Dominate American Politics," October 2020):
Forty years ago, when asked to rate how "favorable and warm" their opinion of each party was, the average Democrat and Republican said they felt OK-ish about the opposite party. But for four decades now, partisans have increasingly turned against each other in an escalating cycle of dislike and distrust — views of the other party are currently at an all-time low.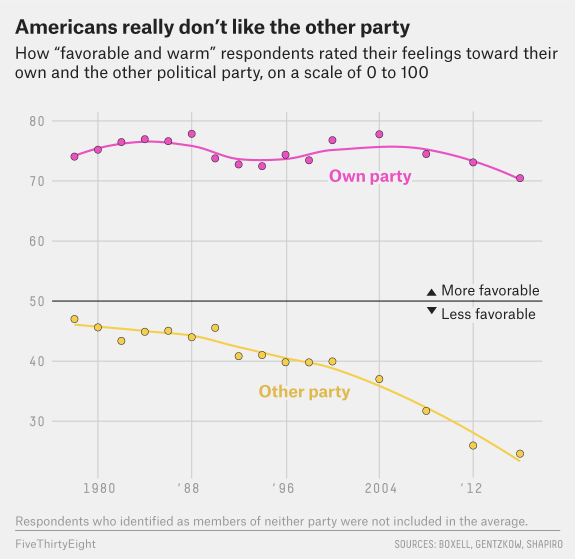 He attributes this to three overlapping trends:
The first is the steady nationalization of American politics. The second is the sorting of Democrats and Republicans along urban/rural and culturally liberal/culturally conservative lines, and the third is the increasingly narrow margins in national elections.
The post discusses all of these in some detail but this is the bit I find most salient:
Today, it's simply harder for voters to hold a viewpoint that doesn't align with their party. For instance, there are far fewer anti-abortion Democrats or abortion-rights Republicans now than 30 years ago because these kinds of stances are unwelcome in the party. Some voters changed their party to match their beliefs; others changed their beliefs to match their party. But ultimately, both shifts contributed to the parties taking clearer and more distinct stances on a growing number of social issues, which led to more and more voters adjusting their views to match their partisanship.

Political scientists have called this process "conflict extension." The basic idea is that as more issues have become nationalized, partisan conflicts have broadened to absorb these issues. And as the parties have taken clearer national stances, particularly around cultural and identity-based issues, voters sort more clearly into parties based on these stances.

Cultural values are much more connected to geography than economic values. Both the rich and poor live in cities, suburbs and exurbs. But those who are socially liberal tend to live in cities, whereas those who are socially conservative tend to inhabit small towns. This partisan sorting on cultural issues has thus generated a significant partisan density divide. And because geography also corresponds to racial and ethnic diversity (basically, cities are multicultural and exurbs are mostly white), this adds another division onto the partisan divide: race.

With all these identities accumulating on top of each other, partisanship has become a kind of "mega-identity," as political scientist Lilliana Mason argues, with party identification standing for much, much more. In fact, it's reached the point that when you meet somebody, you can immediately size them up as a "Trump voter" or a "Biden voter." That kind of easy stereotyping leads us to see the other party as distant and different. And typically, things that are distant and different are also more threatening.
There's a whole lot more there and I commend the piece in its entirety but those are the key bits for my narrow point here. While the parties had numerous cross-cutting cleavages even in my political memory (which goes back roughly to 1980) sorting has led to them being mostly reinforcing.
We see this in the polling data as well. Pew Research's "Partisan Antipathy: More Intense, More Personal" provides some excellent insights. It's from October 2019, so the trends are likely further along.
The share of Republicans who give Democrats a "cold" rating on a 0-100 thermometer has risen 14 percentage points since 2016 – with virtually all of the increase coming in "very cold" ratings (0-24). Democrats' views of Republicans have followed a similar trajectory: 57% give Republicans a very cold rating, up from 41% three years ago.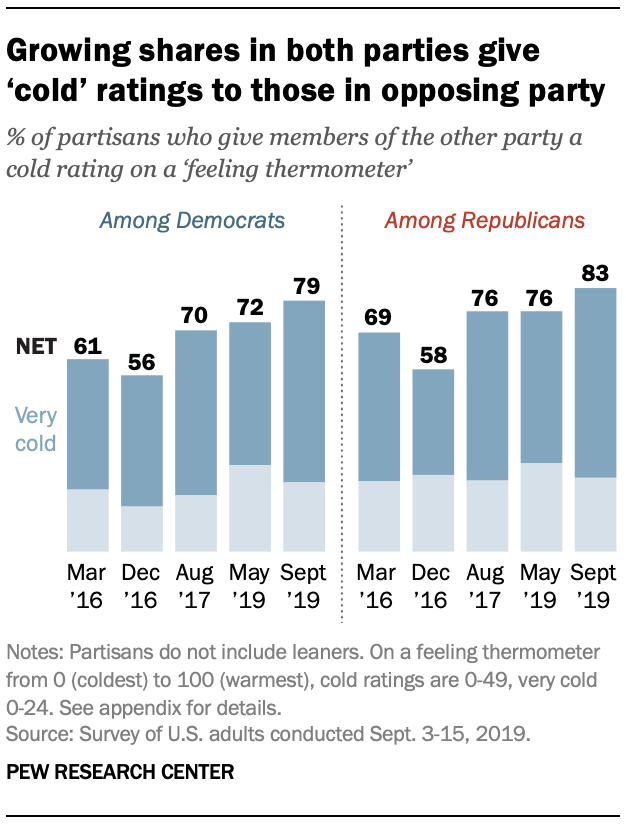 So, yes, Republicans are slightly more disdainful of Democrats than vice-versa. But the differences are negligible. And, again, this was before more recent events; I wouldn't be surprised if Democrats have surged past Republicans after the 2020 election and, especially, the events of 6 January.
Where we do see a meaningful difference, though, is in the breakdowns: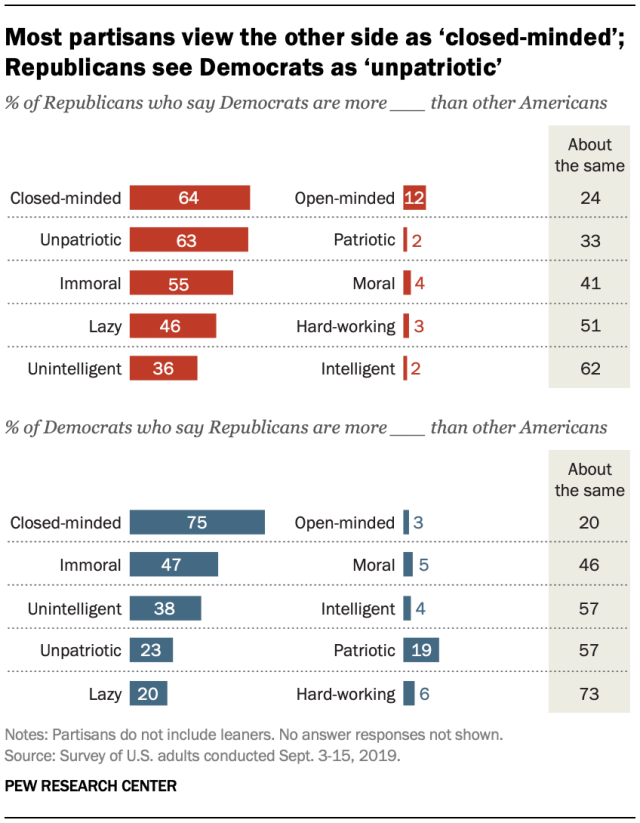 My guess is that stems from the different moral frames that adherents are bringing to the table. Liberals view conservatives' positions on social justice issues as a sign of closed-mindedness if not stupidity, whereas conservatives see liberals' rejection of American exceptionalism and differing attitudes on immigration as immoral and unpatriotic.
Because of the sorting Drutman describes, we simply spend much less time with people who see the world differently than we used to. Most people in our social and professional circles are likely to vote the same way we do. That simply wasn't the case 30 or 40 years ago.
Oh, and this is worth noting:
Independents who lean toward the Republican and Democratic parties are much less likely than those who identify with a party to express warm feelings about the people in their own parties. But large majorities of Republican and Democratic leaners give cold ratings to the people in the opposing party, and there are only modest differences between leaners and partisan identifiers in these views. [emphasis mine -jj]
Even though more Americans than ever describe themselves as "independent," they're really partisans.