The Size of Government Is a Non-Issue: A Late Night, Caffeinated Manifesto
It's not the size of your government that counts -- it's what you do with it that matters.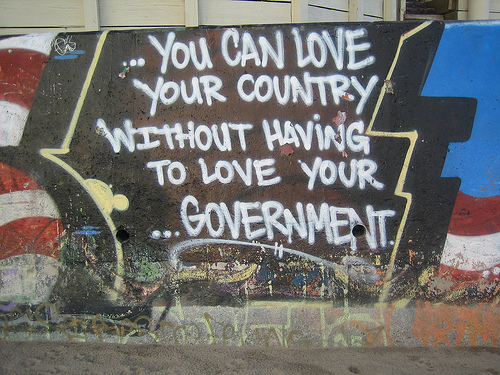 Forewarned is forearmed. This is LONG. Also, I wrote it pretty late at night under the influence of caffeine. I also wrote it on a whim and didn't plan it out so it's a little stream-of-consciousy — but it's also an attempt to summarize where I stand politically, so I hope it's useful.
Introduction
In the comments to James post on the middle class, I made a note to one commenter that:
93% of the total wealth of a nation being concentrated into the hands of 20% of its population is prima facie indicia that government policies lean towards the enabling of rent-seeking and unearned wealth. And money tends to buy both power and influence, meaning that without signficant counterweights, the trend of the wealthy having more money and hence, more power will continue, and will increasingly rig the game so that it stays that way.
To which regular commenter Drew replied:
Alex – The first sentence is the quinessential argument for smaller, less intrusive government. Yet I almost never see anything but left/Democratic (read: more goverment) essays from you, especially on the subject of taxation. What up with that?
I started to reply in the comments but realized that I needed a lot more space to reply. So here's my thoughts on the matter.
It's Not the Size of the Government That Counts
First of all, let me just say that I think the entire question of "large" or "small" government is a distracting non-issue. Government is a tool that is used to achieve certain ends. Government should be as large or small as it needs to be to achieve those ends. Debating the size of government is absurd. Indeed, I'd refer everyone to Jason Kuznicki's excellent essay on this subject, because it encapsulates the issue perfectly. Here's a snippet:
Many of the freedoms that you value the most are easily and inexpensively stomped upon—stuff like public worship, the free press, or the right to independent political association. Arbitrary government costs less than the rule of law, if only because codifying the law and establishing the quality-control mechanisms inherent in doing the job properly can be expensive. Other things being equal, secret laws are cheaper than published ones, and the cheapest laws of all are the ones that the guard dogs make up right there on the spot.
A small government can be tyrannical; a large one benign. What matters is what the government does — not how big it is.
So let's look at the second of Drew's axis — intrusive government. Well what does that mean, exactly? I mean, I don't want a government that intrudes on my basic freedoms such as speech, religion or assembly. On the other hand, I would like very much for it to intrude upon actions of others when those actions violate my rights or person. Again, it's a vague standard that can mean anything you want it to mean. A platitude that doesn't get at real issues.
A Word or Three About Taxes and Concentrations of Wealth
Okay, now let's talk taxation. It's true that at the present time I do support raising taxes in order to close the budget deficit. But I also do, in fact, support a government that generally speaking, spends less than it does now. But I'm not going to lie. I do also believe that taxation should be as much a policy tool as it is a means to finance the government.
I believe very strongly in progressive taxation (a belief, I might add, that I share with Adam Smith). I believe even more strongly in high estate taxes to diminish the concentration of wealth into families and those who haven't earned it. I believe in these things for two basic reasons: the first is that simply put, I think that those who have more money are the logical persons to tax at a higher rate — after all, they have more money to begin with, and so taxing the wealthy at a higher rate does less injury to a rich person than taxing a poor person at the same rate. The second reason I believe in it is because I believe that the concentration of wealth into the hands of the few is a positive harm to society. And I believe that history bears this out. The most common form of government in human history has been some variant of oligarchy, and the results have rarely been good for individual liberty.
Additionally, I believe that the evidence bears out the fact that concentrations of wealth lead to social rigidity — denying people the opportunities to better themselves economically and raise themselves up beyond the economic conditions they were borne in. Consider the following couple of charts: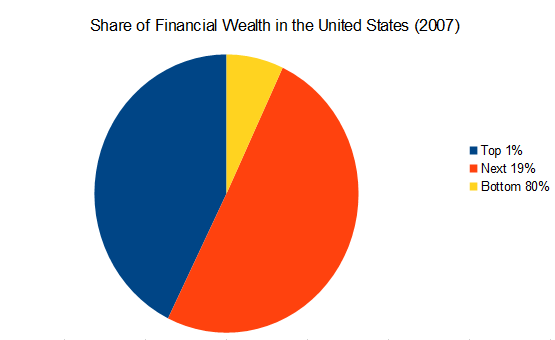 This is the share of financial wealth in the United States as of 2007. In it, you can see that 80% of the population has only 7% of the total wealth. And that has consequences. Here's another chart: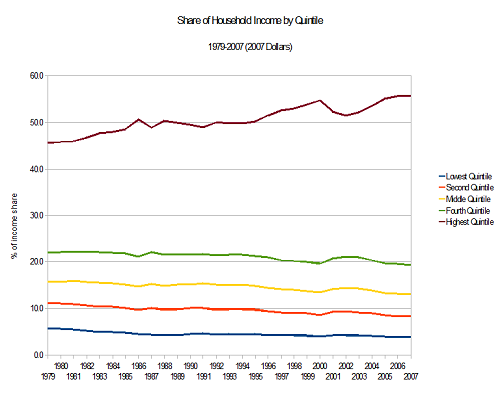 As you can see, the rich in the United States not only have a greater share of the total wealth, they also have greater shares of total income. And the results of that are predictable: compared to most of our industrialized peers, the United States has one of the most rigid socioeconomic class structures. In other words, in the United States, you're more likely to remain in the same socioeconomic class than you are in Canada–which is significantly more economically mobile than the United States.
Now, please don't take this to mean that I'm an egalitarian. I have no problem with doctors making more money than janitors. My problem is that the doctor's son is more likely to be a doctor and the janitor's son is more likely to remain a janitor. That's a real problem. I believe in the power of entrepreneurship and the ability to work your way and be economically successful. But that's less likely in economic circumstances where wealth is concentration and economic classes are rigid.
(As a side note, let me deal with the most common objection: "But it's my money!" That's partly true. I definitely think that property rights exist. But they don't exist absent a government that can enforce them. A free-market system simply cannot exist in the absence of government. In other words, unless you grew up on a desert island with no parents and no society and created all your wealth yourself, you couldn't have earned that money without government. So pay up what you owe and quit ignoring the giants upon whose shoulders you're standing.)
Now, that said, I don't think that all taxes are created equal, and I think that, in particular, our tax system could use a healthy dollop of reform. The only deductions that make any sense to me are ones for business expenses for the self-employed and business concerns. Every other deduction, credit, and what have you ought to be eliminated. H&R Block's market capitalization is, at the time of this writing, around $4.5 billion, so I'm guessing that there's plenty of deadweight loss we can eliminate by simply taxing income at progressive rates without mucking about with deductions and credits.
Yes, Dammit, the Budget Should Be Cut
To answer the next question, yes, I think the federal budget is too big. And while I think that budget cuts should be prudent, and while I also have some serious concerns about cutting the budget in the current economic climate, there are plenty of things I think the government shouldn't do. I briefly outlined this here. Let me go into it in a bit more detail now.
Rent Seekers, Begone!
If it were up to me, there would be no subsidies for businesses. None, nada, zero. As a general rule, regulations would be blunt instruments rather than attempts to fine-tune the economy, and those regulations would be focused on preventing actual harms. And the effectiveness of those regulations would be subject to empirical scrutiny, with incentives provided to regulators for doing their jobs well based on those metrics. I other words, I would focus and simplify regulations and use incentives to make make enforcement more effective. The simpler and cruder regulations are, the harder rent-seeking is, the more certainty there is, and the easier enforcement is.
I would also use the supremacy clause and commerce clause to centralize a hell of a lot of types of occupational licensing. Artificial barriers of entry for professions across state lines is something that the federal government shouldn't countenance. There's no reason why a licensed plumber who lives in Oregon should have to jump through a bevy of licensing processes to become a licensed plumber when he moves across the state line to Washington. I would also, for that matter, get rid of a lot of occupational licensing. It makes sense for doctors and nurses. It makes a bit less sense for hairdressers and interior decorators.
Bottom line: I want there to be more entrepreneurs. I want more people to work for themselves. The United States is pathetic on both scores. We rank near dead last when it comes to the number of self-employed and small business owners. I'd like to change that.
Let's Please, For the Love of God, Get Rid of the Prison-Industrial Complex
Incarcerating a prisoner costs about $25,000 per year. Supervising a prisoner on probation/parole costs about $3,600 per year. For non-violent offenders, isn't this a no-brainer? I'm sure that there are plenty of programs that are cheaper and more effective for preventing recidivism among non-violent offenders than locking them up in prison. The "Land of the Free" should not have the highest prison population rate in the world.
I would also recommend the legalization of at least marijuana, and the decriminalization of most others. It's just not worth the cost in lives, money, and liberty.
Yes, I Favor Universal Health Care. Because Numbers Don't Lie.
I favor universal health care. I favor it because I don't think that most forms of health care — and especially the most expensive ones — are very amenable to market forces. It's one thing to do cost comparisons for the cost of a physical. You can make appointments at your leisure. But when you have a heart attack, you can't exactly comparison shop. Furthermore, it is pretty much indisputable that the pre-PPACA health care system in the United States was lousy. Our health expenditures are much higher than other OECD nations, without any commensurate benefits. We're paying almost twice the OECD average for health care, but have lower life expectancies and higher infant mortality rates than many other countries with a universal health care system.
Now, the PPACA isn't perfect — it's just a start. If it were up to me, we'd have a single-payer plus optional private insurance system similar to that of other European countries. But we obviously have to do something.
Cut Defense Spending. A Lot.
This is the latest news out of Iraq:
Iraqi security forces detained about 300 people, including prominent journalists, artists and lawyers who took part in nationwide demonstrations Friday, in what some of them described as an operation to intimidate Baghdad intellectuals who hold sway over popular opinion.

[…]

Despite that, tens of thousands of Iraqis turned out for the protests, which began peacefully but degenerated as forces fired water cannons, sound bombs and live bullets to disperse crowds.

The death toll rose to at least 29 Saturday, as officials reported that six more protesters, including a 14-year-old boy, died from bullet wounds. The deaths were recorded in at least eight places, including Fallujah, Mosul and Tikrit.
I don't think that an eight-year war to replace one dictatorship with another in a foreign land is what the Founding Fathers had in mind when this country was born. Indeed, there were significant factions among the Founding Fathers that opposed large standing armies entirely. As James Madison so eloquently stated at the Constitutional Convention:
In time of actual war, great discretionary powers are constantly given to the Executive Magistrate. Constant apprehension of War, has the same tendency to render the head too large for the body. A standing military force, with an overgrown Executive will not long be safe companions to liberty. The means of defence agst. foreign danger, have been always the instruments of tyranny at home. Among the Romans it was a standing maxim to excite a war, whenever a revolt was apprehended. Throughout all Europe, the armies kept up under the pretext of defending, have enslaved the people.
We don't need as large an army as we have to defend our country. We can afford to make it smaller and more effective. More to the point — we can't afford not to.
A Hasty Conclusion
I am now past 2100 words on a single blog post, far too much for anyone to read, let alone write. But to go back and simply answer the original question: why don't I support smaller and less intrusive government? The answer is I do! As I hope you can see by now, if you're still reading this, there are many areas in which I'd like the government to pack up and go home. But there are also many areas in which I think there ought to be a bigger and/or more effective role for government to play.
There are obviously many areas of policy that I haven't even started talking about here. But I hope it provides some clarification as to my overall outlook on the role of government, the economy, etc etc etc. Oh, and because this is a manifesto, and Mark Levin has taught me in his manifesto to always end on a quote, let me end on this one — another goodie from James Madison:
If men were angels, no government would be necessary. If angels were to govern men, neither external nor internal controls on government would be necessary. In framing a government which is to be administered by men over men, the great difficulty lies in this: you must first enable the government to control the governed; and in the next place oblige it to control itself.
On that note, good night folks.