The State of Play Headed into New Hampshire
Clinton is a virtual lock for the Democratic nomination. Rubio is the most plausible Republican winner in a messy field.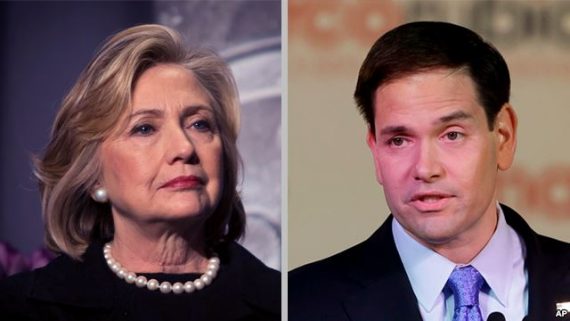 The results from Iowa's caucuses were only announced yesterday morning but already they've led Martin O'Malley, Mike Huckabee, and Rand Paul to drop out. I wouldn't be shocked if Rick Santorum joined them, given that he's currently at less than one percent in the RealClearPolitics average and did so poorly in the Hawkeye State after carrying it last cycle.
O'Malley was the Democratic candidate that I'd have most preferred win the White House. Given that I've historically voted Republican, that's probably not a good sign. Regardless, he was such an afterthought in the contest that his dropping out is essentially irrelevant. It's now a two-person race between Hillary Clinton and Bernie Sanders and, like my colleague Steven Taylor, I see Sanders' candidacy imploding once non-whites start voting in significant numbers with South Carolina's primary. Barring an epic scandal—and neither Benghazi! nor the email mess are enough—or tragedy, Clinton will be the Democratic nominee and likely sooner rather than later.
The Republican race remains the hardest to call since I've been paying attention—going back forty years.
Trump maintains a sizable lead in the national polls but I don't think that holds once the field narrows.  Still, the other "outsider" candidates, Carson and Fiorina are toast.  I doubt either stays in after New Hampshire.
Ted Cruz and Marco Rubio are obviously in a very good position coming out of Iowa.  Cruz, typical of Iowa winners, is the leading Evangelical candidate.  The gatekeepers have been pushing Rubio as the best Establishment choice for some time and his much-stronger-than-expected showing in the caucuses helped boost that narrative.
I think one of the Establishment governors—Chris Christie, John Kasich, or Jeb Bush—will get a boost coming out of New Hampshire. If they don't, Kasich and Christie will be toast and likely drop out.
If he doesn't, Bush will likely be toast as well but he has the money and organization to hang around for a long time. South Carolina comes February 20, Nevada is three days later, Super Tuesday comes March 1st, and then a string of primaries and caucuses in rapid succession the next two weeks. Given the polling and his performance in multiple debates so far, I don't see how Bush breaks out. But there's no obvious reason for him to drop out between now and March 22nd. 
While my preferred presidents in the field are Kasich and Bush, in that order, with both Christie and Rubio (the order depends on the day) as acceptable alternatives, Rubio strikes me as the guy with the best shot at attracting a winning coalition.  The state-level polling thus far is largely meaningless. Most primary voters don't start paying close attention until Iowa and New Hampshire winnow the field.  It's looking like the field will be Cruz, Trump, Rubio and a Governor to Be Named Later.  Cruz and Trump will ultimately alienate too many voters.  Bush, Kasich, or Christie would likely be acceptable to most Republicans but excite few of them. Rubio is the only one who combines charisma and likability.
And, yes, I'm quite aware that there has been no mention of policy at all in the post thus far. While I think the issues, notably immigration reform, will matter on the margins, party nominees—especially on the Republican side—are those best at coalition building, not those with the best white papers and talking points.