"The Toughest Times Any President Has Ever Faced" ?
In his farewell speech on Friday, Rahm Emanuel said that the Obama Administration had faced tougher times than any previous President. That is a fundamentally absurd idea.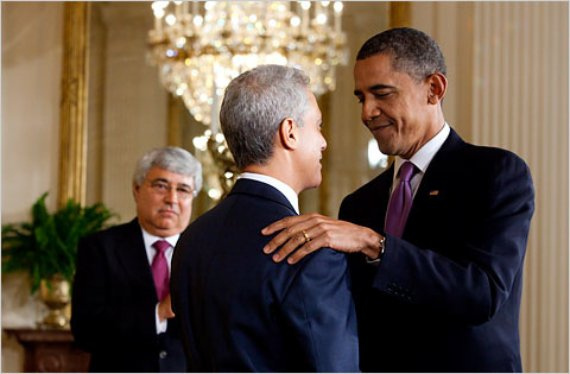 Both Ed Driscoll and Peter Wehner picked up on something Rahm Emanual said during his farewell address on Friday:
"Mr. President, I thought I was tough. But as someone who saw first hand how close our nation came to the brink and what you had to do to put America back on track, I want to thank you for being the toughest leader any country could ask for in the toughest times any president has ever faced," Emanuel said.
Leaving aside Emanuel's hagiography for Obama, the idea that the past eighteen months have been "the toughest times any president has ever faced," is simply absurd.
Just ask George Washington, who was charged with the task of leading a new nation, or Abraham Lincoln, who dealt with a war that tore the country in two, or Franklin Roosevelt, who dealt with the twin crises of an economic depression and a World War, or John F. Kennedy, who spent some time in October 1962 contemplating the possibility of nuclear war.
Even beyond those examples, however, one could also point to the Presidencies of James Madison, Woodrow Wilson, Harry Truman, Lyndon Johnson, Richard Nixon, Andrew Jackson, and even George W. Bush as presenting circumstances that were arguably more serious for the nation than the economic crisis that the Obama Administration has, quite honestly, done very little that could be considered innovative to alleviate.
Wehner thinks it's a sign of a seige mentality inside the White House:
What these comments useful highlight, though, is the mindset that has taken hold of the president, his closest aides, and some of his remaining supporters. They really seem to believe that the scale of problems they face is unprecedented in American history, that the hand they have been dealt is worse than any who have come before them.

I worked in the White House during the worst attack on our homeland in history, two wars, a recession, and one of the worst natural disasters in our history (I had left the White House by the time the financial collapse of 2008 occurred) — and neither I nor any of my colleagues entertained, even for a moment, the thought that what we faced held a candle to what Washington, Lincoln, or Roosevelt (to name just three past presidents) confronted. If we had, it would have rightly elicited ridicule.
And so should Rahm be ridiculed. The past eighteen months have been hard for many reasons, but the idea that they are historically unprecedented and that only Barack Obama can save us is both absurd and dangerous.