The Unfortunate Return Of Dick Morris
After several years in the wilderness, Dick Morris has returned as a Fox News analyst and, bizarrely, adviser to several Republican candidates for Congress.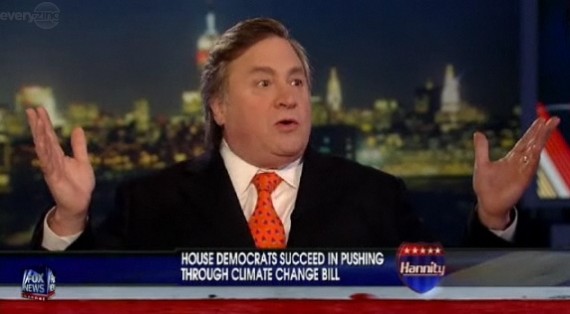 Alex Isenstadt at Politico takes note of one of the more interesting developments of this election cycle, the odd rehabilitation of Dick Morris:
Dick Morris, the former Bill Clinton consultant and confidant-turned conservative commentator, is trying on a new hat: Republican campaign surrogate.

Over the long arc of a career that has twice landed him on the cover of Time magazine, Morris has worked for prominent clients in both parties, ranging from Ed Koch to Jesse Helms. He's authored books, appeared regularly as a television commentator and served as a key political adviser to Clinton both in Arkansas and in the White House, all the while amassing a reputation as a brilliant, if cold-blooded, strategist.

But in his latest iteration, Morris has become something of a principal himself, headlining rallies, fundraising and advocating for Republican House candidates. He's formally endorsed some of the party's top prospects, raised money for a slate of GOP House candidates including David McKinley in West Virginia, and Bob Gibbs and Tom Ganley in Ohio, and even blasted out a message to his e-mail list subscribers heaping praise on David Harmer, a challenger for a northern California-based seat.

House candidates who haven't received material political benefits from Morris also report having informally discussed their races with the consultant and current FoxNews commentator at conservative events.

"He's found his place, and he's become important again. He's found his place on the right," said Hank Sheinkopf, a Democratic strategist who has known Morris for decades and who credits Morris with helping him land a job in the Clinton White House. "He's emerged as a major exponent of the conservative Republican argument."
One can't help but sense no small degree of opportunism here on the part of Morris. After all, this is a guy who, up until about ten years ago, worked almost exclusively for Democrats, Republicans or anyone who would write him a check, including the one Democrat that, until November 2008, Republicans despised the most. After retreating from public life in a wake of a bizarre sex scandal, Morris started maxing a comeback as a political prognosticator/pundit on Fox News Channel, where he became well known during the 2008 campaign as an "expert" on all things Hillary Clinton. More often than not, Morris's predictions about the 2008 campaign and his "guesses" about Hillary turned out to be wildly wrong, and his political hackery became something that Jon Stewart famously mocked in a September 2008 piece on The Daily Show:
After showing video of Dick Morris complaining about the rampant sexism in the media coverage of Sarah Palin, Stewart unveiled a clip of Morris saying that Hillary hides behind the sexism defense, and that anytime "the big boys" pick on Hillary, "she retreats behind the apron strings."

"In Dick Morris' defense," Stewart said, "he is a lying sack of sh*t."
And yet, here Morris is again, spinning tales that the audience of Fox News loves to hear, making predictions that nobody bothers to call him on when they turn out wrong, and, now, advising Republican candidates for office.
Nice work if you can get it, I suppose. I'm just not sure why anyone is still listening to him.