The War Against Air Conditioning
What exactly is it about air conditioning that has some people so upset ?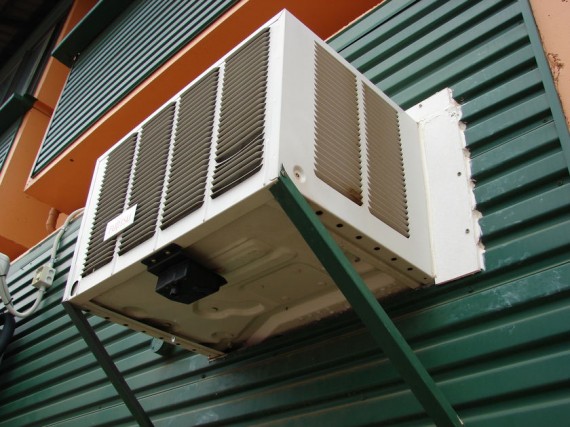 As most of the Eastern United States slides into the second day of a heat wave likely to last most of the week, Salon talks to a writer who thinks we'd all be better off without air conditioners:
In the last half century, air conditioning has joined fireworks, swimming pools and charred hamburgers as a ubiquitous ingredient of an American summer. It's no exaggeration to say it has changed the way this country functions, shaping everything from where we're willing to live (Las Vegas, anyone?) to the amount of sex we have (more: It's never too hot to get it on when the A.C. is blasting). Nine out of 10 new homes in this country are built with central air conditioning, and Americans now use as much electricity to power our A.C. as the entire continent of Africa uses for, well, everything. It has so thoroughly scrambled our way of life that when the National Academy of Engineering chose its 20 greatest engineering accomplishments of the last century, A.C. not only made the list, it clocked in ahead of spacecraft, highways and even the Internet.

But as science writer Stan Cox argues in his new book, "Losing Our Cool: Uncomfortable Truths About Our Air-Conditioned World (and Finding New Ways to Get Through the Summer)," the dizzying rise of air conditioning comes at a steep personal and societal price. We stay inside longer, exercise less, and get sick more often — and the electricity used to power all that A.C. is helping push the fast-forward button on global warming. The invention has also changed American politics: Love it or hate it, refrigerated cooling has been a major boon to the Republican Party. The advent of A.C. helped launch the massive Southern and Western population growth that's transformed our electoral map in the last half century. Cox navigates all of these scientific and social angles with relative ease, providing a clear explanation of how A.C. made the leap from luxury to necessity in the United States and examining how we can learn to manage the addiction before we refrigerate ourselves into the apocalypse.
Yep, that's right. Air conditioning has made us fat loners who vote Republican. Or, something like that.
Cox himself seems to have this strangely romantic view of what life was life before climate control became something available to almost every American:
You're one of the proud few without A.C. Do you find it's possible to be comfortable in the heat of the summer without it?

Yes, I think so. A couple of weekends ago it was in the high 80s here in Kansas. I was in my living room with the ceiling fan going, and I thought, man, it's really nice in here, so I went and got a thermometer, and it was 84 in the living room. I had an aunt who was always trying to economize and would keep her windows shut up and her air conditioning on 80 degrees, and that was utterly stifling. You just couldn't exist in that kind of environment, but if you have no air conditioning and plenty of ventilation and air movement, it's comfortable. Warmth in and of itself is not bad at all. It can even be quite enjoyable.
Enjoyable ? Tell that to the 700 or-so people who died in the 1995 Chicago heat wave, or the estimated 30,000 Europeans who succumbed to heat-related illnesses during the heat wave that struck the continent in 2003.
While discounting the innumerable benefits that this technology has brought to Americans, Cox goes on to talk about the alleged environmental impacts before circling back to what really seems to be his biggest complaint — if it weren't for air-conditioning, there wouldn't be so many of those darn Republicans:
What would the U.S. look like today without air conditioning?

It's pretty much unanimously believed that if we had not had air conditioning, we could not have had this huge migration of population from the North to the Sun Belt, and we certainly wouldn't have seen 70 percent of all economic growth happening in the South since 1960. This has had major political implications by shifting electoral votes to predominantly red states in the South and West. In an imaginary world where air conditioning hadn't been invented, it could easily be the case that many of the big Republican victories in the '90s and 2000s would not have happened.
As Ed Driscoll notes, this same argument was made by another Salon writer back in 2008:
In his essay "The End of the Long Hot Summer: The Air Conditioner and Southern Culture," historian Raymond Arsenault wrote that air conditioning made factory work tolerable in the South, reduced infant mortality, eliminated malaria and allowed developers to build skyscrapers and apartment blocks. Air conditioning industrialized and urbanized Dixie, lifting it out of its post-Civil War funk. No longer a poor, defeated colony, devoted to government aid and hating on Abe Lincoln, the South could fully indulge its conservative leanings.

You can also blame air conditioning for John McCain's political career. In 1982, Arizona was awarded two extra congressional seats, thanks to the arrival of A/C-blasting snowbirds. McCain bought a house in one of the new districts, and became its first congressman.

Where did those congressional seats come from? Well, my state of Illinois has donated eight. So far. We'll probably lose one more after the next census. New York has exported 16, Pennsylvania 14.
The irony, of course, is that air-conditioning was invented by Willis Carrier, one of the author's "hearty northerners," and that his company was headquartered in one of the snowiest cities in America up until 2003 when it headed South for a warmer climate.
It's hard to tell if Cox and others like him hate air-conditioning because of it's impact on the environment, because it caused people to move south, or because it allegedly led to the resurgence of the Republican Party as a Southern-SouthWestern party. Whatever the reason, it hardly qualifies as serious scholarship. If Cox wants to spend the next week without air-conditioning, that's is choice. I, on the other hand, will be keeping him at a tolerable temperature completely guilt-free.