Time For The Senate GOP To Give In On Merrick Garland Nomination?
With Donald Trump now confirmed as the GOP nominee, some conservatives are suggesting that the Senate GOP should just give in on the nomination of Merrick Garland to the Supreme Court.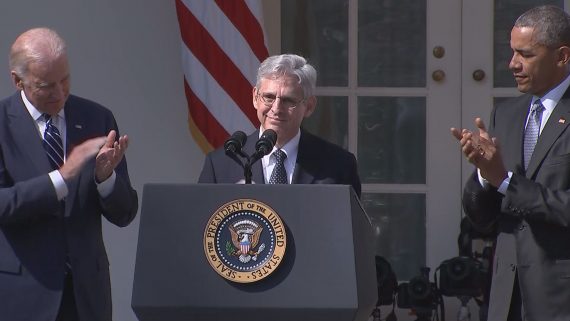 With Donald Trump's nomination as the GOP Presidential candidate now assured, and in the face of polling that shows Trump losing handily to Hillary, an editor at the conservative blog Red State is arguing that the Senate should confirm Merrick Garland's nomination to the Supreme Court rather than risk the possibility of Hillary Clinton appointing an even less palatable nominee:
Now that Donald Trump is the presumptive nominee, this is not even a close call. There is absolutely no reason to drag this out any longer. Garland is not a great choice, but he is not a terrible one, either. And more than anything, he is old (for a modern Supreme Court appointment) and will be up for replacement in probably 10 years instead of 20 or 30.

Republicans must know that there is absolutely no chance that we will win the White House in 2016 now. They must also know that we are likely to lose the Senate as well. So the choices, essentially, are to confirm Garland and have another bite at the apple in a decade, or watch as President Clinton nominates someone who is radically more leftist and 10-15 years younger, and we are in no position to stop it.

(…)

In fact, if I were the Republicans, my main concern right now would be that Barack Obama would withdraw Garland's nomination today. The fact that Merrick Garland still exists as an option right now is a gift that should not be squandered.

The calculus has changed – confirm Merrick Garland before it is too late.
As The Washington Post's Callum Borchers notes, this isn't the first time that the idea of confirming Garland has been raised on the right:
Confirm Merrick Garland if you think Hillary has a better than even chance of victory in November. … Garland is an excellent judge, about the best one could expect from Obama. One could do much worse, and certainly would with Hillary. (American Spectator, March 16)

It does seem that Merrick Garland is genuinely less liberal than some of the other choices. Given his age (63), a ghoulish look at the actuarial tables tell us that he's likely to be on the Court for only about 15 years or so. Senate Republicans should take this deal. (Buckley Club, March 16)

If … McConnell stands firm, he's blowing an opportunity to confirm a nominee who's likely to be more "moderate" than what President Hillary will offer next year. The conventional wisdom on Trump right now is that he's a dead duck in the general election barring some sort of national crisis. (Hot Air, March 16)

If polls showed Trump's candidacy in serious trouble, Republican senators might opt to confirm a man who appears to have a moderate streak in him rather than allow Hillary Clinton to nominate a young, hard-core progressive who would vote against every conservative constitutional and legal principle for the next several decades. (The Blaze, March 21)
Hot Air's Allahpundit, who made one of the arguments in favor of confirmation quoted above, pushes back against the Red State suggestion that the GOP give in on the nomination:
I'll give you three reasons why confirming Garland would be a bad idea. One: It'd be a concession by the Senate leadership that Trump can't win this fall. That's probably true, enough so to arguably make Garland's confirmation worth doing, but Trumpers would resent the pessimism bitterly. That might cost Republican Senate candidates some votes this fall. Two: It'd play into the conservative narrative that McConnell caves too easily and the establishment GOP is effectively in cahoots with Obama. Never mind the fact that Democrats have most of the leverage on this nomination, with Garland or a more liberal nominee the two likeliest outcomes by far. If McConnell caves, some already demoralized conservative voters may decide that it's not worth turning out this fall to save the Senate notwithstanding their antipathy to Trump. That would mean Senate incumbents suddenly have a problem on both flanks of the party, Trumpers and anti-Trumpers. That's a high hurdle to clear. Three: Wolf thinks Obama might yank Garland's nomination at any moment, making action by the Senate urgent. I don't. Doubtless Obama would prefer a nominee further left, but Garland's plenty liberal and he accepted a thankless task in agreeing to be nominated at a moment when Senate Republicans were swearing up and down that they wouldn't confirm a replacement for Scalia this year. Pulling the nomination at the very moment Democratic victory in November becomes likely would be a grievous snub to a guy who volunteered to be a potential sacrificial lamb. It would be shabby even by Obama's standards. Although, if McConnell's really worried about this, he could simply issue a statement affirming that he has no intention of holding a floor vote on Garland before the election but he reserves the right to revisit the question in the lame-duck session. That would be a public signal to O that Garland might end up on the Court anyway. Obama would have no reason to withdraw the nomination after that.
The fact that this suggestion is being made by the same wing of the Republican Party that was among the first to push the idea of "No Hearings, No Votes" in the wake of Justice Scalia's death is, perhaps, the best example yet of what this strategy has really been all about from the beginning. Contrary to the assertion that Republicans in the Senate believed that the American people should have a say in selecting the next President before such a radical change in the direction of the Supreme Court is made, this has always been about the hope among Republican Senators and conservative activists that a Republican would be elected President in November and the desire to keep the seat open for that President to select Scalia's replacement rather than allowing President Obama to do so. Now that it's clear that the Republican nominee is someone who is likely to lose to Hillary Clinton, and given the fact that President Obama gave the Senate GOP the seeming gift of a seemingly moderate nominee who, because of his age, is unlikely to be on the Court for much more than fifteen years, some of the same people who were calling the loudest for the Senate GOP to stand firm on "No Hearings, No Votes" are starting to crack in the face of the prospect that Hillary Clinton would select a younger, far more liberal, nominee who could play a role in reshaping the Court for decades to come.
So far at least, there's no indication that Senate leadership is at all inclined to back away from its current position. Just yesterday, for example, Judiciary Committee Chairman Chuck Grassley suggested that he was confident that Donald Trump would make good judicial appointments if he were elected and largely dismissed the argument raised by Red State and others that the GOP ought to confirm Garland rather than risk a more liberal appointment by a President Hillary Clinton. In the end, though, it is rather obvious that the entire "No Hearings, No Votes" strategy has been a massive political calculation on the part of the Senate GOP. The first part of the gamble is that holding off on any action on the nomination won't really harm Republicans politically, and so far at least that gamble seems to be paying off. While polling does indicate that the American people as a whole oppose what the Senate is doing, there's little evidence that taking this position is actually harming Republicans in a lasting way that will matter in November. The second gamble is that the GOP will somehow manage to win the White House. If and when it becomes more apparent that either of those things may no longer be true, the more likely it is that we'll see the Senate act. Until then, though, expect them to stand firm and for Garland's nomination to go nowhere.