Voters Don't Seem To Care About The Political Fight Over Vacant Supreme Court Seat
It may be the talk of Washington, but the political fight over Justice Scalia's vacant Supreme Court seat does not seem to be something voters care very much about.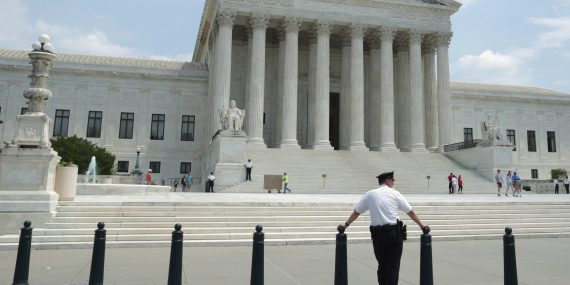 It's been more than two months since Justice Antonin Scalia died while on vacation in Texas, and a month since President Obama appointed Judge Merrick Garland as his choice to replace Scalia on the nation's highest Court. In the time since his name was put up for nomination, Garland has met with many members of the Senate, including several Republican Senators who have vowed that there would be neither hearings nor a vote on a replacement to fill the vacancy left by Justice Scalia's death. So far at least, there has been no action at all on Garland's nomination and no indication there will be any any action before President Obama leaves office in nine months. Over this same period of time, there has been polling which indicates that most Americans would prefer if the Senate did hold hearings and a vote on the nomination, but there hasn't been any indication of just how important this nomination is to voters and what impact it might have on the November elections, specifically on Senate elections that will decide who ends up controlling the upper chamber starting in January 2017.
If this tidbit from Associated Press reporter Julia Pace from Sunday's edition of Inside Politics on CNN is any indication, the Garland nomination, and the "No Hearings, No Votes" position the GOP appear to be something that few people outside the beltway actually care about:
PACE:  I sat in on some focus groups this past week with both swing voters and Republican voters, and some of the questions they were asked were about the Supreme Court nomination of Merrick Garland. And this was a real reality check for anyone in Washington who thinks that this issue is really animating voters across the country. I was so struck by how these voters seemed comply uninterested in the nomination fight.Among the swing voters, not one of them said that this was something that would really impact their vote in the fall. And even among the Republican voters who felt like this nomination should wait until the next president, almost none felt like this was an issue that was going to affect their vote either in the presidential race or in their Senate race.

KING:  Nice try Mr. President, I guess is the result.
Pace's experience with these focus groups is anecdotal, of course, and may not necessarily be representative of the electorate as a whole, but it is consistent with voter behavior in past elections, and it suggests that neither the nomination nor the Senate's refusal to act on it are going to have much of an impact on the election. It slso suggests that Senate Republicans are unlikely to be motivated to change their position on the nomination at any point before the General Election in November. Historically, the Supreme Court has never been a top voter concern in elections in the past, and generally not among those that voters have told pollsters would play a huge role in their decision on who to vote or in the General Election. Instead, as has almost always been the case, it's the economy and so-called "pocketbook" issues that voters identify as being important to them. To the extent there are people who feel strongly enough about issues like this for it to impact their vote, they generally tend to fall into two categories. The people in the first group are hard-core Democrats who aren't going to support Republican candidates for the Senate in any case, so their opinions are ones that GOP Senators tend to ignore. The second group consists of hard core Republicans who strongly support the "No Hearings, No Votes" position and strongly oppose anyone being confirmed to replace Justice Scalia before the next President takes office. This group has made clear that there would be consequences for Senators deviating from the 'No Hearings, No Votes" position, including possible primary challenges from more conservative candidates and the threat that conservative voter could stay home in November. This is the electoral calculus that Senate Republicans are faced with, and it makes the reasons why they will likely stick together on the decision to take no action on the nomination at least until after the election entirely understandable. The fact that voters as a whole don't particularly seem to care about these political machinations, it's likely that they won't pay much of a political price for their stubbornness.
H/T: Ed Morrissey