Trump Administration Continues To Misrepresent What North Korea Agreed To
The Trump Administration continues to misstate what the DPRK agreed to regarding its nuclear program. That's why talks between the two nations are stalled.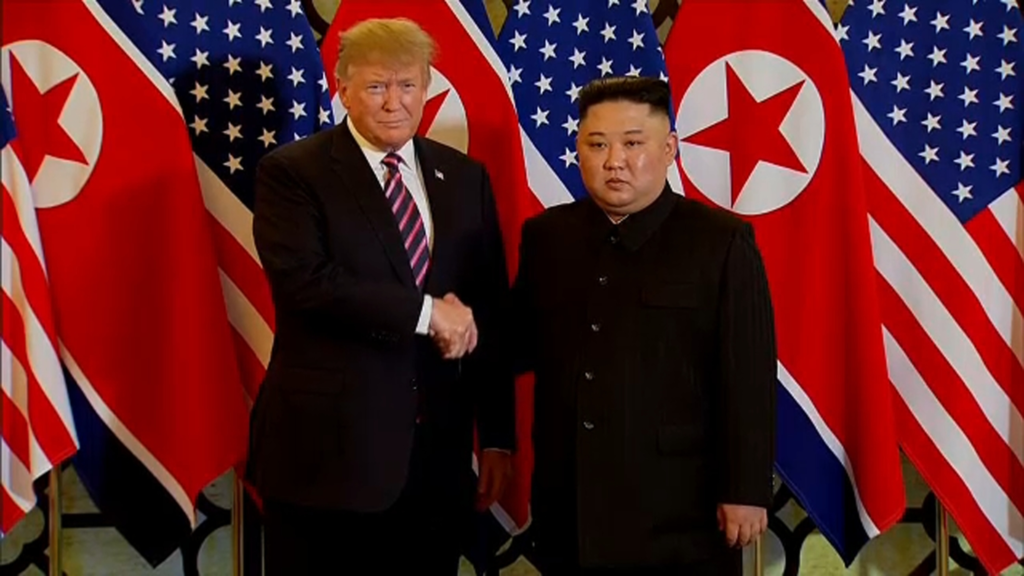 Secretary of State Mike Pompeo continues the Trump Administration's misrepresentations about what North Korea agreed to at last year's Singapore Summit, and it is the primary reason why efforts to strike any kind of deal with the DPRK is most likely doomed:
Secretary of State Mike Pompeo on Tuesday brushed aside North Korean demands that the Trump administration soften its nuclear negotiating posture, saying the Trump administration remains open to talks with Pyongyang, despite provocative rhetoric recently issued by the North Korean leader Kim Jong Un's regime.


"I hope we get another opportunity to sit down with them and have a serious conversation," Mr. Pompeo told The Washington Times in an exclusive interview. The U.S. stance that North Korea must abandon its nuclear weapons if it wants sanctions relief has remained "unambiguous" since President Trump's personal diplomacy with Pyongyang first gained momentum, Mr. Pompeo added.


Speaking at the end of a week-long visit to Europe, Mr. Pompeo stressed that Mr. Kim agreed to give up his nuclear arsenal nearly a year ago at the June 12 Singapore summit with Mr. Trump. "They need to do what Chairman Kim said that they would do," the secretary of state said.

"That's been our posture since the beginning. We're happy to talk about the best way to achieve that. We're happy to talk about what the right tools and mechanisms are so we can facilitate that."


But his comments come against a backdrop of unease that the nuclear talks have stalled — if not completely broken down — since a second Trump-Kim summit in Hanoi was abruptly cut short in February when the two sides failed to strike a far-reaching deal to end the North's nuclear and missile programs.

Mr. Trump said at the time that he had to walk away because the North Koreans demanded sweeping sanctions relief in exchange for only a limited commitment to destroy part of their nuclear arsenal, a characterization Pyongyang later challenged.

Since Hanoi, Mr. Kim has cast cast a negative shadow on future talks with heated rhetoric, and by carrying out missile tests — tests he had previously suspended while nuclear talks were gaining steam.


In a mid-April speech, the North Korean leader set a Dec. 31 deadline for the Trump administration to make a "bold decision" to change its negotiating stance if it wants a deal.


"We don't like — and we are not interested in — the United States' way of dialogue…in which it tries to unilaterally push through its demands," Mr. Kim said in the speech. "We don't welcome — and we have no intention of repeating — the kind of summit meeting like the one held in Hanoi."
Pompeo's characterization of what the DPRK agreed to at the Singapore Summit is largely consistent with the claims that the Administration has made in the wake of that event. Immediately after the meeting, for example, President Trump claimed that there was no longer a nuclear threat from the DPRK because of what happened at the meeting. The evidence since that time, though, it has been clear both that Kim Jong Un did not agree to what Trump claimed and that the summit itself was little more than a photo opportunity.
The extent to which this statement from Trump was erroneous became apparent only months after the summit. At that point, it was reported that North Korea was increasing production of the fuel needed to make additional nuclear weapons and that it was concealing the existence of ongoing nuclear weapons research at secret facilities well hidden from both surveillance and, most likely, the ability of the United States to take the sites out in a military strike. Additionally, it became apparent in the days after the summit that the much-publicized destruction of the DPRK's primary nuclear weapons test site, a much-hyped pre-summit event that was witnessed by American and other international journalists, was much less than met the eye and that the site could easily be rebuilt if needed in the future. Weeks later, we learned that the DPRK had also begun work on the construction of new ballistic missiles at yet another secret site.. Additionally, analysts who have seen satellite images say that the DPRK has made a second large nuclear reactor operational. This type of reactor is capable of making plutonium which is, of course, one of the main fuels used in the production of nuclear weapons. This new reactor can reportedly make four times as much plutonium as North Korea's current reactor, which has been the source for the plutonium needed for its nuclear arsenal to date. Finally, in the wake of the summit in Hanoi that again appears to have been more hype than hope, Pyongyang appears to be making major repairs to a previously abandoned ballistic missile test facility that could be signs that they are planning either a new round of tests or a satellite launch.
More fundamentally, though, the American position in talks with North Korea ignores the fact that the United States and North Korea have fundamentally different ideas of what "denuclearization" means.
For the United States, it essentially means that the North Koreans would give up their nuclear weapons, their ballistic missile technology, and their research programs in both areas. In exchange, it appears that the United States has made what seem to be vague at best promises about sanctions relief and the grandiose promises that President Trump has made about the benefits that would result from to the North Korean economy if it opened itself to the world even though there's no indication that Kim Jong Un or the leadership in Pyongyang want that kind of future for their country.
For the North Koreans, "denuclearization" means that the United States would withdraw its armed forces from the Republic of Korea, and potentially Japan as well and that it would end the "nuclear umbrella" policy it has for South Korea and Japan that guarantees American reprisal for any nuclear attack on either nation. It's quite obvious that neither nation would readily agree to either outcome.
The American approach to talks with North Korea continues to make fundamental errors because it fails to recognize that the two sides are talking about fundamentally different things. Instead, the Administration's alleged goals for those talks are fundamentally at odds with reality.
As Daniel Larison notes, the decision of the Administration to refuse to recognize all of this comes with serious consequences:
The Secretary of State's fabrications are dangerous for a few reasons. It is always risky for U.S. interests when our top officials insist on misleading and lying to the public about what they are doing and what other governments have committed to doing. In this case, the administration has been lying about what North Korea agreed to in order to make their unsuccessful pressure campaign seem at least slightly successful. That has trapped them into pretending that North Korea made commitments it never made, and that in turn has prevented them from adjusting their demands to match North Korea's real position. If there was any possibility of reaching an agreement with North Korea, this combination of deceit and maximalism has killed it. After all, the North Koreans know what they did and didn't agree to, and they aren't going to be interested in negotiating with a government that continually misrepresents what they have said and done. This is not just a question of having different definitions of key terms. Even if both sides are using some terms to fudge some of the remaining gaps between their positions as they work towards a final agreement, there should be a clear understanding of what each side has promised to the other. To date, North Korea has not promised to give up its nuclear weapons in part or in their entirety, everyone involved knows they didn't, and it is the height of diplomatic malpractice and folly for our top diplomat to keep telling everyone that they did. That can only serve to sow more distrust between our governments and pave the way for a new showdown in the coming year.
It's still possible, of course, for the United States to end up with an agreement with North Korea that would go a long way toward reducing tensions on the Korean Peninsula. For example, we could finally negotiate an end to the Korean War via a peace treaty that includes not just the DPRK and the United States but also China and South Korea. This treaty could conceivably include agreements that would reduce tensions along the Demilitarized Zone that would include the removal of troops on both sides that have spent the last 60 years and more on a hair trigger for war. Among other things, this would significantly reduce the risk to some of the most heavily populated areas of South Korea, which at the moment remain vulnerable to a North Korean military strike that could come with virtually no warning. Perhaps, this would make it possible for the United States to remove some of its forces in the future.
Developments over the past year also offer a guide to what talks with the North Koreans could realistically achieve. For example, tensions on the Korean peninsula, which have been on a razor's edge since the end of the Korean War and ramped up significantly during the tit-for-tat exchanges that took place between President Trump and the North Korean leader throughout 2017, have calmed down significantly over the past year. Additionally, the relationship between North and South Korea appears to be better than it has been in several years during which the DPRK was engaged in provocative action such as firing missiles at a South Korean naval base and attacking a South Korean naval vessel. Making those changes permanent would be a good thing. However, as I have noted before (see here, here and here), if the United States continues to insist that the ultimate goal of these talks is the idea that North Korea will give up its nuclear arsenal, then all of this is doomed to fail.