Trump And Carson Continue To Lead GOP Field, Rubio Rises
While Donald Trump and Ben Carson have slipped somewhat in the polls, they both continue to lead the GOP field while Marco Rubio shows signs of breaking out of the middle of the pack.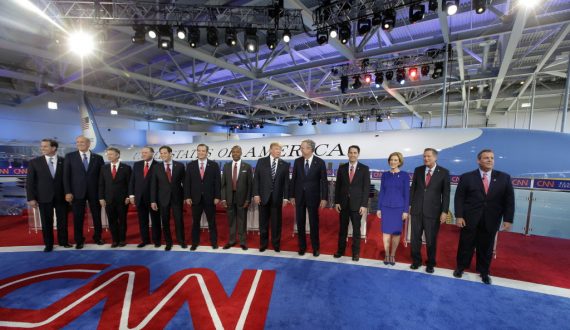 D
A new poll from CBS News shows that Donald Trump and Ben Carson continue to lead the race for the Republican nomination, but there are some signs that other candidates may be starting to make a move as voters start to pay more attention to the race:
Donald Trump continues to lead the field nationally in the race to become the Republican nominee for president. Twenty-seven percent of Republican primary voters support Trump, giving him a six point lead over his closest competitor, neurosurgeon Ben Carson (21 percent).

The rest of the Republican field is in single digits, with Texas Senator Ted Cruz inching up into third place with nine percent, followed by Florida Sen. Marco Rubio with eight percent. Businesswoman Carly Fiorina and former Florida Gov. Jeb Bush follow at six percent each. Former Governor Mike Huckabee has also slipped considerably since the summer, from eight percent in August to just two percent today.

When Republican voters are asked who would be their second choice for the nomination, Ben Carson (20 percent) and Marco Rubio (18 percent) are the most mentioned candidates.

Among Trump supporters, Carson is the top second choice, far ahead of any other candidate.

Seven in ten Republican primary voters would support Trump if he became the party's eventual nominee, though many would have reservations. Twenty-nine percent would support Trump enthusiastically, while 42 percent would support him with reservations, and another eight percent would only support him because he is the party's nominee. One in five Republican primary voters would not support Trump if he became the nominee.

Trump continues to be viewed as the most electable candidate in a general election. Thirty-five percent say Trump has the best chance of winning in November 2016, followed by Ben Carson (18 percent).

Carson, Trump, Rubio, and Fiorina are all viewed more favorably than unfavorably among Republican primary voters. At 62 percent, favorable views of Ben Carson are the highest of this group, only seven percent are unfavorable. Fifty-three percent have a favorable view of Donald Trump, and 50 percent have a positive assessment of Marco Rubio. While Trump's unfavorable rating is more than twice that of either Rubio or Fiorina, many don't have an opinion of the latter two candidates. Former Governor Jeb Bush is now viewed more unfavorably (38 percent) than favorably (32 percent) by Republican primary voters.

While the favorable ratings of both Donald Trump and Marco Rubio have risen slightly since August among Republican primary voters, Bush's favorable rating has dropped 11 points.

These Republican candidates are viewed less positively among all registered voters nationwide.

Carson has the highest favorable rating among this broader group of voters, and Fiorina is viewed more favorably than not. Voters divide in their views of Rubio. Many voters overall don't have an opinion of these three contenders.

Fifty-three percent of registered voters overall have an unfavorable opinion of Trump – the highest of the Republicans asked about. Bush is also viewed negatively.
Just about a month has passed since the last Republican debate, and we can see some changes in the state of the race, but at the top things remain relatively unchanged. Donald Trump did see his numbers fall from the peak that they reached right before that last debate, when we saw him peak at roughly 31% in both the RealClearPolitics and Pollster averages, but they began to fall almost immediately thereafter even though Trump remained in the lead. At the time, many political pundits forecast that this would be the beginning of the end of Donald Trump's dominance of the race. As I cautioned at the time, though, there had already been other times since June when we were supposedly at the beginning of the end for Trump only to be proven wrong. For the moment at least, it would appear that this caution was warranted since Trump's drop in the polls seems to have come to a halt for the time being and he finds himself in roughly the same position in the polls that he was in at the end of August prior to his surge before the second debate. Similarly, Ben Carson seems to be in about the same position he was in prior to the debate, though he may have benefited somewhat from the what many observers agreed was a less than spectacular performance by Donald Trump. Like Trump, though, Carson seems to have leveled off where he is at the moment.
If there's one candidate who clearly seems to have benefited from the fallout from the second debate, it would appear to be Florida Senator Marco Rubio, who has seen his standing in the post-debate polls rise significantly to the point where he is now in third place in the poll averages. Admittedly, Rubio's position at 9.9% in the RealClearPolitics average and 10.5% in the broader Pollster average is far below where Trump and Carson stand at the moment, but it is a significant rise for a candidate that had been languishing for much of the summer and one that arguably positions him to rise further in the coming months for the reasons I argued last week.
On the other end of the spectrum, there does appear to be at least some evidence that Carly Fiorina's rise in the polls may have reached its peak. As you will recall, Fiorina's performance in the undercard portion of the first Republican debate was good enough to catapult in her in the polls and earn her a position, thanks to a rule change, on the main stage of the second debate. Since then, though, her numbers have slowly been drifting downward at the national level and it doesn't seem as though she was able to build on the momentum she had coming out of the first debate. With a serious candidate like Rubio now rising in the polls, and Texas Senator Ted Cruz not far behind, it could be that Fiorina's moment in the sun was quite fleeting indeed.
As for the rest of the field, there really isn't very much to say, the candidates at the bottom of the pack — Bobby Jindal, George Pataki, Lindsey Graham, Rick Santroum, and Jim Gilmore — remain where they've always been and may or may not end up getting invited to the October 28th undercard debate. Fiorina, Jeb Bush, and Ted Cruz seem to be firmly established in the second tier behind the top three, meanwhile. That leaves the candidates who are arguably on the bubble for the main stage for the next debate. In order to get on that stage, a candidate will have to have an average of at least 2.5% in the polls that CNBC will be consulting, of which CBS is one, for the period concluding on Saturday. Based on that criteria, John Kasich, Mike Huckabee, and Chris Christie all seem to be guaranteed a slot, although the fact that their numbers have slipped in recent polling means that they could be in danger depending on what any additional polling we see over the next week might say. The most vulnerable candidate, though, is Kentucky Senator Rand Paul who currently is sitting right on the 2.5% average he would need to qualify. If he slips in any polls that come out between now and Saturday, his status on debate night will be impacted significantly and that would not be good news for a campaign that is already flailing.