Trump And Putin Had Previously Undisclosed Meeting At G-20
Is there anyone in the Trump Administration or family who hasn't held undisclosed meetings with Russians?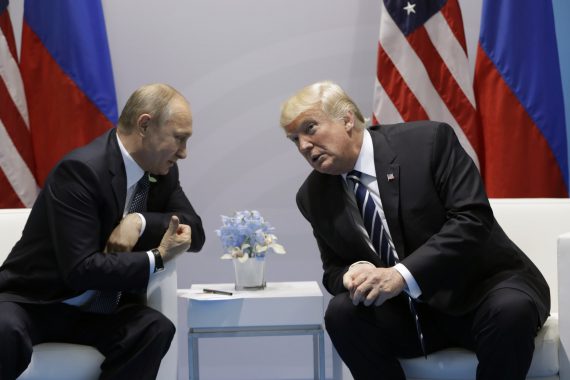 Last night, we learned that President Trump held a second, previously undisclosed, meeting with Russian President Vladimir Putin at the G-20 meeting earlier this month:
WASHINGTON — Hours into a dinner with world leaders who had gathered for the Group of 20 summit meeting, President Trump left his chair at the sprawling banquet table and headed to where President Vladimir V. Putin of Russia was seated.

The two presidents had met earlier in the day for the first time and, as the White House put it, had developed a rapport even as they talked about Russia's interference in the United States' 2016 elections.

The July 7 meeting in Hamburg, Germany, was the single most scrutinized of the Trump presidency. But it turned out there was another encounter: a one-on-one discussion over dinner that lasted as long as an hour and relied solely on a Kremlin-provided interpreter.

No presidential relationship has been more dissected than the one between Mr. Trump and Mr. Putin, a dynamic only heightened by the swirl of investigations into whether Mr. Trump's campaign colluded with Russia to sway the election in his favor. Nevertheless, the meeting was confirmed by the White House only on Tuesday, after reports surfaced that some of the guests had been surprised that it occurred.

The dinner discussion caught the attention of other leaders around the table, some of whom later remarked privately on the odd spectacle of an American president seeming to single out the Russian leader for special attention at a summit meeting that included some of the United States' staunchest, oldest allies.

A White House official said there was nothing unusual about it. And in two tweets late Tuesday, Mr. Trump derided news reports about it as "sick." He said the dinner was not a secret, since all of the world leaders at the summit meeting and their spouses had been invited by Chancellor Angela Merkel of Germany. "Press knew!" he tweeted.

"Even a dinner arranged for top 20 leaders in Germany is made to look sinister!" Mr. Trump added.

While the leaders-and-spouses dinner was on Mr. Trump's public schedule, the news media was not allowed to witness any part of it, nor were reporters provided with an account of what transpired. Mr. Trump's traveling press contingent did note, however, that his motorcade left the dinner four minutes after Mr. Putin's did.

The dinner at which the private conversation took place stretched for more than three hours after a concert for the leaders and their spouses at the Elbphilharmonie, a concert hall on the banks of the Elbe River.

In the earlier, formal meeting, Mr. Trump said later, he asked the Russian president twice about his role in the American vote. Mr. Putin denied involvement, and the two men agreed to move beyond the dispute in the interest of finding common ground on other matters, including a limited cease-fire in Syria.

There is no official United States government record of the intimate dinner conversation, because no American official other than the president was involved.

"Pretty much everyone at the dinner thought this was really weird, that here is the president of the United States, who clearly wants to display that he has a better relationship personally with President Putin than any of us, or simply doesn't care," said Ian Bremmer, president of the Eurasia Group, a New York-based research and consulting firm, who said he had heard directly from attendees. "They were flummoxed, they were confused and they were startled."

The encounter occurred more than midway through the lengthy dinner, when Mr. Trump left his chair and approached Mr. Putin, who had been seated next to the first lady, Melania Trump. It was described to Mr. Bremmer by other guests as lasting roughly an hour and not initially disputed by a White House official who spoke on the condition of anonymity.

But Sean Spicer, the White House press secretary, disputed that account. He said Mr. Trump had described the exchange with Mr. Putin as purely social, and as lasting far less than an hour. "It was pleasantries and small talk," Mr. Spicer said. In a separate statement, the White House said the two presidents had spoken through the Kremlin's interpreter because the American translator with Mr. Trump did not speak Russian.

Experts in United States-Russia relations said such an encounter — even on an informal basis at a social event — was a concern because of its length, which suggested a substantive exchange, and because there was no note taker or national security or foreign policy aide present.

"We're all going to be wondering what was said, and that's where it's unfortunate that there was no U.S. interpreter, because there is no independent American account of what happened," said Steven Pifer, a former ambassador to Ukraine who also specializes in Russia and nuclear arms control.

"If I was in the Kremlin, my recommendation to Putin would be, 'See if you can get this guy alone,' and that's what it sounds like he was able to do," added Mr. Pifer, a senior fellow at the Brookings Institution in Washington.
To be fair, there isn't necessarily anything unusual about American Presidents meeting with another world leader informally at one of these international gatherings, and the dinners and lunches that occur at events like the G-20 meeting are in some sense designed to encourage exactly this kind of contact between world leaders. What is unusual is the fact that Trump apparently didn't have any similar conversations with other world leaders at the meeting, including the leaders of American allies like Great Britain, Germany, and France, or nearby neighbors such as Canada, Mexico, Brazil and Argentina. Additionally, the fact that Trump didn't bring his own State Department translator along and instead relied on the Russian Government's translator, which means both that the American President was relying on a Russian Government employee to translate what he was saying and that there is no independent record of what was discussed at the meeting. So, while I wouldn't necessarily say there was anything suspicious about the meeting, the way is was conducted was amateurish and leaves the President open to being accused by the Russians of having agreed to things and there would be no independent American source to confirm or deny this.
Of course, any meeting between the President and the Russian leader is going to raise eyebrows. Not just because of the fact that we're talking about the leaders of two important and adversarial powers but also because of the questions that have arisen regarding the Trump campaign's contact with Russian officials before the November 2016 election. Over the past six months, we've learned that everyone from former Trump campaign adviser and National Security Council head Michael Flynn and Attorney General Jeff Sessions to Trump's son Donald Jr. and his son-in-law Jared Kushner. As I joked last night when news of this meeting first broke, we're at the point where it would perhaps be easier to ask which members of the Trump campaign and family didn't have a meeting with a Russian official at this point.