Trump Barely Leading In South Carolina?
A new poll shows Donald Trump barely winning in a state that should be solidly red.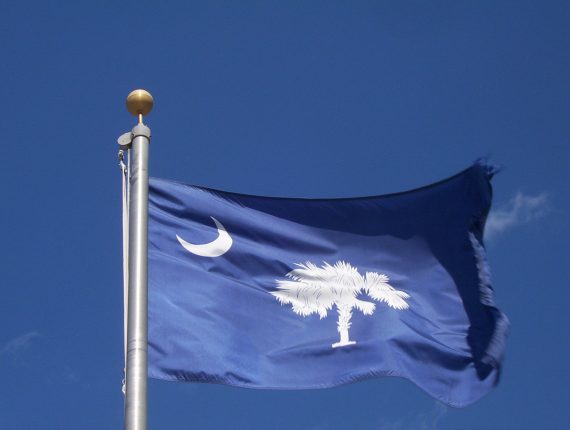 A  new poll from Public Policy Polling has Donald Trump holding on to a surprisingly narrow lead in South Carolina, a state that has been solidly Republican in nearly every Presidential election for the past half century:
PPP's newest South Carolina poll* finds that the state is trending toward being competitive in the Presidential race this year, just like in neighboring Georgia. Donald Trump has only a 2 point lead with 41% to 39% for Hillary Clinton, 5% for Gary Johnson, and 2% for Jill Stein.

The closeness is a function of Democrats being a lot happier with their party's candidate than Republicans are with theirs. Clinton is winning 84% of the Democratic vote, compared to Trump's 77% of the Republican vote. Although neither candidate is well liked by voters in the state Trump's favorability, at 38% positive and 56% negative, comes in slightly worse than Clinton's at 38/55.

Whether Democrats end up winning South Carolina in the Presidential race this fall or not, the generational differences in the state portend well for the party in the decades ahead. Trump is only ahead because of a massive advantage among seniors in the state at 58/30. When you look at everyone in the electorate below the age of 65, Clinton leads Trump 41/36. That suggests the potential for the Palmetto State to become much more of a battleground in the years ahead, just as in migration and the increasing diversity of the electorate has done in Southern states like Virginia and North Carolina.
If this number is anywhere close to being accurate, it's a complete surprise and potentially a sign of serious trouble for the Trump campaign. For years now, the Palmetto State has been reliably Republican in Presidential elections, even in 1964 when Barry Goldwater was otherwise getting crushed by Lyndon Baines Johnson in one of the historic landslide wins of the 20th Century. That was the first election in which the state had gone for a Republican in a Presidential election since the election of 1876, the last post-Civil War election of the Reconstruction Era. After 1964, South Carolina has only gone for a Democratic candidate once, in 1976 when Jimmy Carter from neighboring Georgia was on the ballot and managed to bring the state back into the Democratic orbit for one election. Fellow southerner Bill Clinton was unable to do this in either 1992 or 1996. Additionally, the Palmetto State is typically one where the GOP's margin of victory exceeds five percentage points and has often extended into the double digits. In other words, South Carolina has generally been one of those states that you automatically color in red or blue on an Electoral College projection map because there is rarely a question about which way the wind is going to blow there on Election Day.
Given all of that, a poll that purports to show Trump with a lead inside the margin of error is one that gives pause. If it's accurate, then it suggests that Trump's campaign is in bigger trouble than we've been assuming so far. It's one thing to see him having trouble gaining a foothold in states that Democrats have typically won such as Pennsylvania, Michigan, and Wisconsin, or in battleground states like Virginia, Ohio, or Florida. It's quite another to see him apparently struggling in states that Republicans ought to win easily, such as Utah, Georgia, and South Carolina. If he's having trouble holding on to those states, even with more than eighty days left before Election Day, then it suggests the possibility of an Electoral College disaster akin to Michael Dukakis's defeat in 1988, or maybe even something worse.
Before Republicans start panicking, and Democrats start celeb rating, the idea of states like South Carolina being in play, though, it's worth noting a few caveats. First of all,as I noted there has been almost no polling in the state of the General Election so it's impossible to tell if this poll is an accurate reflection of the state of the race or an outlier. The last poll of a head-to-head race out of South Carolina appears to be a November 2015 poll that showed Trump up by five points but that doesn't really tell us much of anything. So, this poll could be a sign of some really bad news for the Trump campaign and the Republican Party, or it could be an anomaly. I suspect other polling companies will be running numbers in the state soon in order to try to find out what the answer to that question happens to b