Trump Continues To Slump In The Polls
With the Administration's six-month point approaching, Donald Trump continues to lag in the polls.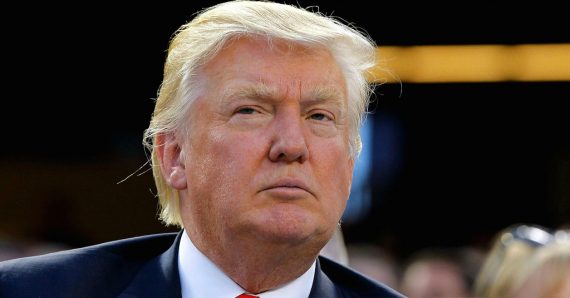 With the Trump Administration approaching the six-month mark, a new poll from ABC News and The Washington Post shows the President's job approval continues to stand at historically low levels:
President Trump's standing with the American people has deteriorated since the spring, buffeted by perceptions of a decline in U.S. leadership abroad, a stalled presidential agenda at home and an unpopular Republican health-care bill, according to a new Washington Post-ABC News poll.

Approaching six months in office, Trump's overall approval rating has dropped to 36 percent from 42 percent in April. His disapproval rating has risen five points to 58 percent. Overall, 48 percent say they "disapprove strongly" of Trump's performance in office, a level never reached by former presidents Bill Clinton and Barack Obama and reached only in the second term of George W. Bush in Post-ABC polling.

Almost half of all Americans (48 percent) see the country's leadership in the world as weaker since Trump was inaugurated, compared with 27 percent who say it is stronger. Despite the fact that Trump campaigned as someone skilled at making deals that would be good for the country, majorities also say they do not trust him in negotiations with foreign leaders and in particular Russian President Vladimir Putin.

Just over one-third of all Americans say they trust the president either "a great deal" or "a good amount" in any such foreign negotiations. Asked specifically about Trump-Putin negotiations, almost 2 in 3 say they do not trust the president much, including 48 percent who say they do not trust the president "at all."

Perceptions about the role of Russia in the 2016 election and possible collusion or cooperation with Trump campaign associates continue to be a drag on the president, though like many other questions, results show a clear partisan divide.

The Post-ABC poll finds 60 percent of Americans think Russia tried to influence the election outcome, up slightly from 56 percent in April. Some 44 percent suspect Russian interference and think Trump benefited from their efforts. Roughly 4 in 10 believe members of Trump's campaign intentionally aided Russian efforts to influence the election, though suspicions have changed little since the spring.

Last week, information was revealed by the New York Times that Donald Trump Jr. and two other senior campaign officials met with a Russian lawyer and others after being offered damaging information about Hillary Clinton and told that the information was part of a Russian government effort to help Trump.

Asked about this revelation, more than 6 in 10 Americans say the meeting was inappropriate, with just about a quarter saying it was appropriate. But almost half of all Republicans call the meeting appropriate.

Suspicions of Trump have eased at least slightly on one front. While 52 percent think he is trying to interfere with investigations into Russia's possible election interference, that is down slightly from 56 percent in June.

The president's strongest assets continue to be the healthy economy and a view among many Americans that the Democrats do not have a coherent message or program in opposition, other than opposition to the president.

Trump's approval rating on the economy, in contrast to his overall rating, is about one-to-one, with 43 percent giving him positive marks and 41 percent giving him negative ratings. Meanwhile, fewer than 4 in 10 say the Democratic Party currently stands for something, while a slight majority say it "just stands against Trump."

Beyond those areas, Trump continues to be deeply unpopular. His standing is a mirror opposite of Obama and Bush at this point in their first terms. Each held a 59 percent job approval rating in Post-ABC polling. Trump's standing is closer to that of Bill Clinton's, who hit a record low 43 percent approval in late June 1993, before rebounding later that year.

Half of Americans say Trump is doing a worse job than most past presidents, while just under one-quarter say he is doing better, and a similar share say he is faring about the same as previous presidents. A 55 percent majority say Trump is not making significant progress toward his goals.
This, of course, continues a trend that we've seen since the beginning of Trump's Presidency. Outside of a handful of times when his approval numbers have been positive in the Rasmussen tracking poll, there hasn't been a single job approval poll conducted since he took office on January 20th that has shown the President in a positive light, and the trend seems to show that this is unlikely to change anytime soon. In the RealClearPolitics average, for example, Trump stands at an average of 40.2% approval and 54.7% disapproval. This is somewhat better than where he stood two months ago, when disapproval hit a high of 56% and approval hit a low of 38.6%, but it's not much better either. In the Pollster average, Trump stands at 40.7% approval and 55.3% disapproval. Again, this isn't quite as bad as the President's worst standing in the average, but it's not much better either. When you look into the detail of the polls, you find that Democrats continue to overwhelmingly disapprove of the President's performance, while Republicans overwhelmingly give him outstandingly positive reviews. Independents, on the other hand, largely follow the national trend. This is pretty much the same thing we saw during President Obama's time in office, except that it was Democrats who thought the President was doing an excellent job while Republicans overwhelmingly disapproved and Independents largely followed the national trend.
The RealClearPolitics chart shows that Trump's numbers seem to be staying at the same levels: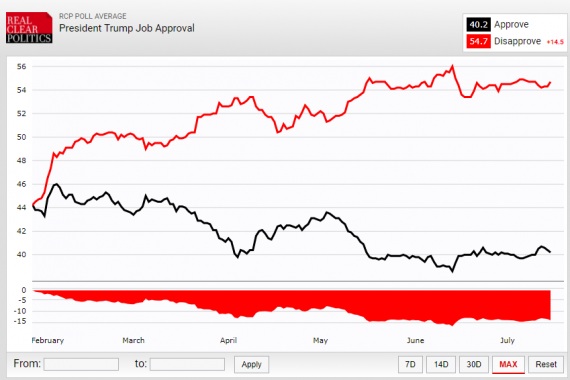 As I've said before, these are the worst numbers that a newly elected President has seen since job approval polling began, and there's little sign that they will improve at any point in the foreseeable future. Indeed, as I've said in the past it's usually the case that a new President is given a honeymoon period of sorts by the public during which their job approval numbers remained relatively high. In most case, a newly inaugurated President will see positive job approval numbers for at least the first two years of their Presidency. In extraordinary cases, those numbers have remained positive for much longer thanks to events beyond the control of an individual President such as the Persian Gulf War for George H.W. Bush, the aftermath of the September 11th attacks for George W. Bush. In every President's case, though, there came a point where the honeymoon came to an end and reality set in. In most cases, recent Presidents have been able to bounce back in time to be re-elected and generally have been viewed more positively than negatively by the time their second term ended. The exception to this rule, of course, is George W. Bush, whose poll numbers began to collapse in his second term due to both the Iraq War and a crumbling economy. In Trump's case, we have a President who's already in negative territory, and it seems unlikely that this is going to change anytime soon.
Practically speaking, though, these bad poll numbers are unlikely to have an immediate impact on either the Administration or on Republicans on Capitol Hill. As Dave Schuler noted in a recent post at his site, Trump seems to have a floor of around 40% when it comes to job approval. No doubt, this is largely due to the fact that he remains immensely popular among Republicans, while Independents remains roughly consistent with the national average. Until that changes, it's unlikely that there will be serious repercussions for the Administration, or that Republicans on Capitol Hill will find it politically expedient to distance themselves from him except perhaps in extreme circumstances driven by the demographics of their particular Congressional District or state. What this means, of course, is that talk of impeachment or anything similar is largely nothing but fantasy and that Trump's fate will depend on what happens on Election Day 2020, which is simply too far off to predict with any degree of reliability.