Trump Could Find It Hard To Replace Sesssions
President Trump has made no secret of the fact that he is displeased with the performance of Jeff Sessions, but he could find it hard to replace him.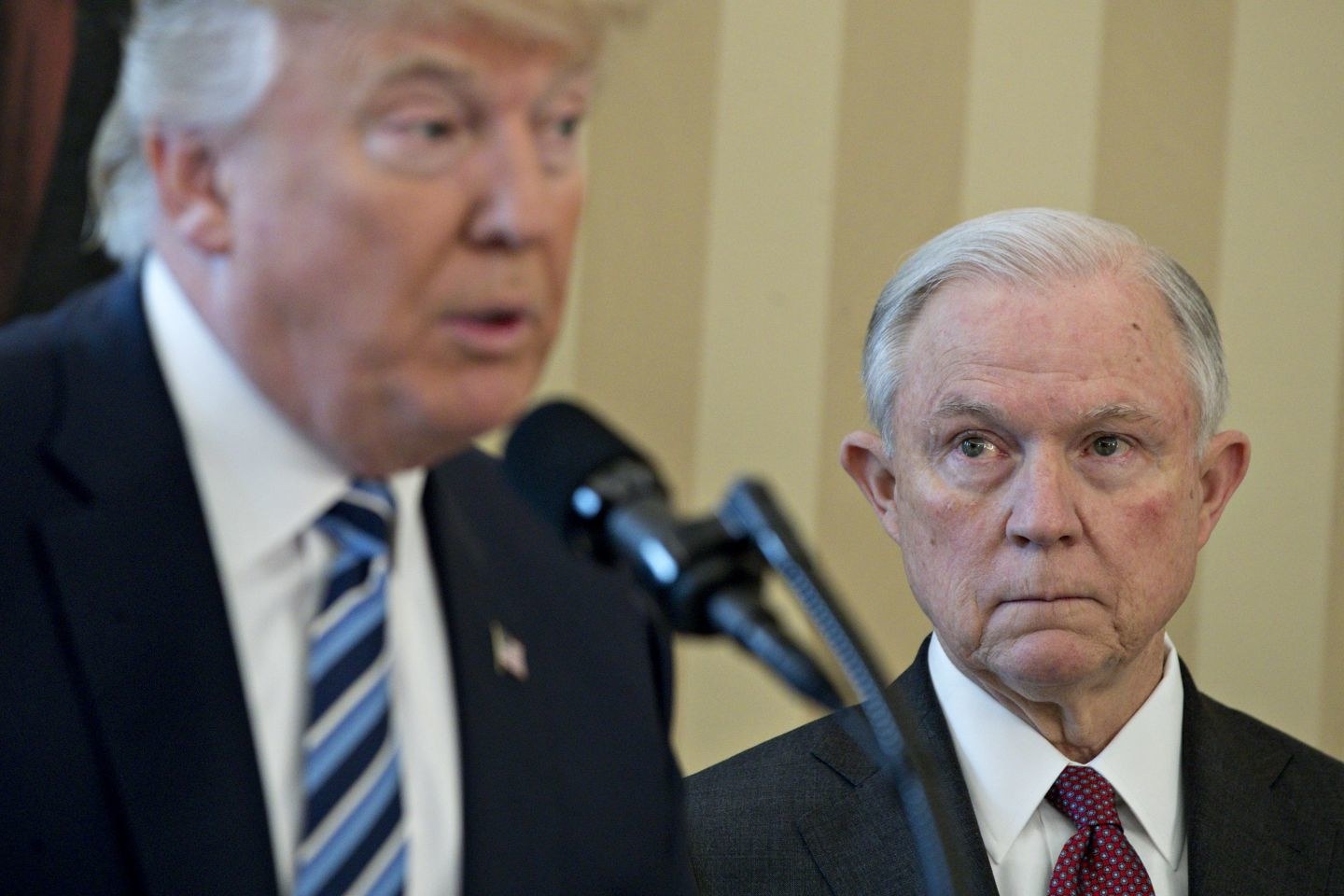 President Trump has not made his disdain for Attorney General Jeff Sessions a secret. In both private conversations that have been leaked to reporters and in his public tweets and comments, Donald Trump has often referred to the person who was the first member of the Senate to back his campaign in demeaning terms. Behind the scenes, it's been reported that Trump has mocked Sessions' southern accent, referred to him with nicknames such as "Mr. Magoo," and speculated openly about firing him as the first step in firing Special Counsel Robert Mueller. Publicly, Trump's treatment hasn't been much better. On Twitter and in public remarks, Trump has criticized Sessions for not telling him that he would recuse himself from the Russia investigation (in which case Trump says he would not have appointed), criticized him for not pursuing investigations into Hillary Clinton for unspecified crimes, and attacked Sessions and others in the Justice Department as weak.
Along these same lines, there's been some speculation that the President may seek to push Sessions aside after the midterm elections. If he does so, though, Politico is suggesting that he may find it hard to replace his Attorney General even under a Republican Senate:
Senate Republicans are in a jam when it comes to Jeff Sessions.

While resigned to President Donald Trump firing the attorney general after the midterm elections, they suspect that perhaps only a sitting senator could win confirmation as Sessions' successor — that is, someone they could trust not to interfere with special counsel Robert Mueller's investigation. But no one from their ranks seems to want the job.

Sen. Lindsey Graham (R-S.C.) said any new nominee must pledge to protect the Mueller investigation, and that it would help if that person were "somebody from the body or someone who has had experience … or somebody you know personally, you know what you're getting." But he said it's not going to be him, despite private belief among his colleagues he's eyeing the job.

"No. I like being a senator. There are plenty of more qualified people than me. Bunches of them, thousands," Graham said Wednesday.

Asked about Majority Whip John Cornyn of Texas, a fellow Senate lawyer who was considered as FBI director, Graham said: "He'd be great if he wanted to do it."

No dice, said Cornyn.

"We already have an attorney general," said Cornyn, who some colleagues think could be confirmed to succeed Sessions. "I love my job."

And Mike Lee (R-Utah), who some Republicans think might be interested in the job, is "very happy" in his current role as senator, a spokesman said.

With few obvious potential applicants for a job that seems to come with built-in clashes with the president, some senators even suggest Trump might have to nominate a Democrat to have any hope of getting a new attorney general confirmed.

"Trump may very well want a change," said retiring Sen. Orrin Hatch (R-Utah). "If I was the president, I'd even consider picking a Democrat if I thought I couldn't get anybody else through."

The president, however, is looking for a staunch defender like Eric Holder was to Barack Obama, or a "guy looking out for his own interests," said a Republican close to the White House. This person said that perhaps a senator could be persuaded to take the job, but was unsure anyone could meet Trump's criteria of loyalty.

"I'm not sure that there's anybody in the Senate besides maybe Lindsey Graham that Trump would want and even Lindsey, he really likes Lindsey, but I don't know if he trusts him," this person said. "I don't know that there's anybody in the Senate he feels that way about or that they feel that way about him."

One Republican senator said a senator nominated as attorney general would have to have a squeaky clean record of praise for Trump and estimated that perhaps only four members of the Senate would qualify, calling it a "pretty small universe" of candidates.

The problem is acute enough that Republicans are pessimistic about a confirmation in the lame duck, when there will be little political imperative for red-state Democrats to go along with a new attorney general. And if Republicans lose the Senate majority, an attorney general confirmation becomes even more difficult,if not impossible.

It's a problem compounded by the fact that some Republican senators, like Ben Sasse of Nebraska, have already said it would be "really difficult" for them to support a successor should Trump fire Sessions. Asked this month whether he was confident he could confirm a Sessions successor, Senate Majority Leader Mitch McConnell instead defended the attorney general and said he hopes he sticks around.

"Assuming that the Democrats voted together against the nominee, I think you would have some Republicans who may well vote against the new nomination," said Sen. John Kennedy (R-La.).
Without question, any person that Trump may try to choose to replace Sessions would face extreme scrutiny from the Senate given the fact that the most immediate suspicion would be that the President is pushing his Attorney General aside as the first step to firing Special Counsel Robert Mueller and effectively shutting down the Russia investigation. Because of that, even many Republican Senators have said that they would require any replacement for Sessions to make a pledge that they would not fire Mueller without cause until the investigation is completed. While such a promise would be effectively unenforceable, it would put significant pressure on any such nominee to live up to that promise. Additionally, the future of the Mueller probe and the independence of the Special Counsel would be at the center of any confirmation hearing. This would make any effort to confirm a successor to Sessions during the midterm exceedingly difficult. This is especially true given the fact that the Republican Party's slim majority in the Senate means that it would only take the defection of two Senators to block the confirmation of a nominee. This is problematic for Trump because retiring Senators such as Jeff Flake and Bob Corker, as well as Republicans such as Ben Sasse who have been critical of the President in the past and moderates like Susan Collins and Lisa Murkowski could end up being the difference between whether or not a Trump nominee succeeds or fails.
Trump's dilemma becomes even more acute, of course, if Republicans lose control of the Senate in November. In that scenario, it would be Democrats who would control the confirmation process and one could easily see them using that power to either block a Trump nominee altogether or force him to nominate someone who would be seen as more protective of Robert Mueller's investigation than the President would like to see. Given the fact that the President clearly views the Attorney General as someone who should be acting to protect him, that could go a long way toward convincing him that he may as well stick with Sessions for the time being.