Trump, Cruz Battle Down To The Wire In Wisconsin
Ted Cruz and Donald Trump are locked in battle in a primary that could decide whether or not Donald Trump can get a majority of delegates prior to the GOP Convention.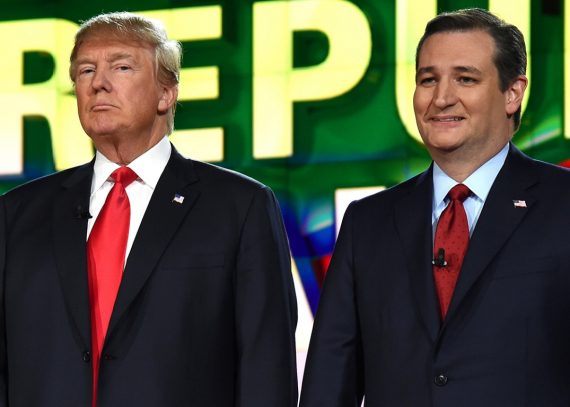 With one day to go, and the question of whether or not Republicans will walk into their convention not knowing who their nominee will be still up in the air, Donald Trump and Ted Cruz are battling down to the wire in Wisconsin:
GREEN BAY, Wis. — A bastion of "Midwestern nice." An opening for Senator Ted Cruz. Swelling doubts about the go-it-alone approach ofDonald J. Trump.

Since his loss in Iowa, Mr. Trump has wanted a rematch with Mr. Cruz. In Wisconsin — another state stocked with conservative activists desperate to stop Mr. Trump — he is getting something like it. And it is not going so well.

As the state prepares to vote on Tuesday, the candidates are at it again, circling and prodding each other in a final sprint before the high-profile contest, which could have outsize ramifications for the Republican nominating contest as Mr. Trump struggles to avoid a contested convention.

And for both campaigns, these final Wisconsin days are proving to be both a necessary stress test and, depending on the results, a likely bellwether of candidate strategy for the rest of the primary season.

Mr. Cruz, who leads Mr. Trump by about 10 percentage points here, according to recent polls, is field-testing a new playbook: exploiting Mr. Trump's growing unpopularity with women — a gambit that crested last week with the introduction of a Women for Cruz coalition, headlined by Mr. Cruz's wife and mother.

And Mr. Trump, who tends to eschew the backslapping, handshaking retail politics of traditional campaigns in favor of large rallies, finds himself in a situation he has not faced since the Iowa caucuses: behind in the polls, not entirely in control and forced to focus, laserlike, on just one crucial state.

And Mr. Trump, who tends to eschew the backslapping, handshaking retail politics of traditional campaigns in favor of large rallies, finds himself in a situation he has not faced since the Iowa caucuses: behind in the polls, not entirely in control and forced to focus, laserlike, on just one crucial state.

After something of a spring break from the trail after the Florida primary, where he dispatched Senator Marco Rubio in his home state, Mr. Trump returned to Wisconsin a week before its primary, with a rally in House Speaker Paul D. Ryan's hometown. And — for Mr. Trump, at least — he has maintained a breakneck schedule, with three events throughout the state on Saturday and another three planned for Monday.

Mr. Trump, who prefers to return to Manhattan after evening events to sleep in his own bed, even spent the night in a downtown Milwaukee hotel, staying locally overnight just as he did at the end of the Iowa contest.

On Sunday, Mr. Trump missed the bris for his new grandson, Theodore James Kushner, to stop by Miss Katie's Diner in Milwaukee, where he walked in and waved before posing for pictures with about a third of the patrons. Retail politics swiftly checked off, he sat down with six of his staff members for breakfast (fried eggs, bacon and hot chocolate with whipped cream) and had a 20-minute chat with reporters.

Despite the headwinds in Wisconsin, where conservatives like Gov. Scott Walker have aligned against him en masse, Mr. Trump rejected comparisons to Iowa, where he finished behind Mr. Cruz before going on to win the New Hampshire primary in his first victory of the cycle.

Wisconsin, he told reporters, "feels very much like New Hampshire to me."

"Trump wasn't going to win New Hampshire, and then all of a sudden, we win in a landslide," he said. "Because I could I feel it with the people. I can feel it with the people in Wisconsin."

The scramble comes as Mr. Cruz is working hard to outmaneuver Mr. Trump in the shadow primary for convention delegates, leaning on a cadre of campaign officials and loyal activists well versed in the arcana of party rules.

And in the primaries themselves, Mr. Cruz's ground game, which helped lift him to victory in Iowa, has followed him to Wisconsin, where another "Camp Cruz" has been set up for out-of-state volunteers. One of them, Sam Kinnaman of St. Louis, said he had now worked for Mr. Cruz in five states.

At a campaign office on Saturday in Waukesha, a man in a cowboy hat and another in a Green Bay Packers Cheesehead stood shoulder to shoulder as supporters placed calls to Wisconsin voters. The highest-energy Cruz volunteers appeared to be the senator's own daughters, ages 7 and 5, who paid a visit to the office with their mother, Heidi, and held a competition: Who could greet the most voters?

"Hi, my name is Caroline. Thanks for supporting my dad," the older daughter told strangers on a loop. "I'll be 8 in 12 days."

At a rally here on Sunday, Mr. Cruz reveled in the presence of some recent supporters: Mr. Walker, Senator Mike Lee of Utah, Carly Fiorina and Kabeer Gbaja-Biamila, a former star defensive player for the Packers.

Addressing the crowd in a hotel ballroom, Mr. Cruz imagined aloud the prospect of Mr. Gbaja-Biamila's chasing Mr. Trump on a football field. "I think Donald's hair would stand on end," he said.

Mr. Trump's support on the ground has been harder to trace, and the primary offers a critical test for a campaign that has often struggled with its organization, in Iowa and beyond. (Mr. Trump has maintained that Mr. Cruz "stole" Iowa with caucus-night shenanigans; his crowds are now conditioned to chant "Lyin' Ted" — Mr. Trump's favored nickname for his rival — when his name is invoked at rallies.)

The contest also follows a series of missteps and misstatements Mr. Trump has made in recent weeks, which could hurt him both in the coming Republican nominating contests and in a general election, especially among female voters.
Recent polling has consistently shown that Ted Cruz is leading Trump in the Badger State, but the extent of that lead has varied from as high as ten points in the Marquette University Law School Poll to as low as one percent in the Public Policy Polling poll. Currently, Cruz (40.2%) has a 6.5 point lead in the RealClearPolitics average over Trump (33.4%) while Ohio Governor John Kasich sits far behind at 18.6%). The margin is largely the same in the Pollster average. At least on the surface, then, it would appear that Cruz seems favored to pull out a win in tomorrow's primary, but the size of that win is unclear and will go a long way toward determining what impact it will have on the race and the all important delegate count. If Cruz pulls off a double digit win, then he will likely pick up most of the delegates at stake tomorrow and it will become less likely that Trump will be able to get a majority of delegates on the first ballot. On the other hand, if Trump manages to stay close to Cruz, and especially if he manages to do well in several of Wisconsin's Congressional Districts, then he could pick off enough delegates to mute the impact of a Cruz win and at least keep the odds of getting a majority within realistic boundaries. Of course, if Trump somehow manages to win the primary, even by a narrow margin, then he will further advance his quest for 1,237 delegates and dealt both the Cruz campaign and the "stop Trump" movement a significant setback.
After Wisconsin, the race heads to New York and a handful of Mid-Atlantic states where Trump is expected to do quite well, but that assumption could change if he stumbles again in Wisconsin. A Trump loss in Wisconsin would, no doubt, energize not just the "Stop Trump" movement, but also the Cruz and Kasich campaigns, all of whom would be working to at least cut away at Trump's margins in these states sufficiently to impact the delegate allocation that comes out of those states. All of this would play into the effort to deny Trump a win on the first ballot at the convention, something which could mean that Trump would be precluded from winning the nomination at all since it's unclear just how many of Trump's delegates would remain loyal to him after a first ballot and just how prepared Trump's campaign will be for a floor fight if it comes to that.