Trump, Cruz Well Positioned Heading Into Super Tuesday, Rubio Not So Much
Donald Trump is positioned to do very well on Super Tuesday, while Ted Cruz should win his home state. Marco Rubio, meanwhile, seems to be struggling to maintain his relevance.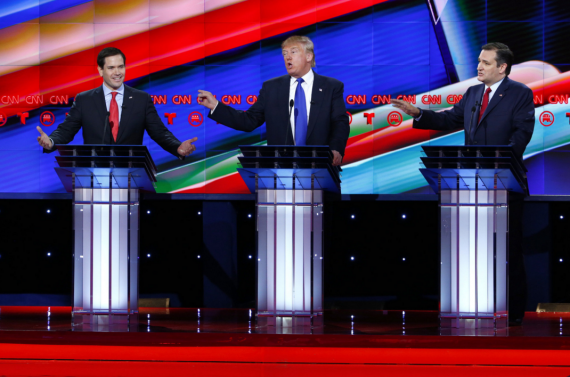 With Super Tuesday only days away, polling in a handful of the most important states to go to the polls that day show Donald Trump doing very well in several of the most important states that will be voting that day, while Ted Cruz continues to hold on to a lead in his home state of Texas.
First up, NBC News, along with The Wall Street Journal and Marist College polled in three key southern states:
Georgia and Tennessee are Donald Trump territory heading into Super Tuesday, Ted Cruz holds a comfortable lead in his home state of Texas, and Marco Rubio only managed to tie for second in one of those three states, according to a set of new NBC News/Wall Street Journal/Marist polls released Sunday morning.

Trump earned 30 percent support from Georgia Republican voters, followed by 23 percent for both Cruz and Rubio and 9 percent each for John Kasich and Ben Carson.

In Tennessee, Trump holds an 18-point lead over Cruz, 40 percent to 22 percent. Rubio earned 19 percent, followed by 9 percent for Carson and 6 percent for Kasich.

But Cruz leads Trump in his home state of Texas by 13 points, 39 percent to 26 percent. Rubio trails in third with 16 percent, followed by Carson at 8 percent and Kasich at 6 percent.
CBS News also polled three southern Super Tuesday states, although they substituted Tennessee with Virginia:
Donald Trump is up in Georgia and Virginia and second in Texas, and he heads into Super Tuesday in a strong position to have a good night. He's thus far been able to parlay his formula from previous states, doing well among conservatives and also evangelicals, but it is not merely a matter of demographics. Voters in these Super Tuesday states also believe Trump has the best chance to win in November, and the most optimistic message.

At the same time voters in all three states see Ted Cruz as the most conservative candidate in the race, but that isn't enough to propel him ahead of Trump. That issue is important, but not important enough to these voters: almost half of those who see Cruz as most conservative are voting for someone else, either Trump or Rubio. By contrast, Trump is ahead by far larger margins among those who see him having the best experience or most optimistic message.

In Georgia and Virginia and Texas voters overwhelmingly see Trump as being on the side of "regular people" over big donors. They feel the opposite about Marco Rubio.

In another sign of voters' rejection of the so-called establishment and the Republican party, few say the GOP represents them very well, and four in ten say they feel the GOP does not represent them (though it at least does better than the Democrats, they say). And by at least 4 to 1, voters say an establishment connection makes them less likely to vote for a candidate.

Trump is not the second choice of many voters, but enough of either Cruz or Rubio's support would go to Trump that consolidation of the race would not necessarily put him at a big disadvantage.
Breaking down the numbers from the CBS poll, we find Trump with comfortable leads in two states and at least competitive enough in Texas that he's likely to garner delegates from the state even if he doesn't win. In Georgia, the poll shows Trump at 40% which gives him an eleven point advantage over Ted Cruz, who stands at 29%. Marco Rubio, meanwhile sits at third with 22%, while Ben Carson garners 7% and John Kasich barely registers at 2%. Trump also gets 40% in the Virginia poll, which gives him a thirteen point lead over Ted Cruz at 22%. Once again, Marco Rubio comes in third at 22%, John Kasich makes it to fourth at 6%, and Ben Carson at 6%. Fortunes are revered in Texas where Ted Cruz garners 42%, giving him an eleven point advantage over Trump at 31%. Marco Rubio is once again in third at 19%, and Kasich and Cruz are tied for last place at 4% each.
Looking at the poll averages, we find that Super Tuesday is shaping up to be a very good day for Donald Trump, while Ted Cruz is likely to win his home state as expected. In Texas, the RealClearPolitics average gives Cruz (35.9%) an 8.6 point lead over Trump (27.3%), followed by Rubio at 18.0%, Kassich at 6.4% and Carson at 5.6%. These numbers suggest that Cruz stands to win the popular vote in his home state as expected, thus erasing some of the doubts about his campaign that had arisen last week, but that Trump is likely to do well enough in the Lone Star state to get his own decent share of delegates from the state. In Georgia, meanwhile Trump (36.2%) has a 14.4 point lead over Marco Rubio (21.8%) while Rubio sees Ted Cruz on his heels in the Peach State with a 21.4% average. Ben Carson, meanwhile, stands at 8.0% in the average, followed by John Kasich at 6.4%. In Virginia, Trump (36.8%) has a 14.5 point lead over Rubio (22.3%), while Ted Cruz comes in third at 17.5%, John Kaisch in fourth at 7.0%, and Ben Carson takes up the rear at 6.5%. Tennessee, meanwhile, has only been polled three times this entire cycle, which is insufficient data for either RealClearPolitics or Pollster to calculate a reliable average.
All of this suggests that Donald Trump stands to do very well on Tuesday, that Ted Cruz will hold on to his own thanks to a win in Texas, but that Marco Rubio is likely going to find himself facing questions about the viability of his campaign going forward unless he manages to pull off a surprise win somewhere. Instead of addressing that issue, Rubio's campaign continues to insist that the campaign is in good shape as long as it does well enough in states that allocate their delegates proportionally to remain competitive and then wins his home state of Florida. The problem with that strategy, of course, is that Trump will be most likely accumulating delegates at a much faster pace than either Rubio or Cruz on Tuesday, putting Rubio far off the pace needed to make a credible case that he can get to a majority and, of course, that Marco Rubio is present losing to Donald Trump quite badly in Florida. Unless he can turn that around quickly, it's hard to see how Rubio can continue to make the argument that his campaign is still viable.