U.S. And Cuba To Reopen Embassies After 54 Years
For the first time since 1961, there will soon be an American Embassy in Havana, and a Cuban Embassy in Washington. It's well past time that this happened.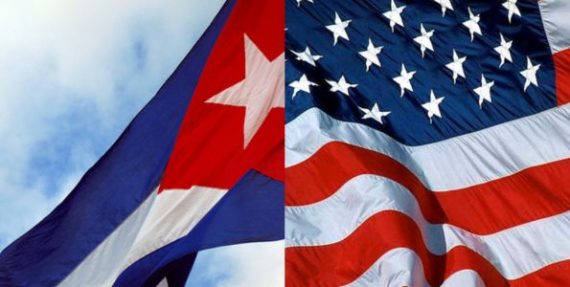 Continuing to follow up on the policy changes announced in December, today President Obama announced that the United States and Cuba would be opening embassies in their mutual capitals for the first time since Dwight Eisenhower was President:
WASHINGTON — President Obama on Wednesday announced his plans to formally re-establish diplomatic relations with Cuba, declaring that the two nations were ready to reopen embassies in each other's capitals and to start a "new chapter" of engagement after more than a half-century of estrangement.

"Our nations are separated by only 90 miles, and there are deep bonds of family and friendship between our people, but there have been very real, profound differences between our governments, and sometimes we allow ourselves to be trapped by a certain way of doing things," Mr. Obama said in the Rose Garden at the White House, taking note of the decades of hostility born of the Cold War that prompted the United States to isolate its neighbor to the south, a strategy he said had failed.

The diplomatic breakthrough is the most concrete progress to date in Mr. Obama's push, announced in December after months of secret talks, for an official rapprochement with Cuba. He also renewed calls on Wednesday for the lifting of a trade embargo with Cuba that has grown stricter over the years as Republicans in Congress, some of them Cuban-Americans, have pressed for a hard line against Havana.

"We don't have to be imprisoned by the past," the president said. "When something isn't working, we can and should change."

Mr. Obama said that Secretary of State John Kerry would travel to Havana this summer "to proudly raise the American flag over our embassy once more."

Mr. Kerry, who is in Vienna for talks with Iranian officials on a potential nuclear accord, said that he would travel to Havana for the reopening of the United States Embassy. It would be the first visit to Cuba by a secretary of state since 1945, he said.

Acknowledging that the United States and Cuba continued to have "sharp differences" over human rights, Mr. Kerry said reopening the embassy would enable American officials to "engage the Cuban government more often and at a higher level."

"This step has been long overdue," Mr. Kerry added, declining to take questions.

Asked if the American diplomats in Cuba would have free access to talk to Cuban citizens, he said: "We'll talk about all those details later."

The United States already has a limited diplomatic outpost in Havana, called an interests section, in the same seven-story building on the Malecón waterfront that served as the embassy until 1961, the year President Dwight D. Eisenhower broke off diplomatic relations with Cuba in response to tensions with the revolutionary government of Fidel Castro.
This announcement is obviously the logical next step from the other policy changes that we've seen over the past six months starting with President Obama's announcement in December that diplomatic relations with Havana would be restored and some changes would be made to U.S. policy regarding travel and trade. In addition to those changes, Cuba has also been removed from the State Department's list of state-sponsors of terrorism, a list it had been on for several decades notwithstanding the fact that there was no evidence of Cuban backing for violent extremism for at least the past ten years. As I said when the policy changes were first announced, these are both good ideas in terms of our relationship with one of our closest neighbors, and something that is long overdue. The Cuban embargo is largely rooted in a Cold War mentality that hasn't been part of reality for at least the past twenty years. Even when it was in effect, there was no evidence that it was actually doing anything other than harming the Cuban people, who were already being oppressed by their government. The argument that the policy was meant to change internal Cuban politics really made no sense given that we obviously don't much care abut the internal politics of nations like Egypt, Saudi Arabia, or China and yet we have trade and diplomatic relations with them. Moreover, the fact that most of the rest of the world was freely trading with Cuba meant that our embargo is basically just locking American business out of a potentially lucrative market. Evidence for that can be seen in the fact that, even with the minimal freedom that President Obama's policy changes allow, American companies like Google and Airbnb are already moving to invest in the country, and American tourism companies are exploring what is likely to become an incredibly lucrative tourism market. This is hardly the end of the line, of course, much of the embargo remains in place and can only be repealed by Congress, and the travel ban itself is also still in place, with the expanded exceptions that President Obama put in place in December, even though it should be repealed as well.
As it was when President Obama first announced the opening to Cuba, Republicans on Capitol Hill and the Presidential campaign trail are speaking out against this move and vowing to block it as much as they can. Practically speaking, there's not much more that the President can do without Congressional support and even today's announcement doesn't necessarily mean that a full Ambassador will be in Havana any time soon. Funding for an embassy in Havana beyond the space that has been used for years for the U.S. Interests Section there would have to be approved by Congress, and Republicans in Congress, including Senator Marco Rubio, have vowed for months to block any such funding request and to refuse to confirm any Ambassador that the President appoints.  This means that the career diplomats that have been in Havana for some time will end up having to serve as the de facto Embassy personnel and that someone from among that group will effectively be an Acting Ambassador. That situation is likely to continue until at least through the end of President Obama's term since the GOP is unlikely to give in on this issue before the 2016 elections.
In any case, while I've been critical of President Obama on many counts over the years, this is one area where he's absolutely right. America's embargo against and isolation of Cuba was dubious to begin with, and lost whatever logic it had when the Soviet Union fell. It will likely take some time before the rest of the GOP comes around to the position of people like Senator Jeff Flake of Arizona, who has been wholeheartedly behind this policy from the beginning, but I suspect that as the American business community starts to become more interested in establishing business in Cuba, they will put pressure on the GOP to come around. Until then, we're just going to have to deal with some of the same nonsense pandering to the Cuban-American community in Miami that has defined Republican policy on Cuba for decades now.