Trump Considering Reversing Obama Policy On Cuba
President Trump is reportedly considering at least partly reversing one of the great foreign policy successes of the Obama Presidency.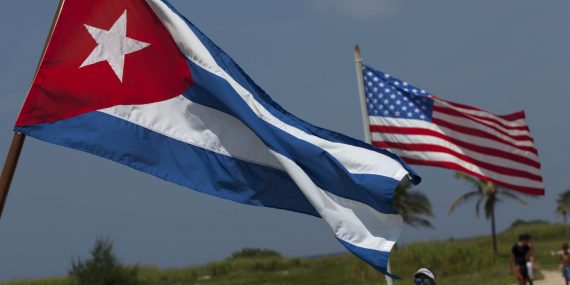 The New York Times is reporting that President Trump is considering reversing yet another Obama-era policy shift, this time it's the diplomatic opening to Cuba that won praise and public support when it began in December 2014:
WASHINGTON — President Trump is considering reversing major pieces of the Obama administration's opening with Cuba and reinstating limits on travel and commerce, citing human rights abuses by the Castro government as justification for a more punitive approach.

Mr. Trump wants to announce the changes in Miami as early as June and deliver on a campaign promise that remains a cherished demand for the politically conservative Cuban-American exile community, according to aides who spoke on the condition of anonymity. But he has not made a final decision on the steps he will take because of internal disagreements within his administration over how far to go in unwinding one of President Barack Obama's most significant foreign policy achievements.

Clamping down on engagement with Cuba would be a high-profile way for Mr. Trump to showcase a stark break with his predecessor and to fulfill a pledge, delivered during a speech in Miami in September, to a crucial constituency that disproportionately supported him. It would also enable the president to reward the loyalty of Cuban-American lawmakers who have been agitating for a harder line on Cuba, including Senator Marco Rubio and Representative Mario Diaz-Balart, both Republicans of Florida.

But as the White House has sought to formulate a series of steps for Mr. Trump to announce, a split has emerged over rolling back a policy that many senior officials privately agree has been an improvement on the Cold War dynamic that shaped relations with Cuba in the past. In addition to the revival of diplomatic relations for the first time in a half-century and liberalized rules for trade, travel and commerce, the new approach has paved the way for cooperation in intelligence-sharing, drug interdiction, scientific research and a host of other areas.

"A lot of the bureaucracy has been resisting a complete rollback" of Mr. Obama's policy, said Christopher Sabatini, a Latin America specialist and executive director of Global Americans, a research organization. "Trump is the 'Art of the Deal' guy, and there's no deal to be had here if they reverse the entire policy."

The dilemma is a familiar one for the president, who built his campaign and political persona around bold, contrarian policy pronouncements like building a wall on the southern border, instituting a Muslim ban and canceling the Paris climate accord, only to see his hopes for quick and simple action scuttled by thorny questions of law and policy, and resistance from the business community.

"I am confident the president will keep his commitment on Cuba policy by making changes that are targeted and strategic and which advance the Cuban people's aspirations for economic and political liberty," said Mr. Rubio, who has met with and talked to Mr. Trump and his top aides several times on the matter.

(…)

Among the measures the Trump administration is considering are proposals pressed by Mr. Rubio and Mr. Diaz-Balart to block transactions between American companies and firms that have ties to the Cuban military. Such a restriction could have far-reaching consequences for existing deals, such as the one struck by Starwood Hotels and Resorts last year to manage hotels in Cuba — one of which is owned by the military conglomerate Gaviota — and effectively freeze future ones, since the military in Cuba has a hand in virtually every element of the economy.

"This is a return to the old playbook of creating ambiguity and uncertainty so that nobody knows what is permissible and what isn't, and it would add another level of legal exposure to doing business in Cuba," said Robert L. Muse, a Washington lawyer who specializes in American law regarding Cuba. "It would add one more obstacle to the obstacle course, which is already pretty complex."

Mr. Trump, according to people close to the discussions, is also considering tightening restrictions on Americans traveling to Cuba that were eased last year on the eve of Mr. Obama's historic trip to Havana. The new policy allows Americans who are making educational or cultural trips to Cuba to initiate their own travel there without special permission from the United States government and without a licensed tour company.

Reversing it, or intensifying enforcement to require travelers to show evidence that their trips are legal, would probably slow the recent influx of American tourism to Cuba to a trickle, leaving airlines that have started direct flights there with fewer customers to serve.

And the president is weighing an increase in funding for the United States Agency for International Development for programs that promote democracy in Cuba, initiatives that the Castro government has long condemned as covert efforts to overthrow it.
So far, the changes being discussed fall short of the complete reversal of the changes that President Obama brought about when he reopened the diplomatic relationship between the United States and Cuba, reversing what had been American policy since the Kennedy Administration. Since that change began in December 2014, the two nations have reopened their embassies in Havana and Washington, American commercial airlines have begun regular air service to the island nation to cater to the increased number of Americans able to visit the country under relaxed travel rules, and American companies have begun exploring business relationships on the island that could go a long way toward turning a nation that has been isolated from its closest neighbor for more than fifty years. All of that was capped off with President Obama's historic visit to Cuba in March 2016, the first time that an American President had visited the nation since Calvin Coolidge. There is more that could be done, of course, but that would require Congressional action to roll back those portions of the Cuba embargo that are part of American law. Despite the fact that polling has shown that most Americans, including most Cuban Americans, support the changes that President Obama made with regard to Cuba, that's unlikely to happen due to the fact that Republicans continue to cater to the hard-line Cuban-American community in South Florida as well as a conservative base that continues to view Cuba as an enemy state even though the Cold War has been over for two decades and Cuba's relationship with Russia is not nearly as close as it relationship with the Soviet Union was. Even if Democrats were to somehow take back both the House and the Senate, it's unlikely that they'd be able to successfully pass a bill lifting the embargo and, if they did, it would likely face a Presidential veto that they could not override.
During the campaign, of course, pretty much every candidate for the Republican nomination with the notable exception of Kentucky Senator Rand Paul said that they were opposed to President Obama's Cuba policy and promised to reverse it, and Donald Trump was right there with his fellow candidates. Given that, it's hardly surprising that Trump would be considering this move, or that the fact that he is considering acting on that promise would come at a time when his Administration was under attack on several fronts ranging from a Russia investigation that is just starting up to a first international trip that got mostly bad reviews on the international stage. Notwithstanding that, even a limited rollback of the changes that President Obama made to what was clearly an outdated policy that didn't recognize the ways in which the world had changed since John F. Kennedy first imposed the embargo. As I said at the time, and have said again on other occasions, Obama's actions with regard to Cuba were among the best steps of his Presidency in the area of foreign policy. Rather than pulling back on them, his successor ought to be looking to find ways to expand upon them in ways that will benefit both the United States and the Cuban people, who were not being helped at all by the status quo that existed before December 2014. In the end, I suppose we can be happy if Trump doesn't completely reverse Obama's opening to Cuba, but if he really cared about the American economy he would be looking for ways to further improve our relationship with one of our closest international neighbors rather than pandering to a small portion of the population of South Florida.
As for the merits of the proposed changes, Daniel  Larison hits the nail on the head:
Reversing the opening to Cuba would be a significant unforced error, but it is consistent with Trump's determination to dismantle as much of Obama's legacy as he can while giving his party's hard-liners what they want. Restoring relations with the Cuban government and lifting some of the useless restrictions on travel and business were the right things to do, they were overwhelmingly popular with Americans and Cubans alike, and given time they would have benefited the people of Cuba far more than the bankrupt policy that they replaced. Undoing some or all of these measures would return the U.S. to a mindless policy of trying to punish the Cuban government while mostly just hurting the people that Washington claims to be concerned about.
Republicans, of course, will argue that we need to keep the embargo in place due to the fact that the Cuban government continues to have a spotty record on human rights. As Larison goes on to note, this is an absurd argument given American policy in other parts of the world:
The idea that this administration in particular cares about human rights is especially risible given their indulgence of and praise for the likes of Sisi, Duterte, and King Salman. That doesn't mean that the abuses of the Cuban government should be ignored or whitewashed, but it should mean that the U.S. doesn't use them as a pretext for wrecking an otherwise sensible policy of engagement. The only people that want that policy to be scrapped are pro-embargo American dead-enders who are still acting as if we are in the middle of the Cold War.
The idea that a President who was recently feted by the leaders of Saudi Arabia cares one whit about human rights is actually rather absurd. Indeed, if you look at the results of his first international trip and the first four months of his Administration, he clearly seems to get along better with authoritarian rules in nations such as China, Russia, Saudia Arabia, and The Phillippines than he does with some of our most loyal and closest allies such as Germany, France, the United Kingdom, as well as our neighbors Canada and Mexico. If he can overlook the appalling human rights violations of the leaders in Riyadh, Moscow, Beijing, and Manila, then the idea that he cares at all about the policies of the leaders in Havana is simply too absurd to believe. This would be a purely political move to appease the GOP base and a segment of the Cuban-American community in South Florida that is slowly dying off. There's really nothing noble about it.