U.S., Cuba Reopen Embassies For First Time In 54 Years
There are mutual embassies in Havana and Washington for the first time in 54 years. It certainly took long enough.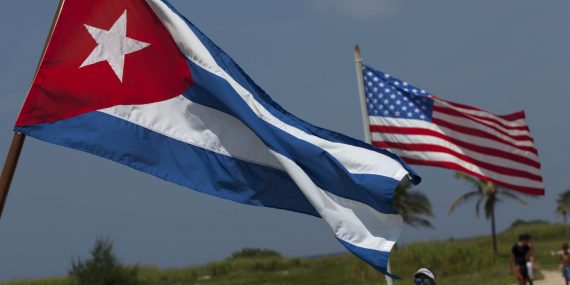 After more than fifty years, the United States and Cuba once again have Embassies in their respective capitals:
HAVANA — After more than a half-century defined by mistrust and rancor, the United States officially reopened its six-story embassy in the Cuban capital on Monday, the culmination of many months of negotiations to overcome decades of historical enmity and to restore diplomatic relations between the two nations.

More than two years of effort went into restoring relations between Cubaand the United States, both public and private, yet most observers say they believe it will be many more years before mutual wariness fades.

A litany of questions have yet to be answered, including: Will the American trade embargo that has crippled Cuba's economy be lifted, and if so, when? Will the Cuban government improve its human rights record and incorporate outsiders into the political spectrum? How much, and how fast, will the lives of ordinary Cubans, who earn $20 a month on average, improve?

But for now, the reopening of the embassy on the Malecón waterfront in Havana, previously used as an interests section, a limited diplomatic outpost, stands as the most concrete symbol yet of the thaw set in motion last year when President Obama ordered the full restoration of diplomatic ties between the countries.

"It is sort of like a wedding," said James Williams, the president of an advocacy group, Engage Cuba, which has been lobbying for improved relations. "You've spent all this time planning your wedding day, and finally you're getting to see someone walk down the aisle."

"Now," he added, "you have the rest of your life together."

If Cubans are expecting bells and canapés to celebrate the nuptials, they will be sorely disappointed. The official celebration to inaugurate the American Embassy will not take place until later in the summer, when Secretary of State John Kerry plans to visit, to formally raise the flag and install the new signage.

In Washington, however, shouts of "Viva Cuba" rang out on Monday as Cuba's foreign minister, Bruno Rodríguez, raised his country's flag outside the newly reopened Cuban embassy.

In Havana, a line had already formed at 6 a.m. along the side of the American Embassy, a large building. Families clutched sheaths of paper as they awaited interviews and appointments with officials now operating under the auspices of an embassy.

Beyond the edge of the tidy line, hundreds more gathered in a small park awaiting their turn, and dozens more formed a separate line beyond that. For the first time in decades, American Embassy personnel were managing the order of entrants, taking names, calling names, answering questions.
It has been announced that Secretary Kerry will travel to Havana on August 14th for the formal flag raising ceremony at the new American Embassy, but there's no word on whether he will meet with Cuban President Raul Castro or any other Cuban officials on this trip. As I've said before, the general direction of President Obama's opening to Cuba is a policy initiative that is long overdue. Even leaving aside all of the other complicated issues between Washington and Havana, though, the fact that it has taken this long for something as simple as establishing diplomatic relations is an excellent demonstration of just how absurd Cuba policy has been in this country. Given the fact that the we have diplomatic relations with nations such as China, Saudi Arabia, Pakistan, and Egypt, the argument that the state of human rights in Cuba was a legitimate reason not to have diplomatic relations is utterly foolish. Additionally, the fact Cuba is a mere 90 miles from the United States and that the only real justification for the trade and diplomacy embargo that ever existed, Cuba's relationship with the Soviet Union, has not been relevant for more than two decades makes today's events long overdue.
This is hardly the end of the matter, of course. The Obama Administration itself has acknowledged that it will take much more discussion to resolve other issues between the two countries, which range from everything to human rights issues and the status of several American criminals who fled to Cuba in the 1970s and 1980s to questions involving the property rights of Cuban citizens who fled to the United States after the Castro regime came to power. Additionally, many of the provisions of the trade embargo on Cuba cannot be repealed without Congressional authorization and, at least for now, Republicans on Capitol Hill are resisting any efforts to reexamine that embargo. In fact, with the exception of Arizona Senator Jeff Flake, Kentucky Senator Rand Paul and a few members of the House of Representatives, pretty much every Republican on Capitol Hill, and every Republican running for President has come out against the new policy. This Congressional opposition will also mean that the U.S. Embassy in Havana is unlikely to receive an Ambassador any time in the near future. Florida Senator Marco Rubio and others have already made clear that they would block the appointment of any Ambassador to Cuba regardless of who was named, so that post is likely to go unfilled until at least 2017, meaning that career diplomats assigned to Havana will have to take on the roles an Ambassador would normally fulfill. There have also been some threats by Republicans on the Hill to defund the Cuban Embassy entirely, but that's not likely to succeed any more than previous efforts to defund specific Administration programs have succeeded.
It's worth noting that the American public seems to largely support the Obama Administration's initiative. A new CBS News Poll, for example, finds the 58% of Americans support the reestablishment of diplomatic relations while only 24% oppose it. Much larger majorities support opening economic relations between the two countries, with 81% of Americans, including 71% of Republicans, supporting allowing Americans to freely travel to Cuba. This suggests that Republicans may want to rethink their opposition to the initiative, although that' s unlikely to happen until after the Florida Primary at the very least.