As Obama Arrives In Havana, Poll Finds Most Americans Support His Opening To Cuba
With President Obama becoming the first American President to visit Cuba in 88 years, a new poll finds majority support for his changes in Cuba policy.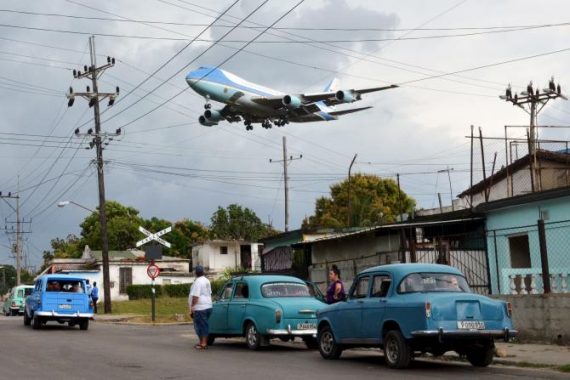 Yesterday, Air Force One landed in Havana carrying President Obama, his family, and a retinue of American business leaders eager to explore business opportunities, marking the first visit by an American President to the island nation since Calvin Coolidge arrived there via battleship back in 1928. This is just the latest step in a series of moves that the United States and Cuba have taken since President Obama took steps to normalize relations after five decades of isolation and embargo in December 2014, with the latest moves before this including the reopening of mutual embassies for the first time in 54 years and the resumption of commercial air travel. While the larger embargo, which was implemented by Congressional act and thus can only be completely repealed by Congressional action that seems unlikely under current circumstances, the change in policy has already result in a number of increased opportunities for American and Cuban businesses in tourism and other industries and, thanks to companies such as AirBnB, allowed individual Cubans to find ways to earn money from what is really only the beginning of a wave of American tourism that will clearly have a huge impact on Cuba in the years to come. There is still much about Cuban policy that needs to change, of course, especially in the area of human rights, but at least in the early stages this opening to Cuba seems as though it will likely be one of the aspects of President Obama's foreign policy legacy that history will come to see as having an overwhelmingly positive outcome.
Given that, it's not surprising that a majority of Americans support the changes that have come to America's relationship with a former foe:
As President Obama travels Cuba for his historic trip, a majority of Americans support restoring U.S.-Cuba diplomatic ties, according to a new CBS News/New York Times poll.

Fifty-two percent approve of the president's handling of relations with the island nation, according to the poll released Monday. Six in 10 Americans think restoring diplomacy with Cuba is mostly good for the U.S., but views are mixed on whether it will lead to more democracy in Cuba.

The public, however, doesn't share the President's goal of closing the prison at Guantanamo Bay: 52 percent want it to remain open.

In December 2014 Mr. Obama announced that U.S. and Cuba would resume diplomatic ties after more than 50 years. Fifty-eight percent of Americans support this, while just 25 percent oppose it. Most Democrats and independents favor re-establishing diplomacy, while Republicans are divided.

Americans have long supported this move. When Gallup asked a version of this question back in 1977, 53 percent of Americans thought diplomatic relations with Cuba should be re-established. While diplomacy may have resumed, the U.S. trade embargo against Cuba remains in effect. Fifty-five percent of Americans favor the United States ending its trade embargo against Cuba.

As President Obama visits Cuba – the first for a sitting U.S. president since Calvin Coolidge 88 years ago – more now approve of the President's handling of relations between the two countries. Fifty-two percent of Americans approve; a slight uptick from last summer and an increase of eight points since 2014. While Republicans may be split on the restoration of diplomatic ties with Cuba, a majority of them disapprove of how the President is handling relations with that country.

When asked what impact restored relations will have on Cuba, Americans are inclined to think it will lead to more democracy (40 percent) rather than less (3 percent). However, half think it will make no difference.

On the other hand, most Americans think it will benefit the U.S.; sixty-two percent think re-establishing relations with Cuba will be mostly good for the U.S. Republicans are less likely to view it that way than Democrats and independents.
These numbers, of course, are consistent with other polling that we've seen since the policy changes began nearly two years ago. By and large, the public supports the idea of opening relations and trade with Cuba, in some cases by significant margins. Even among Republicans, there is at least plurality support for the changes that President Obama has implemented and the possibility of further opening in the future such as fully lifting the trade and travel embargoes. This stands in marked contrast to the position that many Republican politicians take on this issue, such as Texas Senator and Presidential candidate Ted Cruz, who argues in a Politico article that accuses President Obama of 'legitimizing the corrupt and ignoring the oppressed.' What Cruz fails to recognize, of course, is the fact that the existing embargo policy has been in place for more than half a century and has failed to accomplish any of its goals such as forcing political changes from the Castro regime and that there's no indication at all that continuing the policy would have any impact at all other than to continue to help to impoverish the Cuban people while locking Americans out of the travel and business opportunities that pretty much the entire rest of the world is able to take advantage of at this point. Indeed, it's clear from reading Cruz's Politico column that there is no rational basis for continuing the current policy at all. 
Further opening is likely to take time, of course. In part this is because many of the issues that remain between the U.S. and Cuba are complicated and likely won't be easy to resolve, especially when it comes to the property claims of people who escaped Cuba after the revolution or found themselves forced out of the country. In many cases, it has been decades since those events happened and time has moved on in Havana and elsewhere, meaning that the expectation that these people would simply be able to reclaim property is probably not realistic. Additionally, of course, there remain questions and concerns regarding human rights abuses by the Castro regime, the status of American citizens wanted for crimes in the United States who have been given refuge in Cuba, and a host of other issues. Finally, of course, there are those aspects of the economic embargo that only Congress can repeal, and that simply isn't likely to happen until there are some signs of progress from Havana on issues like human rights. For the time being, though, each small step forward is progress toward something that's likely to be a better future for both the Cuban people, and for the United States and, in any case, it's better than continuing to follow the same failed policy that had been in place since the Cold War was running hot.
Photo of Air Force One over a Havana neighborhood via Reuters