Vast Majority Of Americans Oppose Kentucky Clerk Kim Davis's Actions
A new poll shows that the vast majority of Americans oppose Kim Davis's refusal to follow the law, even while some Republican candidates rally behind her.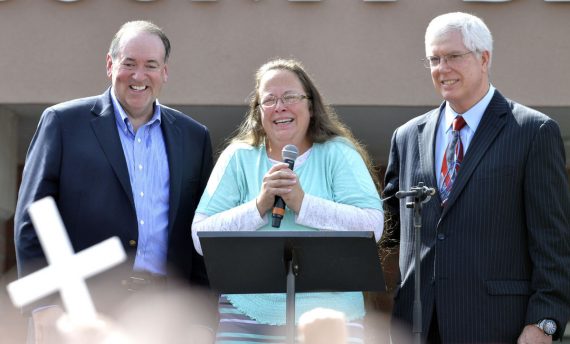 In a poll that was taken before she was released yesterday, a new Rasmussen poll shows that the vast majority of Americans do not support Kim Davis or other political officials who ignore court rulings based on alleged religious principles:
A federal judge has sent a Kentucky county clerk to jail for refusing to issue wedding licenses to gay couples despite a U.S. Supreme Court ruling in late June upholding the legality of same-sex marriage. The clerk insists that gay marriage violates her Christian beliefs.

But just 26% of Likely U.S. Voters think an elected official should be able to a ignore a federal court ruling that he or she disagrees with for religious reasons. The latest Rasmussen Reports national telephone survey finds that 66% think the official should carry out the law as the federal court has interpreted it.
This polling is largely consistent with the polling we've seen on same-sex marriage in general, as well as with polling taken in the wake of this Spring's controversy regarding Indiana's Religious Freedom Restoration Act. In that poll, a smaller majority of Americans said they opposed the idea that religious business owners should have the right to refuse to provide services of same-sex weddings. Obviously, the fact that we are dealing here with the case of a public official likely makes the public response stronger than it would be in the case of a private business owner. Additionally, Davis's flagrant disregard for the Orders of a Court and her refusal to even allow her employees to issue marriage licenses if they were willing to do so has likely not done very good for her political cause.
We can't access the crosstabs on this poll without being a paid Rasmussen subscriber, but I think it's fairly clear where the breakdown of supporters and opponents will lie. To the extent that there are any people who support Davis's position, they are likely to be found on the Republican side of aisle and most especially among those who identify themselves as strongly conservative. That's why we've seen, with notable exceptions like Jeb Bush, John Kasich, and Carly Fiorina, nearly all of the Republican candidates for President support Davis in what she is doing, and many of them, such as Mike Huckabee, making the entirely nonsensical argument that nobody is obligated to follow the Supreme Court's ruling in Obergegell v. Hodges. Whether or not these candidates actually believe what they're saying, it's clear that the real reason that they rallying behind Davis is because they are pandering to a very specific wing of the Republican Party. These religious conservatives don't represent the majority of the Republican Party by any means, and as this polls shows, they certainly don't represent a majority of the nation, but they play an important role in the GOP because they are the ones most likely to come out to vote in places like Iowa and South Carolina.
That pandering was on great display yesterday in Kentucky outside the county jail where Davis was being held. Prior to the announcement of her release, it had already been announced that Presidential candidates Mike Huckabee and Ted Cruz were going to be appearing at a rally there and would try to meet with Davis in jail as well. With her release announced, the event took on a completely different tone, with Huckabee, Davis's lawyer, and, briefly, Davis herself speaking. Perhaps the amusing part of the day was the sight of Mike Huckabee's aides physically preventing Cruz from getting up on the stage with Huckabee and Davis, with the result being that anyone watching on national television would've just seen Mike Huckabee and Kim Davis in rally that even Rod Dreher, who calls Davis the "Shipwreck of Religious Liberty," was turned off by:
I thought Ted Cruz's turning up at the Middle Eastern bishops meeting and bashing them was the most cynical move I had ever seen by a Christian Right politician, but Huckabee may have bested that. The Family Research Council and other Christian, Inc. lobbyists are already writing the fundraising appeals, you can bet. And you can also bet that they're bending the ear of clueless House Republicans to get them to propose provocative religious liberty legislation that stands no chance of passing, but every chance of discrediting the cause in the public's eye. (In fact, I was told last night by someone deeply involved in this issue at the Congressional level that this is exactly what is happening.)

So I'm angry about this. Huckabee and Cruz, but especially Huckabee, are doing wonders to inject juice into their own presidential campaigns, but the political cost to the long-term good of orthodox Christians will be severe. But hey, we've Made A Statement, and demonstrating our emotions (and, while we're at it, raising some money for GOP candidates and Christian advocacy groups) is the most important thing.

For conservative Christians who don't understand why we should care about the political effect of the Kim Davis debacle, and the optics of yesterday's release rally, I want you to consider how it would appear to you if Hillary Clinton staged a rally against police brutality around the release from jail of a West Baltimore thug who had been roughed up by the cops as they were arresting him for shooting up a neighborhood. The gangster takes the stage to the sound of gangsta rap, wearing pants hanging off his butt, with cornrowed hair and covered in tattoos.

It could well be that Hillary's principles were in order, and an important principle was at stake. But think of how the imagery of celebrating this guy like that would make you feel. How sympathetic would you be to the worthy cause of fighting police brutality after that display? If fighting police brutality means having to stand with a victim like that, would most people be more inclined to join the cause?
Dreher is concerned, obviously, that the Kim Davis fiasco and the extent to which it has become injected into the race for the Republican nomination for President will harm the political case for the issues he cares about such as religious liberty exemptions for private business owners. Regardless of whether or not one agrees with Dreher on that issue, the Rasmussen poll would seem to confirm that his fears are very well placed. Just as Republican opposition to same-sex marriage to the point of making support of a Constitutional Amendment to ban it a plank in their platform has caused real harm to the GOP among many voting groups, associating the cause of religious liberty with a lawbreaker like Kim Davis in the mind of the public can only serve to harm that cause.
On a broader political level, it also seems fairly clear that Republicans are in danger of harming themselves if they allow the party to become associated with the likes of Kim Davis or other public officials who seem to believe that ignoring the law is a form of "religious liberty." No doubt, this issue will come up at next's week Republican debate and if the impression that the public walks with from that debate is of a party the majority of whose candidates support a woman who is breaking the law and defying the orders of Federal District Court Judge, then that seems like something that is likely to hurt the party going forward.
As for Davis's case itself, there are no new developments today. Although she has been released from jail, Davis's lawyers say that she will not be returning to work until at least Friday. Meanwhile, Deputy Clerks in her office continue to issue licenses, with one saying that he would continue to do so even if she ordered him not to upon her return. Where it goes from here is really all up to her, but given the fact that she, her attorneys, and the politicians that have rallied around her claiming some kind of victory out of all of this I am suspecting that this isn't the last we've heard of Kimberly Davis, or of this issue in general.