Republican Candidates Rally Around Lawbreaker Kim Davis, Trample All Over The Rule Of Law
Most of the Republican candidates for President would rather support a lawbreaker than the Rule of Law. The American people should judge them accordingly.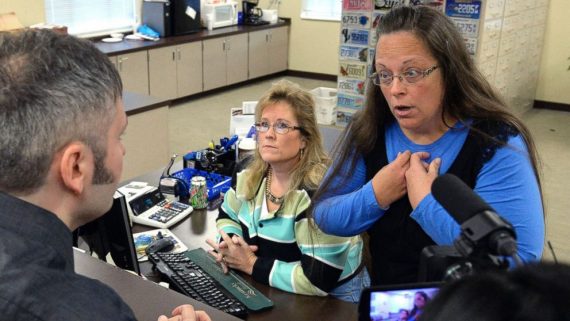 The first marriage licenses were issued to same-sex couples in Rowan County, Kentucky today in the wake of yesterday's decision by Judge David Bunning to hold County Clerk Kim Davis in contempt and jail her until she agrees to comply with his order. The licenses are being issued by five of the six deputy clerks that work in Davis's office, each of whom had told Judge Bunning yesterday that they would be willing to issue licenses if Davis allowed them. While Davis refused to purge her contempt by agreeing to do that, the deputies are going ahead with issuing licenses in her absence, and she remains in jail with no indication that she is going to change her position any time soon. As things stand right now, it appears that Davis will continue to be a guest of the U.S. Marshal Service, and that this will continue until she gives Judge Bunning some assurance that she will comply with his order by at least permitted her deputies to issue marriage licenses to any same-sex couples that may apply for one. After all, the fact that licenses are being issued now is due mostly to the fact that she is absent from the office, if she were to be released and return and again forbid her employees from issuing them, then her release will have been premature. For that reason alone, it appears that this standoff will continue for sometime.
While that legal battle is going on, this entire issue has, inevitably perhaps, become an issue in the Presidential campaign with nearly every Republican candidate for President lining up in support of Davis rather than supporting the Rule Of Law:
New Jersey Gov. Chris Christie: In a Wednesday radio interview with Laura Ingraham, Christie acknowledged that "someone who works in the government has a bit of a different obligation than someone who's in the private sector or obviously working for educational institutions that's religiously based or others," but opined that "we have to protect religious liberty and people's ability to be able to practice their religion freely and openly, and of course we have to enforce the law too."

Texas Sen. Ted Cruz: In a Facebook post on Tuesday, Cruz denounced a "war on faith" and wrote: "We should make it possible for believers, such as Rowan County Clerk Kim Davis in Kentucky, to hold government jobs without having to violate their religious beliefs. We can work together to come up with alternative ways to ensure that government functions are accomplished without infringing on religious liberty."

Former Arkansas Gov. Mike Huckabee: In a statement on Tuesday, Huckabee said, "I spoke with Kim Davis this morning to offer my prayers and support. I let her know how proud I am of her for not abandoning her religious convictions and standing strong for religious liberty. She is showing more courage and humility than just about any federal office holder in Washington." Huckabee further argued that since the Supreme Court does not have the authority to make law, it would be unconstitutional for Davis to issue same-sex marriage licenses. "I stand with Kim Davis and every American of faith under attack by Washington elites who have nothing but disdain for us, our faith and the Constitution," he concluded.

Louisiana Gov. Bobby Jindal: Jindal told the Huffington Post that Davis should not have to resign or to issue licenses to same-sex couples: "I don't think anyone should have to choose between following their conscience and religious beliefs and giving up their job and facing financial sanctions. I think it's wrong to force Christian individuals or business owners. We are seeing government today discriminate against whether it's clerks, florists, musicians or others. I think that's wrong. I think you should be able to keep your job and follow your conscience. I absolutely do believe people have a First Amendment right, a constitutional right. I don't think the court can take that away."

Kentucky Sen. Rand Paul: On Boston Herald Radio, Paul said Monday that government should not have any role in marriage licensing and that specifically he objects "to the state putting its imprimatur to the specialness of marriage on something that's different from what most people have defined as marriage for most of history." He defended Davis, arguing, "I think people who do stand up and are making a stand to say that they believe in something is an important part of the American way."

Florida Sen. Marco Rubio: In a statement to the New York Times, Rubio called for "a balance between government's responsibility to abide by the laws of our republic and allowing people to stand by their religious convictions." Noting that the clerk's office has a "governmental duty to carry out the law," he urged that, "there should be a way to protect the religious freedom and conscience rights of individuals working in the office." He added that the nation "was founded on the human right of religious freedom, and our elected leaders have a duty to protect that right by ensuring that no one is forced by the government to violate their conscience and deeply held religious beliefs about traditional marriage."

(…)

Wisconsin Gov. Scott Walker told Laura Ingraham: "It's a balance that you've got to have in America between the laws that are out there, but ultimately ensuring the Constitution is upheld. I read that the Constitution is very clear, that people have the freedom of religion. That means you have the freedom to practice your religious beliefs out there."

Former Pennsylvania Sen. Rick Santorum said in a statement, "I have great respect for Ms. Davis' and her courage to stand up for her faith. In America we should not have to choose between keeping our job and practicing our faith," and said on CNN on Friday that "what Kim Davis did is heroic."
Of the seventeen Republican candidates for President, only four of them have made statement critical of Davis and said that she either needs to follow the law and the orders of the District Court, or she needs to resign her position. Carly Fiorina, who has seen her political stock rise since appearing in the "Kids Table" debate on August 6th and now has a place on the main stage in two weeks, said that Davis's actions were "not appropriate" and that she should comply with the law if she is going to stay in office. Jeb Bush said that Davis is "sworn to uphold the law," and must act accordingly. Ohio Governor John Kasich referred back to his statement after the Supreme Court ruling in June where he said that the Court's decision was the law of the land and government officials must respect it. Former New York Governor George Pataki was also among those who joined in the call for Davis to respect the law as a government official. Even Donald Trump managed to get on the right side of this issue in his initial comments on the story last night, although he was prevaricating on the issue by the time he was on Morning Joe this morning.
It's not at all surprising, of course, to see where most of these candidates have fallen on this issue. People like Mike Huckabee, who apparently will be attending a rally for Davis on Tuesday, Rick Santorum, Ted Cruz, Bobby Jindal, and others have based a significant portion of their campaigns, and indeed their entire political careers, on pandering to the so-called "religious right." For any of them to say anything different from what they have would have been completely out of character, and likely something for which they would have paid a heavy political price. Even the more moderate candidates that have sided with Davis are doing so largely because they know that taking the opposite position will create problems in an environment where their campaigns are already struggling. Similarly, most of the candidates who are being critical of Davis are those that aren't necessarily dependent on socially conservative voters, or at least have the ability to appeal to voters beyond that group. Perhaps the one surprise in the second group is Carly Fiorina, who has seldom strayed from conservative orthodoxy for most of her campaign. Perhaps with her star rising she feels more free to step away, but it's also possible that as a California Republican she is more libertarian on issues related to gay rights than many of her fellow candidates.
In reality, of course, none of these candidates should be speaking out in support of Davis. Contrary to the arguments that her supporters make, this is not an issue of religious liberty, it is a question of whether or not a government official will comply with law and with the duly rendered decisions of a court. Unlike the cases involving bakers and florists that have become something of an issue in the wake of the rising legalization of same-sex marriage even before the Supreme Court's decision in Obergefell, Davis is not some private citizen who is being deprived of her right to live in accordance with her religious beliefs. She is a government official, and an elected one at that meaning that she actually sought out this position, no doubt in part because of its $80,000 per year salary. While she is entitled to have her personal religious beliefs, and there are certainly circumstances where her employment with the government should not be allowed to interfere with those beliefs, she is not entitled to use those beliefs as an excuse to violate the law, ignore the orders of a Federal Court, and violate the rights of the citizens who pay her salary and whom she is supposed to be representing.
Someone who is running for the highest office in the United States should not encouraging this kind of law breaking by a government official. In fact, it is ironic that the same candidates who are now praising Davis for her illegal actions routinely attack the President for what they claim is his extra-legal actions. Even leaving aside the question of whether their criticisms of Obama have merit, the fact that they attack him for allegedly doing the same thing that they are praising Davis for is nothing more than rank partisan hypocrisy. Furthermore, if you are running to be the Chief Executive of the United States and endorsing illegal actions by government officials, I would argue that you have per se disqualified yourself from being taken seriously.
None of the Republican who are praising Davis will be punished for their comments, of course. Given the nature of the modern Republican Party, in fact, it's five candidates who are criticizing her who are more likely to be attacked by the party's base. That, however, is just a demonstration of how far gone the base of the Republican Party is at this point. They'd rather support a lawbreaker than the Rule of Law. The American people should judge them accordingly.
Update: South Carolina Senator Lindsey Graham has also said that Davis needs to comply with the law or resign her position.