Violence after DC 'Stop the Steal' Rally
Peaceful protests were once again followed by nighttime clashes.
WaPo ("Multiple people stabbed after thousands gather for pro-Trump demonstrations in Washington"):
Thousands of maskless rallygoers who refuse to accept the results of the election turned downtown Washington into a falsehood-filled spectacle Saturday, two days before the electoral college will make the president's loss official.

In smaller numbers than their gathering last month, they roamed from the Capitol to the Mall and back again, seeking inspiration from speakers who railed against the Supreme Court, Fox News and President-elect Joe Biden. The crowds cheered for recently pardoned former national security adviser Michael Flynn, marched with conspiracy theorist Alex Jones and stood in awe of a flyover from what appeared to be Marine One.

But at night, the scene became violent. At least four people were stabbed near Harry's Bar at 11th and F streets NW, a gathering point for the Proud Boys, a male-chauvinist organization with ties to white nationalism.

The victims were hospitalized and suffered possibly life-threatening injuries, D.C. fire spokesman Doug Buchanan said. It was not immediately clear with which groups the attackers or the injured might have been affiliated.

The violence escalated after an evening of faceoffs with counterprotesters that took place near Harry's, Black Lives Matter Plaza, Franklin Square, and other spots around downtown.

At first, officers in riot gear successfully kept the two sides apart, even as the groups splintered and roamed. In helmets and bulletproof vests, Proud Boys marched through downtown in militarylike rows, shouting "move out" and "1776!" They became increasingly angry as they wove through streets and alleys, only to find police continuously blocking their course with lines of bikes.
NYT ("4 Stabbed and One Shot as Trump Supporters and Opponents Clash"):
Incensed by a Supreme Court ruling that further dashed President Trump's hopes of invalidating his November electoral defeat, thousands of his supporters marched in Washington and several state capitals on Saturday to protest what they contended, against all evidence, was a stolen election.

In some places, angry confrontations between protesters and counterprotesters escalated into violence. There were a number of scuffles in the national capital, where four people were stabbed, and the police declared a riot in Olympia, Wash., where one person was shot.

In videos of a clash in Olympia that were posted on social media, a single gunshot can be heard as black-clad counterprotesters move toward members of the pro-Trump group, including one person waving a large Trump flag. After the gunshot, one of the counterprotesters is seen falling to the ground, and others call for help. In one video, a man with a gun can be seen running from the scene and putting on a red hat.

Chris Loftis, a spokesman for the Washington State Patrol, said that two people were in custody in connection with the episode but that specific details about the shooting were not yet clear, including the condition of the person who was shot.

State and federal courts have rejected dozens of lawsuits by Mr. Trump's allies seeking to challenge the election results, but the pointed refusal by the Supreme Court on Friday to hear a case filed by the attorney general of Texas loomed the largest yet. By foreclosing one of the last legal avenues Mr. Trump had to potentially block Mr. Biden from succeeding him on Inauguration Day, it left many of his partisans casting angrily about for answers.

Trump flags dotted the air above Freedom Plaza in Washington, where demonstrators — including many members of the far-right Proud Boys group — chanted "four more years!" and vowed not to recognize Joseph R. Biden Jr. as the president-elect.
CNN ("Several people were stabbed and 23 arrested as 'Stop the Steal' protesters and counter-protesters clash in Washington, DC"):
At least four people were stabbed Saturday night amid post-election protests in Washington, according to the DC Metropolitan Police Department's public affairs office.

DC Fire and EMS transported eight people from the protest area since around 7 p.m.: the four stabbing victims, who were said to be in critical condition, according to DC Mayor Muriel Bowser's office; two police officers with non-life-threatening injuries and two people with minor injuries, the public information office said.

At least 23 people have been arrested during the "Stop the Steal" protests, the mayor's office said.
Traditionally Republican-leaning Fox News ("Mayhem in Washington, DC, as Trump supporters, opponents clash; at least 4 stabbed, 23 arrested") is reporting it pretty much the same way:
Chaos erupted in Washington, D.C., on Saturday night, hours after two pro-Trump rallies ended. Groups of Proud Boys and Antifa activists clashed under cover of darkness, with police repeatedly forcing them apart amid reports of brawls and stabbings.

At least four stabbings occurred near a bar that served as a gathering spot for the Proud Boys, according to the Washington Post. The victims were hospitalized, possibly with life-threatening injuries, a D.C. Fire Department spokesman told the newspaper.

It wasn't immediately clear which groups the attackers and victims were affiliated with, the report said.

As of 9 p.m. ET, 23 people had been arrested, including 10 charged with misdemeanor assault, six with assaulting a police officer and four will rioting, FOX 5 of Washington reported. One suspect was carrying an illegal stun gun.

At least two D.C. police officers were hospitalized with moderate injuries, the report added.

[…]

Around midday, Trump flew over the crowd as Marine One carried him from the White House for his trip to the Army-Navy football game at West Point, N.Y., according to The Associated Press.

"Wow!" the president tweeted before leaving the White House. "Thousands of people forming in Washington (D.C.) for Stop the Steal. Didn't know about this, but I'll be seeing them! #MAGA."
The outlier, not surprisingly, is Newsmax ("Thousands of Trump Supporters Rally in Washington"):
Thousands of supporters of President Donald Trump returned to Washington for weekend rallies to back his desperate efforts to subvert the election that he lost to Joe Biden.

Sporadic fights broke out between pro-Trump and anti-Trump demonstrators after sundown Saturday. WRC-TV reported that four people were taken to a hospital with stab wounds, and the Metropolitan Police Department told the station that 23 people were arrested.

The gatherings of mostly unmasked Trump loyalists were intended as a show of force just two days before the Electoral College meets to formally elect Biden as the 46th president. Trump, whose term will end Jan. 20, refuses to concede, while clinging to baseless claims of fraud that have been rejected by state and federal courts, and Friday by the Supreme Court.
Just reading the story on their website—which I likely wouldn't have even as a True Believer given the banal headline—the coverage is pretty straightforward. They acknowledge that Trump lost the election and that violence occurred. They're less forward-leaning that the Post and CNN in describing the situation and laying blame on one side but it's pretty much a straight news account.
Alas, one would navigate to the story from this front page: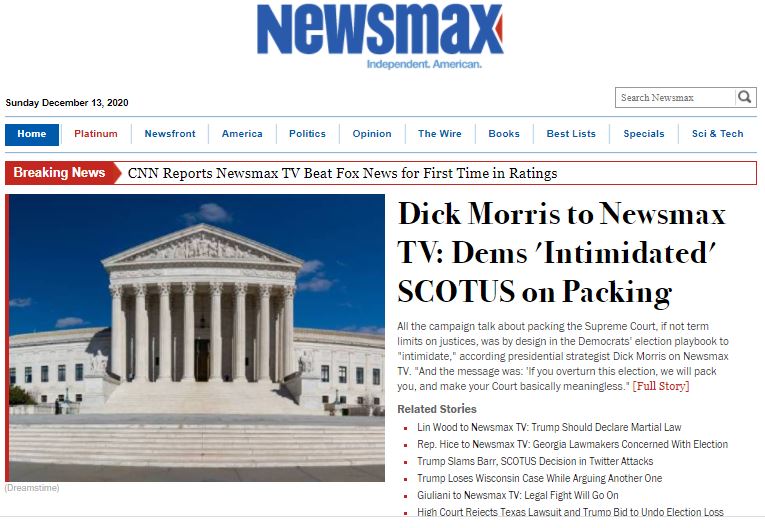 The banner headline is from Dick Morris—who has apparently switched sides again—seeking to delegitimate a unanimous decision by the Supreme Court and the top bullets beneath it are trying to stoke up support to invalidate the election through a declaration of martial law and yet more baseless claims of election fraud.
The natural tendency is to compare the violence from these rallies with those in the much larger and more widespread Black Lives Matter protests. In both cases, on can reasonably argue that peaceful protests by citizens simply exercising their First Amendment rights are being overshadowed by violence attributable to outside agitators spoiling for trouble.
While that's fair enough, the outside agitators in both cases are the same: various white nationalist groups and Antifa types. And, it's especially noteworthy that there have been explicit and implicit calls for violence from Trump and his top supporters in a way that was not the case for the BLM protests.