Virginia Governor Restores Voting Rights To 200,000 Ex-Felons
In a huge step forward for criminal justice reform, Virginia's Governor has restored voting rights for some 200,000 people who have paid their debt to society.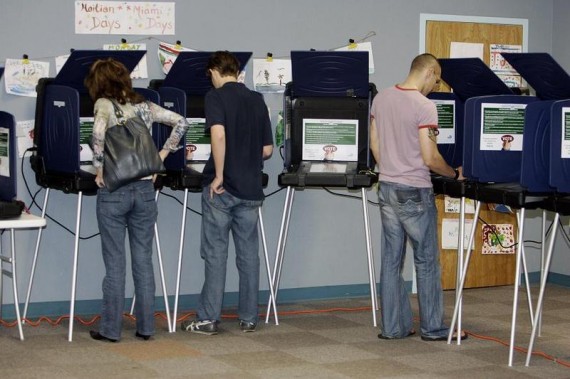 Virginia Governor Terry McAuliffe has restored the voting rights of some 200,000 ex-felons who have fulfilled the requirements of their sentence:
Gov. Terry McAuliffe will allow more than 200,000 ex-cons in Virginia to register to vote in the upcoming presidential election, one of the biggest actions taken by a state to instantly restore voting rights.

The change applies to all felons who have completed their sentences and been released from supervised probation or parole. The Democratic governor's decision particularly affects black residents of Virginia: 1 in 4 African Americans in the state has been permanently banned from voting because of laws restricting the rights of those with convictions.

"Once you have served your time and you've finished up your supervised parole. . .I want you back as a full citizen of the commonwealth," McAuliffe said. "I want you to have a job. I want you paying taxes, and you can't be a second-class citizen."

The governor called the instant restoration of rights to these Virginians the natural next step to his incremental streamlining of a process that has already given 18,000 nonviolent felons their rights back. With the signing of Friday's executive order, McAuliffe eliminated the need for an application for violent felons who had completed their sentences up to that moment.

The announcement Friday immediately drew criticism from Republicans who viewed McAuliffe's action as a blatant favor to his longtime friend Hillary Clinton, for whom he and his wife recently raised $2 million at their McLean home.

"It is hard to describe how transparent the Governor's motives are," House Speaker William J. Howell (R-Stafford) said in a statement. "The singular purpose of Terry McAuliffe's governorship is to elect Hillary Clinton President of the United States. This office has always been a stepping stone to a job in Hillary Clinton's cabinet."

Along with restoring voting rights, the governor's action restores the right to serve on a jury, run for office and become a notary public. The new rights also apply to felons convicted in another state and living in Virginia.

"It is a historic day for democracy in Virginia and across our nation," said Tram Nguyen, co-executive director of the New Virginia Majority, a progressive activist group. "The disenfranchisement of people who have served their sentences was an outdated, discriminatory vestige of our nation's Jim Crow past."

Across the country, state laws vary on the right to vote for ex-offenders. According to the American Civil Liberties Union, about 5.85 million Americans with felony convictions (and misdemeanors in several states) cannot vote. The Sentencing Project estimates that 1 in 13 African Americans are prohibited from voting

Three states — Kentucky, Iowa and Florida — permanently revoke voting rights for people with prior felony convictions. Virginia has also been one of those states that revoked the right to vote. But in recent years, both McAuliffe and his Republican predecessor,  Robert F. McDonnell, have used their executive authority to try to restore voting rights to ex-offenders.

Republicans were particularly outraged that the policy doesn't take into account the violence of the crime, whether the person committed serial crimes, whether they've committed crimes since completing their sentence or whether they've paid their victims back for medical bills.

"Murder victims don't get to sit on juries but now the man that killed them will," said Del. Robert B. Bell (R-Albemarle), who is running for attorney general. "A murder victim won't get to vote, but the man that killed them will."

In reaction to criticism that the timing of the announcement helps Clinton's campaign, McAuliffe denied that the move was politically motivated and said his administration has been working on it for six to eight months.

McAuliffe, a former chairman of the Democratic National Committee and chairman  of Clinton's 2008 campaign for president, said he couldn't say what impact the move would have on her current race for the White House.

"Honestly, I haven't thought about it," he said. "How many are going to vote, we have no idea. I mean literally no idea. … I did this because it was the right thing to do.

McAuliffe will have to sign an identical executive order every month for the remaining two years of his term to cover violent felons who get out of prison each month. The next governor could easily reverse the designation for future felons by ending the practice that McAuliffe began Friday. Virginia governors serve one four-year term and there's an election in 2017.

Each state that allows ex-offenders to vote has its own process. Residents in Maine and Vermont never lose their right to vote, even if they are in prison. In 38 states and the District, most felons   automatically gain the right to vote when they complete their sentence, according to the National Conference of State Legislators. In other states, they have to apply to have voting rights restored.

"This is a humongous change," said Myrna Pérez, director of the voting rights and election project at the Brennan Center for Justice at New York University School of Law. "What this will do is move Virginia, which was among the worst of the worst in terms of disenfranchising people, to a much more middle-of-the-road policy."
The restoration of voting rights to people who have served their sentence and completed any necessary probation has become an increasingly central part of the overall criminal justice reform movement that has created some unlikely political alliances on the national and state level. Kentucky Senator Rand Paul, for example, was talking about the issue as long ago as two years ago and last year became the co-sponsor of a bill that would restore voting rights to a large category of such people nationwide, although it would only apply to Federal elections since Congress cannot dictate how states handle their own election process. At the state level, the effort to simplify the process that ex-felons must go through to get their rights restored has been underway for some time now, but seems to have picked up steam in recent years. Other states have been gradually been changing their laws to provide that voting and other civil rights are automatically restored upon completion of a sentence, including any conditions of probation or parole. Indeed, there are now only three states left in the country where someone convicted of a felony permanently loses their right to vote, Florida, Iowa, and Kentucky.  Given the trends on this issue, it likely won't be long before those states reform their laws as well.
While Republicans in Virginia and several conservative bloggers are accusing McAuliffe of taking this action in an effort to help the political fortunes of Hillary Clinton and other Democrats, it strikes me that this is a generally good idea. Once someone has completed the terms of their sentence, there seems to me to be no valid reason to continue denying them their civil rights, including the right to vote, either until they are able to navigate a restoration petition through a bureaucratic maze or for the rest of their lives. Whether the ex-felons choose to exercise that right to vote or not is their choice, but to the extent it symbolizes the fact that the completion of their sentence should be seen as a second chance at a clean life, a step like this could just be what it takes to help many of these people avoid falling through the cracks again. One objection that has been raised to efforts such as the one McAuliffe has taken here is that it doesn't necessarily take into account whether the felon has made restitution to their victim(s), but if that isn't a term of their sentence or probation then it seems unfair to hold this over their head as the price for the restoration of their rights. In any case, hopefully this move will provide impetus to similar efforts across the country, because it's long overdue.