Voter Turnout And Registration
Some thoughts on the voter registration/voter turnout debate.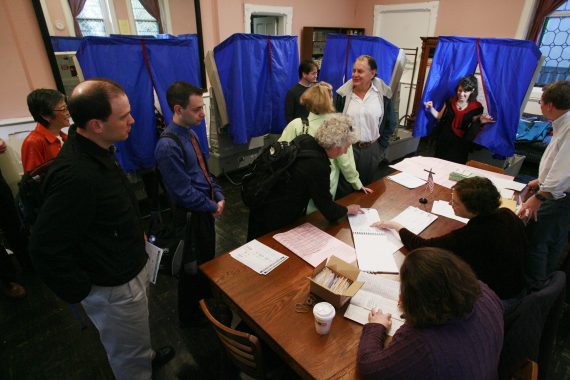 Dave Schuler has posted a response over at his own website to Steven Taylor's post about voter registration  that's worth checking out, but the item that stood out to me was this chart of voter participation in Presidential Elections from 196o to 2004: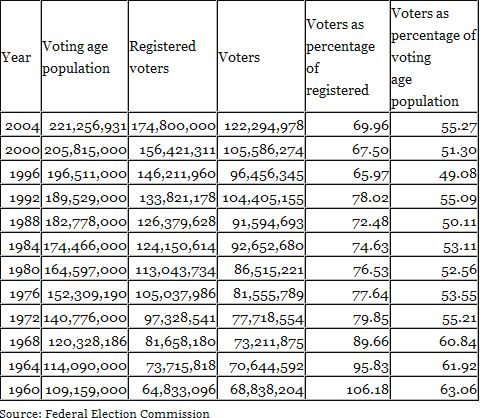 For some reason, the FEC doesn't have data for the 2008 election, but I've been able to gather these numbers from other sources on the web:
I have not been able to find a reliable number for total registered voters in 2008. There is a Census Bureau estimate that places the number at 169,000,000 but that seems odd because it would be 5,000,000 voters less than the number for 2004, which would be ahistorical, registration has consistently increased for the past 52 years. Nonetheless, we can try to estimate the number of registered voters in 2008 just to come up with some comparison figures. In 2004, registered voters accounted for roughly 79% of the voting age population, which appears to be the highest that percentage going back to at least 1960. If we assume that this ratio was roughly the same in 2008, that would put the total number of registered voters at roughly 182,400,000 (yes, I rounded up a bit), and that would put Voters as Percentage of Registered Voters at roughly 72.73%. This means that the 2008 election had the highest turnout as measured by percentage of voting age population since 1960, and the highest as a percentage of registered voters since 1992. Obviously, if the actual number of registered voters in 2008 was lower, the VAPRV would be higher, and it would be lower if the number of registered voters was higher than the estimate I made.
The data leads me to make a few observations and ask a few questions:
First, whether measured as a percentage of voting age population (VAP) or registered voters (RV) the percentage of people actually voting took a predicable and understandable drop in 1972 after the passage of the 26th Amendment. Obviously adding all those 18-21 year olds to the VAP didn't mean that they would actually show up to vote. Indeed, while the number of registered voters increased by nearly 20% between 1968 and 1972, the number of people who actually voted increased by a mere 6.155%. Between 1968 and 1976, registration increased by 28.63%, but the total number of voters only increased by 11.4%. If you run the numbers for subsequent years, you find the same thing, the increase in registered voters is nearly always higher than the increase in actual voters.  This suggests that Dave is correct when he makes this observation:
The way it looks to me is that there's a core of people who actually vote and that core increases more slowly than the number of registered voters does and a lot more slowly than the number of people of voting age does. I would suggest a model along the following lines. The population is comprised of several different groups: those who are motivated to register and vote, those who can be pressed to register but are really not likely to vote, and those who will neither register nor vote. Registration campaigns work on that second group but that doesn't do much to increase the number of voters.
Given that registration campaigns typically target demographic groups that generally aren't inclined to vote, such as those between 18-25, this isn't at all surprising. The question is whether this is a good or a bad thing. While I understand the argument made by those who say that there is a net good when more people vote, the other side of the coin is that one has to wonder what benefit there is to the Republic if people who don't really care about politics, haven't paid attention to the news, and really have no desire to drag themselves to the polling place on Election Day are brought into the process. We already live in a country where people vote based on a wide variety of stupid reasons, do we really want to increase the participation of that cohort in the process? More importantly, maybe it's just the case that some people don't want to vote, and that should be their choice.
The second point that stands out in that chart relates to what happened in the 1990's. After dropping continually beginning in 1972, voter participation increased significantly in 1992, only to drop to its lowest point since 1960 in 1996.  The increase in 1992 is understandable given what was going on that year. Not only did the Democrats nominate a charismatic candidate who appealed to younger voters, but there was also a third-party candidate who was pulling in poll numbers suggesting that he could end up rivaling Teddy Roosevelt's performance in the Election of 1912. People were energized and engaged in a way they had not been before. Indeed, I remember standing in line for nearly an hour before I got to vote back then.
Why, then, the drop off in 1996?
There are likely a number of factors that explain it, including the fact that the Perot phenomenon in 1996 was nowhere near what it was in 1992, but I would suggest that one of the reasons can be tied to the fact that it was between 1992 an 1996 that we saw the beginning of the hyperpartisanship that is now a seemingly permanent part of our political life. With all the nonsense that was part of the political world during the first Clinton term, it's not all that surprising that people would be turned off. Of course, it didn't hurt that the Republicans nominated perhaps the most uninspiring politician in the United States Senate as their nominee.
So, that leaves the parting question. What does the drop-off in turnout from 1992 to 1996 tells us about what might happen this year? Can we expect what is likely to be an exceedingly negative campaign that will concentrate on silly memes to turn people off and keep them home? Or, will we see turnout numbers similar to those in 2008? Say whatever you might about his first term, but Barack Obama is no longer the aspirational and inspirational figure he was in 2008, he has a record now, and Mitt Romney is hardly a barn burner on the stump. Maybe people will decide to sit this one out after all.