Walter Mondale, 1928-2021
Jimmy Carter's Vice President and the 1984 Democratic nominee has died at 93.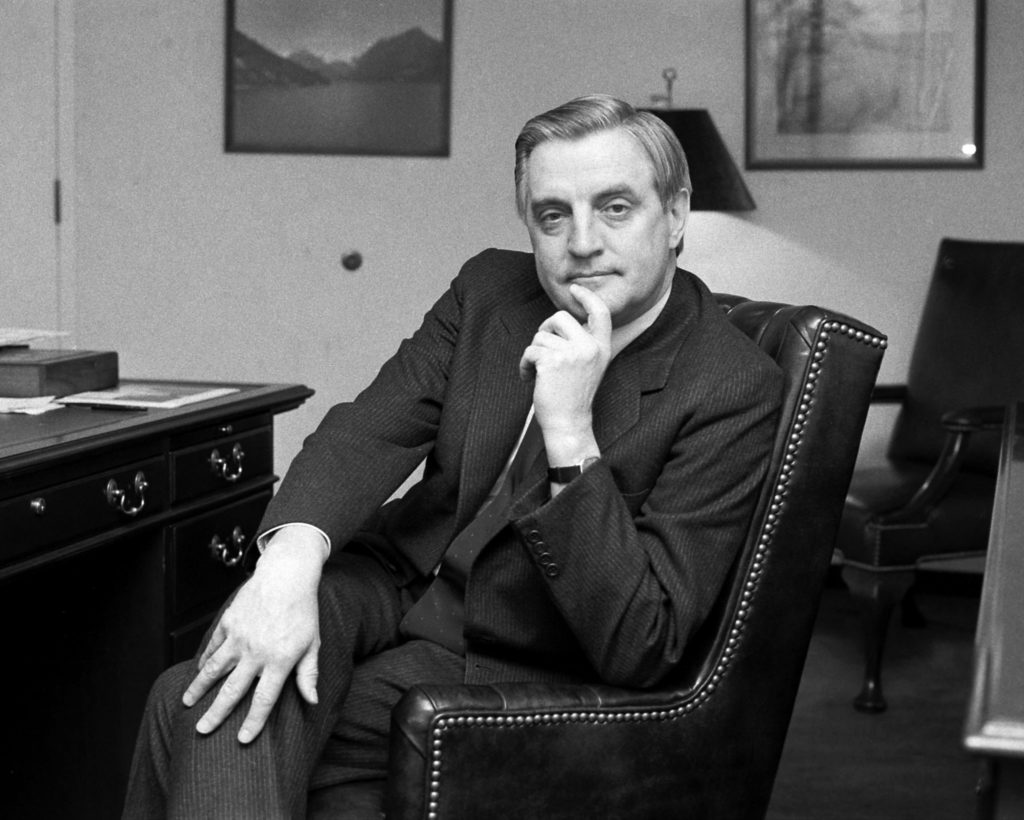 Washington Post ("Walter F. Mondale, Carter's vice president who lost White House bid, dies at 93"):
Walter F. Mondale, the former Democratic senator and vice president whose unusually candid and forward-looking bid for the pinnacle of American politics was blocked by President Ronald Reagan's landslide reelection victory in 1984, died April 19 at his home in Minneapolis. He was 93.

Family friend and spokeswoman Kathy Tunheim announced the death but did not provide a specific cause.

Mr. Mondale was a major player on the national political stage for two decades, beginning in 1964, when he was appointed to the Senate seat from Minnesota that his political mentor, Hubert H. Humphrey, had given up to become President Lyndon B. Johnson's vice president.

On Capitol Hill, Mr. Mondale rose in the party hierarchy while establishing a reputation as a diligent legislator and a champion of such liberal causes as open housing and anti-poverty programs. His star ascended still further in 1976 when Jimmy Carter, the former Georgia governor and Democratic nominee for president, chose him as his running mate.

That November, Carter and Mondale — aided no doubt by the lingering shadow of the Watergate political scandal over the GOP — narrowly defeated President Gerald Ford and Sen. Robert J. Dole (R-Kan.). But four years later — weighed down by an oil crisis and the Iranian hostage crisis — the Carter-Mondale ticket lost the White House to Reagan and his running mate, George H.W. Bush, in the 1980 election.

Mr. Mondale was back in 1984, running this time at the top of the Democratic ticket, but he lost to Reagan in spectacular fashion.

As a presidential candidate, Mr. Mondale is, perhaps, best remembered for his startling promise at the Democratic National Convention to attack the budget deficit by raising taxes and for his choosing a female running mate: Rep. Geraldine A. Ferraro of New York, who became the first woman to run on a major-party presidential ticket.

[…]

In the landslide of 1984, Reagan received more than 54.45 million votes, or almost 58.8 percent of the popular vote, to Mr. Mondale's 37.57 million, or 40.6 percent. The tally in the electoral college was even more decisive, with Mr. Mondale winning only Minnesota and the District of Columbia — for a total of 13 electoral votes to Reagan's record-high 525. And Mr. Mondale carried his home state by fewer than 4,000 votes out of more than 2 million cast.

Afterward, Mr. Mondale returned to private law practice in Minnesota, but he reentered public life in 1993 when President Bill Clinton named him ambassador to Japan. He served in Tokyo until December 1996, when he went home to Minnesota again, saying he had ended his political career.
New York Times ("Walter Mondale, Ex-Vice President and Champion of Liberal Politics, Dies at 93"):
Walter F. Mondale, the former vice president and champion of liberal politics, activist government and civil rights who ran as the Democratic candidate for president in 1984, losing to President Ronald Reagan in a landslide, died on Monday at his home in Minneapolis. He was 93.

Kathy Tunheim, a spokeswoman for the family, announced the death. She did not specify a cause. But Mr. Mondale was prepared for the end. Over the weekend he spoke for the last time with former President Jimmy Carter, under whom he served; with President Biden and his wife, Jill Biden; and with Vice President Kamala Harris. And he sent a farewell email to his former staff members.

A son of a minister of modest means, Fritz Mondale, as he was widely known, led a rich public life that began in Minnesota under the tutelage of his state's progressive pathfinder, Hubert H. Humphrey. He achieved his own historic firsts, especially with his selection of Representative Geraldine A. Ferraro of New York as his running mate in 1984, the first woman to seek the vice presidency on a major national ticket.

Under President Carter, from 1977 to 1981, Mr. Mondale was the first vice president to serve as a genuine partner of a president, with full access to intelligence briefings, a weekly lunch with Mr. Carter, his own office near the president's and his own staff integrated with Mr. Carter's.

"Fritz used his political skill and personal integrity to transform the vice presidency into a dynamic, policy-driving force that had never been seen before," Mr. Carter said in a statement on Monday night, expressing grief over the passing of "my dear friend."

President Biden said in his own message of condolence that when then-Senator Barack Obama asked him to consider running for vice president alongside him in 2008, "Fritz was my first call and trusted guide." He said that Mr. Mondale's redefining the vice presidency "as a full partnership" had "helped provide a model for my service." And he noted that Mr. Mondale "was the first presidential nominee of either party to select a woman as his running mate, and I know how pleased he was to be able to see Kamala Harris become vice president."

Throughout his career, Mr. Mondale advocated an assertive and interventionist role for the federal government, especially on behalf of the poor, minority groups and women.

"I'm a liberal or a progressive," he said in an interview for this obituary in 2010. "I didn't use the 'liberal' word much, because I thought it carried too much baggage. But my whole life, I worked on the idea that government can be an instrument for social progress. We need that progress. Fairness requires it."
Most historians indeed consider Mondale to be the first of the modern style Vice Presidents, having a substantial policy portfolio. I was only peripherally aware of him at the time, not really knowing much about him until his 1984 campaign to unseat Reagan. By that point, the economy was in good shape and Reagan's popularity was at its highest, so there was never much danger of a Mondale win. My main memory of that campaign, the first in which I was eligible to vote, was Reagan's quip, "I will not make age an issue of this campaign. I am not going to exploit, for political purposes, my opponent's youth and inexperience." Mondale was a good sport about it.
That the Times was preparing for his obituary 11 years ago is telling. Indeed, when saw the report last night that he had passed, my first thought is that we've had an extraordinary run of long-lived Presidents and Vice Presidents. Jimmy Carter is still going strong at 96. George H.W. Bush died at 94. Ronald Reagan and Gerald Ford both made it to 93. Bush and Ford were both Vice Presidents before they became President, so I'm double counting. Obviously, the recent run is a very small sample, indeed, and many of the living Presidents and Vice Presidents are still relatively young.