Was Bernie Sanders The Ralph Nader Of 2016?
One professor is suggesting that Bernie Sanders played a role in 2016 similar to the one that Ralph Nader did in 2000. It doesn't pass even cursory examination.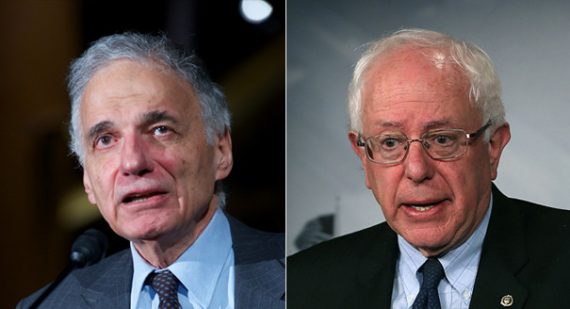 Writing in Time Magazine, McGill University Professor Gil Troy argues that Vermont Senator Bernie Sanders played the same role in the 2016 election that Ralph Nader did in the 2000 election:
On Election Day, Senator Bernie Sanders earned the 2016 "Ralph Nader Award" for the Leftist Most Responsible for Helping Republicans Win the Presidency. True, Donald Trump cleverly exploited voters' frustrations. And Hillary Clinton's campaign in 2016 was as rigid and empty as it was when she lost in 2008. Still, Sanders helped Clinton lose. His insurgency pushed her too far left to prevent an effective re-centering in the fall, while goading her into wooing different constituencies rather than uniting the nation.

In fairness, Sanders ran a surprisingly effective campaign tapping the same anti-establishment fury Donald Trump stirred. Although Sanders and Trump are very different, their campaigns were not. Each treated Hillary Clinton as a compromised, Wall Street-worshipping, Establishment sellout. Both demonized Washington insiders and free trade, rather than tackling the real structural problem: the United States deindustrialized because Americans refuse to pay what it costs to hire American workers and instead buy cheaper imported products. As a result, just as Ralph Nader siphoned tens of thousands of votes on Election Day 2000 in Florida from Al Gore, causing the deadlock and George W. Bush's victory, Bernie Sanders' similar vampire effect enfeebled Hillary Clinton.

This dynamic followed a classic historical pattern. Sanders drew Clinton from the center toward the Democrats' extreme flank. That shift paralleled Jimmy Carter's leftward lurch when Ted Kennedy ran in 1980, and George H.W. Bush's rightwing swerve when Pat Buchanan rebelled in 1992. Each time, the frontrunners felt forced to placate loyalists they should have been able to take for granted, while embracing extreme positions that haunted them during the general election campaign.

This year replayed that Insurgent's Vampire Effect. Clinton expected to inherit the nomination without serious opponents. Joe Biden and John Kerry, each of whom sees a potential president whenever he looks in the mirror, didn't run, deferring to the Clintons' power in the party and to Hillary Clinton's claim that it was "our time" as women to win the presidency—an appeal that, surprisingly, bored younger women.

As an independent, Sanders lacked such loyalty. His hip campaign addressed the displaced and disempowered, claiming Hillary Clinton was the problem not the solution. In response, Hillary Clinton channeled Walter Mondale in 1984, desperately appealing to different special interests. Characteristically, after winning Super Tuesday, she declared: "We have to defend all our rights—workers' rights, and women's rights, civil rights and voting rights, LGBT rights and rights for people with disabilities." This pluralistic appeal failed to offer a unifying national mission. It illustrated Donald Trump's complaint that Democrats were so busy kowtowing to minorities they neglected the white majority and the nation's need for consensus.

Having catered to the millennial and minority sensibility in the spring, Hillary Clinton missed the mainstream, failing to recalibrate for the fall. This misread was most apparent in her neglect of her greatest political ally, Bill Clinton, and his legacy. In the 1990s, President Clinton shrewdly led from the center, forging a "Third Way" progressivism more balanced than the big-government, special interest group-oriented liberalism which Ronald Reagan and George H.W. Bush handily defeated in the 1980s. Clintonite centrism embraced free trade as bringing prosperity not exporting jobs. Clinton fought crime, framing it as threat to all Americans, especially blacks. Clinton reformed welfare to restore governmental credibility and recipients' dignity. Clinton talked candidly about restructuring the economy while rebuilding traditional culture, because too many Americans felt they were "living in the funhouse."
Troy, of course, is just the latest in a host of contributions from academics, pundits, and politicians who have spent the last week trying to come up with reasons why Hillary Clinton lost the election and we're likely to get more of these post-mortems in the future, especially when the seemingly inevitable books by campaign insiders and reporters start coming out sometime next year. No doubt, there will be plenty of stories from inside the campaign that will tell us whether or not there was infighting over this issue or that regarding the outcome of the election. In many cases, though, what you'll be hearing will be coming from people who have an agenda to push, and this is especially true when it comes to blaming forces outside the campaign for the loss. More often than not, these theories about outside forces tend to downplay failures by the campaign itself, which strikes me as mistaken given the fact that, ultimately, a winning or losing campaign can often be blamed on mistakes that the campaign itself made, faults about the candidate, or simply the fact that the campaign was fighting a more difficult uphill battle than many assumed. In the case of Clinton's 2016 campaign, the temptation to blame outside forces seems natural given the fact that, right up until Election Night itself, all the signs pointed to at least a moderately strong Clinton victory that never materialized. In retrospect, it's becoming clear that the odds of a Clinton victory were probably being overestimated by pollsters and analysts alike, and apparently by people inside the Clinton campaign itself. In the case of Troy's theory that Clinton lost because Sanders pushed her too far left, we have an argument that is likely to sit well with Clinton loyalists, and it also fits in well with the ongoing battle for the future direction of the Democratic Party. For that reason, I'm sure that Troy's theory that Bernie Sanders pulled Clinton too far to the left to win will gain a lot of support among Clinton supporters and others who don't want to look inward for an explanation for the loss. The question is whether there's any actual merit to the argument.
In some sense, it's true that the surprisingly strong challenge that Sanders gave Clinton in early primary states probably did push her to the left on some issues, but it's hard to say definitively that it was this that led to Clinton's defeat. For example, Sanders' challenge is credited, or blamed depending on how you look at it, for causing Clinton to change her position on the Trans-Pacific Partnership trade deal, which she was enthusiastically for while Secretary of State and came out against once Sanders pushed her on the issue, or for her to become more vocal in her focus on issues such as income inequality, the minimum wage, or the economic well-being of the middle class. The interesting thing about this election, though, is that Trump articulated many of the same positions that Sanders allegedly 'forced' Clinton to change on. For example, Trump was speaking out against TPP and other trade deals long before Clinton changed her position on that issue and while he was leading in the race for the Republican nomination. Additionally, it now seems clear that one of the many reasons that Trump was able to capture working-class votes in states such as Wisconsin, Ohio, Michigan, and Pennsylvania, states that Republicans had not won in Presidential elections in years, was because he was going against GOP orthodoxy on international trade and playing into the sentiment among voters in those states that they had ended up with a raw deal when it came to international trade. Arguably then, it was Clinton's original position on TPP that harmed her in these states, not the change she made in response to the Sanders threat. In fact, many of Trump's criticisms during the campaign, such as his attacks on her for ties to Wall Street, the millions she made from speeches that were paid by entities such as Goldman Sachs, and his attacks on what seemed to many people like a 'pay for play' arrangement involving donations to the Clinton Foundation while Hillary served as Secretary of State, echoed attacks from Sanders that Clinton never really found an effective answer to. The fact that these attacks were coming from a businessman who has frequently interacted with many of the same entities that Clinton did just underscores the importance of all the other flaws that Clinton had.
Another area where Sanders frequently criticized Clinton during the primaries was on foreign policy. Both in his stump speeches and in debates, Sanders would hit Clinton quite effectively over her initial support for the Iraq War, for her advocacy of American involvement in Libya, and for her support for an even broader American role in the Syrian civil war and the fight against ISIS. This is also an area where Trump was arguably campaigning to the left of Clinton, although it's unclear how much the election turned on these issues. Like Sanders, Trump criticized Clinton for her support for the Iraq War, her backing of the misadventure in Libya in 2011, and her advocacy of positions that would lead to a wider American involvement in Syria. Based on the polls, it seems clear that Sanders and Trump were more in line with the public here than Clinton was, so it wasn't surprising that their message(s) resonated with the public. Again though, it's hard to say that Sanders hurt Clinton to the extent he pushed her to the left on foreign policy when she ended up running against a Republican that was almost as far to the left as Sanders was. If Clinton was forced to move to the left on foreign policy, it arguably should have helped her. The fact that it didn't suggests that she lost for reasons that have little or nothing to do with Bernie Sanders.