What's Next For Rick Santorum, And The Republican Party?
We may have Rick Santorum to deal with in 2016.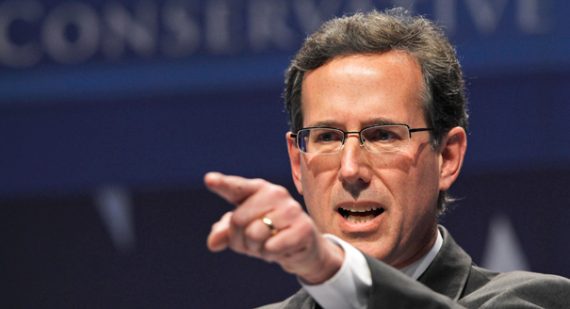 It's been barely twenty-four hours since he suspended his campaign, but people are already starting to speculate about where Rick Santorum goes from here:
The curtain had barely fallen on his 2012 presidential campaign before Rick Santorum asked his top supporters: what's next?

With his insurgent White House bid, Santorum cut himself a path back to national prominence. Starting on the night of the Iowa caucuses and proceeding through a series of conservative Southern and Midwestern primary contests, Santorum gradually regained much of the standing he lost when the voters of Pennsylvania ran him out of office six years ago.

It's very much an open question where Santorum's political aspirations will lead. But on a Tuesday afternoon conference call, Santorum was already asking some of his strongest backers for advice on where he should next set his sights.

"He conveyed his genuine sense of calling to public service — and public service means more than just elective office," said Colin Hanna, the Pennsylvania conservative activist who heads the group Let Freedom Ring. "He solicited suggestions from his supporters on how he could and should continue to give voice to the themes that touched so many, so positively, during his campaign."
In terms of running for elective office, the options for Santorum are really somewhat limited to being Mitt Romney's running make, running for President again in 2016 if Romney loses this year, or running for statewide office in Pennsylvania again. The running mate option seems to me to be the least likely thing that will happen. Some will argue that  Santorum would be the perfect candidate for Romney to pick to make peace with the conservative base of the GOP and the Tea Party. Perhaps that's true, although Santorum's Tea Party credentials are questionable at best given his long record in Washington. More important for Romney, though is the fact that Santorum seems to be a huge turnoff for independent voters, which would be crucial to any Romney plan for victory. That leaves running in 2016, or running in Pennsylvania.
As Nate Silver points out, though, he faces obstacles in both of those areas that may make it difficult for him to capitalize on his 2012 success:
It is questionable, however, whether Mr. Santorum can expect the competition in 2016 or 2020 to be as soft as it was this year, with big names like Senator Marco Rubio of Florida, Representative Paul D. Ryan of Wisconsin, former Gov. Jeb Bush of Florida, Gov. Bobby Jindal of Louisiana, Gov. Chris Christie of New Jersey and perhaps others looming on the horizon, and as the Republicans who were elected to office in the 2010 wave begin to mature as politicians. Whomever Mr. Romney selects as his vice presidential candidate will also have a good shot at future Republican nominations. Finishing second in a strong field of candidates, as John McCain did in the Republican race of 2000, may be an indication of future success, but it is less of a credential when the competition is middling and some of Mr. Santorum's support came by virtue of being an "anti-Romney" candidate.

Mr. Santorum could also look to statewide office in Pennsylvania, but that might require a reasonably long wait. The incumbent governor there, Tom Corbett, is a Republican and is eligible for another term in 2014, so Mr. Santorum would either need to mount a primary challenge or hope that Mr. Corbett retires.

Of Pennsylvania's two incumbent senators, one is a Democrat, Bob Casey, who resoundingly defeated Mr. Santorum in 2006 and who remains fairly popular. Because Mr. Casey is on the ballot again this year and it is too late for Mr. Santorum to challenge him, he would need to wait until 2018 for a rematch. Pennsylvania's other incumbent senator, Pat Toomey, will be up for election in 2016. But Mr. Toomey is a Republican who is relatively young and who is too conservative to be vulnerable to a primary challenge.
Since the Santorum's live in Virginia now, one supposes that he could try to build a political career in the Old Dominion. We've seen other out of staters come in here and make a mark. George Allen and Jim Webb come to mind most immediately, although Allen had ties to Virginia prior to moving back to the state to go to law school and run for office. At the same time, though, I doubt that Santorum's brand of social conservatism would sell very well on a the statewide level in Virginia.
That leaves Presidential politics.
If Romney does lose in November, then the future course for the Republican Party seems fairly certain.I've written about it here at OTB several times already (see here  and here). Conservatives will argue that, once again, the Republican Party lost because it nominated the moderate instead of the conservative candidate, and because it didn't "take the fight" to President Obama, whatever that means. In reality, that will be untrue but it really won't matter. The GOP Establishment will cower in the corner and the right will go on the war path. By 2016, the odds of a moderate candidate being about to pass muster with the base of the party will be somewhere between slim and none, and Rick Santorum will be one of the people best able to take advantage of all of this. That's why I argued earlier this year that maybe the GOP would have been better off nominating Santorum and letting the conservatives have their candidate for once. He'd lose spectacularly in November and then, just maybe, the GOP would become just a little more like Jon Huntsman and a lot less like Herman Cain and Michele Bachmann. That won't happen this year, but it could happen in 2016 if Romney loses, and Santorum may end up being the guy who leads his troops into a battle that they cannot win.