Why Class Warfare Succeeds
The "makers vs takers," "the 99 percent vs. the 1 percent," and "53 percent vs. 47 percent" memes are getting tiresome.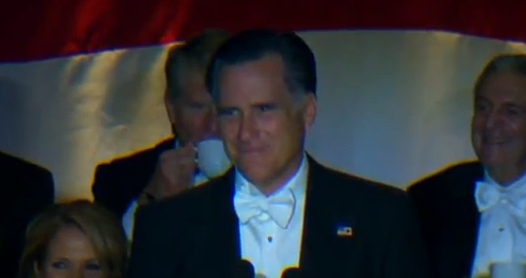 Mitt Romney's declaration that he lost the election because President Obama gave "gifts" to "the African-American community, the Hispanic community and young people" was a fine example of disconnect from the American psyche that was the actual reason that he lost the election.
Both Doug and Steven have laid out the case that, not only is this bad politics, it's a sign that Romney and company just don't get it.
There's a visceral level at which I sympathize with Romney on this. Irrespective of whether it was otherwise good policy, for example, the auto bailout almost certainly helped win Obama Ohio. That could easily be looked at as a "gift" to the auto companies and the unions in particular. Similarly, student loan forgiveness, the extension of childhood to age 26 for parental insurance coverage, and the like were indeed "gifts" to beneficiaries, paid for by someone else.
Now, of course, all of these groups—African Americans, Hispanics, union workers, and the young—are natural Democratic constituencies. They voted overwhelmingly for Obama in 2008 before he gave them anything more tangible than hope.  So, that notion that he bought their votes with taxpayer dollars, except maybe at the margins, doesn't make sense.
But it's true that a core Obama message was "we're going to give you things you want and pay for them by increasing taxes on the rich." That's why, despite recognizing the need for progressive taxation, free public education, a single payer healthcare system, and other forms of economic redistribution, I'm nonetheless very uncomfortable with the Democrats' class warfare message: it basically gives people a sense of entitlement to things paid for by other people, often while implying that said people really didn't earn their money, anyway.
Where I disagree fundamentally with Romney, though, is that he takes it to the other extreme.: He's not just concerned about the polarization that class warfare from the left creates but wants to fight the class war from the right.
I'm uncomfortable with having 47 percent of the voting population not pay federal income tax, because I think it creates perverse incentives. But Romney seems to genuinely believe that most of those people are simply "takers," leeches on society who don't contribute anything. That's, of course, nonsense.
For one thing, even those who don't pay federal income taxes pay federal payroll taxes, so they're at least putting money into the Social Security kitty. Which doesn't really exist, so they're effectively paying income taxes by another name. And almost everyone pays other taxes, notably state and local sales taxes.
For another, most of those who aren't paying federal taxes are either very poor, elderly, or both: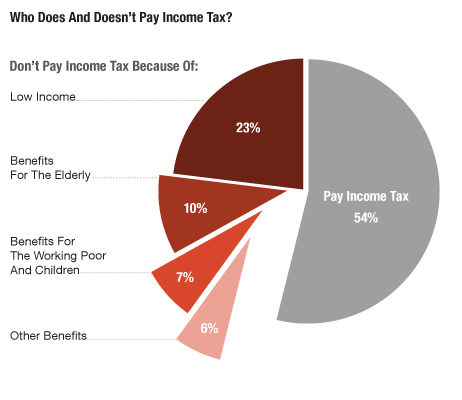 We'd be far better off having these debates on the level of what's the best public policy interest of the country rather than pitting the 53 percent against the 47 percent or the 99 percent against the 1 percent. Conflict and division are, alas, more compelling.
It doesn't help that most Americans don't understand the tax code or have any idea how much they contribute. By design.
Most of the 47 percent who pay no federal income taxes not only think they do but think they pay way too much in while others are getting over. Because everyone who gets a paycheck has taxes withheld, they assume that they're actually paying a sizable chunk of their income. And, of course, the distinction between regular income taxes, FICA, Medicare, and the like—or even between federal and state taxes—is immaterial to most of us. That they actually get more back at the end of the year than they put in isn't at all obvious.
For that matter, most people think that the top marginal rate is paid on all income earned rather than all income above a certain threshold. Beyond that, they think they're paying a flat rate, when in fact various deductions and credits lower the number substantially.
Unless, of course, one gets hit by the Alternative Minimum Tax. In which case you don't actually get the deductions for mortgage interest, dependents, and so forth that you think you are.
Through this mismash, most of us think we pay too much in taxes—and that those like ourselves are paying the lion's share of taxes, while those above and below us get off light because of government handouts and write-offs.