Neither Mitt Romney Nor Paul Ryan Understand Why They Lost
Neither member of the Republican ticket seems to understand what really happened on Election Day.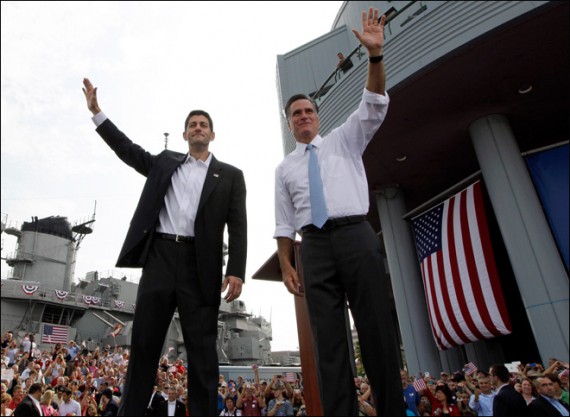 With the election a week behind us, and most of the postmortems by the pundits published days ago, we're finally starting to hear from the two members of the losing ticket to get their own opinions on why they ended up losing the election. Unfortunately for both of them, neither one of them seems to quite understand what went wrong.
First up, the man at the top of the ticket asserts that the reason that President Obama won was because he was promising free stuff to people:
A week after losing the election to President Obama, Mitt Romney blamed his overwhelming electoral loss on what he said were big "gifts" that the president had bestowed on loyal Democratic constituencies, including young voters, African-Americans and Hispanics.

In a conference call on Wednesday afternoon with his national finance committee, Mr. Romney said that the president had followed the "old playbook" of wooing specific interest groups — "especially the African-American community, the Hispanic community and young people," Mr. Romney explained — with targeted gifts and initiatives.

"In each case they were very generous in what they gave to those groups," Mr. Romney said.

"With regards to the young people, for instance, a forgiveness of college loan interest, was a big gift," he said. "Free contraceptives were very big with young college-aged women. And then, finally, Obamacare also made a difference for them, because as you know, anybody now 26 years of age and younger was now going to be part of their parents' plan, and that was a big gift to young people. They turned out in large numbers, a larger share in this election even than in 2008."

The president's health care plan, he added, was also a useful tool in mobilizing African-American and Hispanic voters. Though Mr. Romney won the white vote with 59 percent, according to exit polls, minorities coalesced around the president in overwhelming numbers — 93 percent of blacks and 71 percent of Hispanics voted to re-elect Mr. Obama.

"You can imagine for somebody making $25,000 or $30,000 or $35,000 a year, being told you're now going to get free health care, particularly if you don't have it, getting free health care worth, what, $10,000 per family, in perpetuity, I mean, this is huge," he said. "Likewise with Hispanic voters, free health care was a big plus. But in addition with regards to Hispanic voters, the amnesty for children of illegals, the so-called Dream Act kids, was a huge plus for that voting group."

In the 20-minute call —which also featured an appearance by Neil Newhouse, the campaign's pollster, Spencer Zwick, the national finance chairman, and Mason Fink, the finance director — Mr. Romney was by turns disappointed and pragmatic, expressing his frustration that he'd failed to defeat Mr. Obama on Election Day.

"I'm very sorry that we didn't win," he said on the call. "I know that you expected to win, we expected to win, we were disappointed with the result, we hadn't anticipated it, and it was very close but close doesn't count in this business."

He continued: "And so now we're looking and saying, 'O.K., what can we do going forward?' But frankly we're still so troubled by the past, it's hard to put together our plans from the future."

He added half-jokingly that the close-knit group, which excelled in fund-raising but was ultimately unable to propel Mr. Romney into the Oval Office, could even help with "perhaps the selection of a future nominee — which, by the way, will not be me."
While more sophisticated, Romney's assessment of the election isn't all that different from what we've heard from the likes of Rush Limbaugh over the past week. For Limbaugh, the explanation for Obama's victory can be found in the fact that he played "Santa Claus" to a whole host of special interest groups ranging from minorities to women to young voters. It is, perhaps, an easy conclusion to come to if you're a Limbaugh-type conservative. After all, for them the entire Obama Administration has been about giving people government benefits, and they typically cite things such as the increased number of people on  food stamps as proof of their argument. Of course, while it's true that the number of people on food stamps has increased over the past four years, the main reason for that is because of the economic collapse in 2008 and the fact that we're still struggling to get out of that whole. While I agree that the President has done far too little to fix the economy, blaming him for the fact that more people qualify for food stamps today than four years ago is kind of like blaming the cold weather for the fact that you need to wear a jacket when you go outside.
The bigger flaw in Romney's assertion, though, is that it clearly misstates what the entire election was about. Even though I disagree with him on many issues, President Obama did not campaign on giving free stuff to people no matter how much conservatives want to tell themselves that he did. What the President did do, and quite effectively I have to admit, is appeal to a wide variety of interest groups by giving them the impression that he actually cared about the problems they were dealing with. This is something that Romney never seemed to be able to do, and when he tried it came across as a sort of false sincerity that clearly didn't play well with voters. While that may not have been the main reason that the Republican ticket lost, it certainly didn't help the ticket make its case over the course of the election.
Romney's running mate has a different theory to explain why they lost:
WASHINGTON — As Representative Paul D. Ryan casts about to find an explanation for the defeat of the Republican presidential ticket, on which he was Mitt Romney's running mate, he is looking to the nation's big cities for answers.

"The surprise was some of the turnout, some of the turnout especially in urban areas, which gave President Obama the big margin to win this race," Mr. Ryan said in an interview with WISC-TV back home in Wisconsin on Monday before returning Tuesday to Capitol Hill for the start of the lame-duck session.

"When we watched Virginia and Ohio coming in," Mr. Ryan said, "and those ones coming in as tight as they were and looking like we were going to lose them, that's when it became clear we weren't going to win."

Mr. Ryan, now a potential 2016 presidential candidate, has repeated the sentiment in subsequent interviews. And he is not the only conservative who has embraced the notion that a surge of voters in urban America gave Mr. Obama the prize, as many Republicans try to come to grips with how an election they believed was theirs for the taking instead got away.

But his voice carries new weight as he returns to Congress with a larger responsibility to help lead his party back to the White House in the years ahead. Mr. Ryan's blunt assessment of the failures of his ticket are sure to shape the party's political future even as he returns to the immediate business of the fight over spending and taxes.

Mr. Ryan's concerns follow on the heels of other Republicans who argue that the party's lack of appeal to minority voters — many of whom live in the nation's largest urban centers — has made it more difficult to win the presidency.

There is some anecdotal evidence to back up the analysis that Mr. Obama was helped by his appeal in the nation's population centers. In Philadelphia and Ohio, for example, local news reports have documented dozens of city precincts where Mr. Romney and Mr. Ryan failed to get a single vote. And in Ohio, turnout among blacks, many of whom live in urban areas, increased significantly over 2008.

In the nation's largest cities, exit poll data show that the president won overwhelmingly, earning almost 7 out of every 10 votes. In some states, like Pennsylvania, Mr. Obama did even better in the big cities, winning 85 percent of the vote. Mr. Romney won the nation's suburbs by a narrow margin.

But pointing to urban voters for the Republican failure to win last week does not take into account that the Republican ticket also lost big in some rural, mostly white states, like Iowa and New Hampshire.

And there is little proof from the results of the election that urban turnout over all played the decisive role in swing states like Colorado, Ohio, Pennsylvania, Virginia or Wisconsin, where Mitt Romney lost in Mr. Ryan's suburban home district.

"What Paul Ryan misses is that the Republicans have been losing the urban vote for a long, long time," said Marc Morial, the president and chief executive of the National Urban League. "Now they are losing the suburban vote, too. They are becoming more urban in their character, in their makeup, in the problems."
The assertion that the "urban" vote was somehow responsible for the Romney/Ryan ticket's loss is, quite simply, absurd. For one thing, such an argument cannot explain the success of Obama/Biden in states such as Florida, Virginia, Iowa, Colorado, or Nevada, none of which have what could fairly be called major urban areas. For another, it's a clearly phony argument once you give it even a moment of thought, as David Weigel explains:
I'd argue that Ryan's position is fairly savvy, given what else is out there. A rumor du jour on the right (which I plan to get into as soon as our national Petraeus nightmare winds down) is that the lack of Romney votes in some Philadelphia and Cleveland precincts suggest that there was ELECTION FRAUD. There is, however, plenty of precedent for inner-city precincts voting heavily Democratic. Most of the precincts in question gave a similarly non-existent number of votes to John McCain in 2008. McCain didn't really campaign in those cities, ceding the black vote to Barack Obama.
No, I think Ryan's next statement is more revealing.

"I don't think we lost it on those budget issues, especially on Medicare — we clearly didn't lose it on those issues," he said.

Ryan spent weeks promising to "win this debate" over Medicare, so he can't say he lost it. But what he's implying here is that voters, for other reasons, simply didn't consider the wisdom of the big arguments. And that's sort of the argument Republicans make about urban voters — they vote so reflexively Democratic, they're hardly responsive to policy debates.
Weigel has a point here. Ryan doesn't want to have to admit that the ticket lost on the field of ideas, so he is forced to make a phony argument about "urban" voters who were never going to vote for a Republican anyway somehow decided the election. If that's not a clue that they haven't figured out what's wrong with their party, I don't know what is.