Why isn't Biden Magical?
Some pundits have high standards.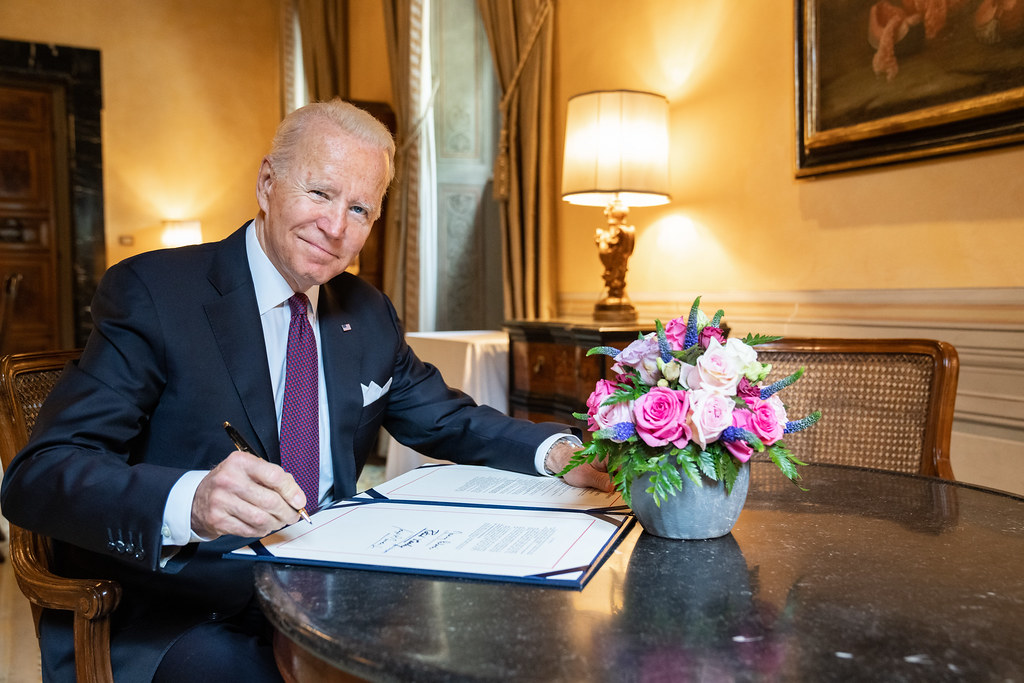 Let start with a basic observation: presidents have a lot more power to do harm, often by obstruction or inaction, than they do to engage in proactive good. Further, the policy areas that the presidents can affect unilaterally are very specific and not as wide-ranging as either campaign rhetoric or the wishful thinking of supporters would suggest. And while, as Richard Neustadt famously observed, the power of the presidency is the power to persuade, sometimes the persuasive power of even the most gifted president will get exactly zero public policy produced.
I will go one farther and note that the degree to which a given president is persuasive over a member of Congress (those holders of the keys of proactive policy action) is often linked to either a) what that a given president can leverage out of Congress for that member, especially on spending, and/or b) the degree to which a presidential endorsement/support is useful for helping that member get re-elected. Given how little Congress passes these days (especially without earmarks for quite some time now) and, also, the number of electoral contests that are not competitive, one might consider the possibility that presidential persuasion is often not all that it is cracked up to be.
To pick an obvious example: exactly what can Biden use to persuade Joe Manchin? (And, I would note, he has tried).
Indeed, one of the faultlines of American democracy at the moment is that given the inability of Congress to effectively govern, presidents try to govern on their own via executive orders and the like. This leads to temporary fixes at best (since they can be reversed by the next president) and also to incomplete fixes since presidential powers are limited. Further, the courts can overturn presidential interpretation of the laws, as we saw just this week. Worse of all, the shifting of powers that ought to be legislative in nature to the executive has the effect of increasing the authoritarian tendencies of presidential systems in a decidedly unhealthy way (if, that is, one values representative democracy).
Also, let me underscore that passing laws, especially major domestic policy changes, requires a majority vote in the House, a supermajority vote in the Senate, and the signature of the president. This is not an easy confluence of outcomes (as any observer of American politics should understand). It is not unreasonable to suggest that the system is as best damaged, and at worst, broken. I would submit as evidence of this fact the number of times in the last couple of decades the government has shut down over lack of agreement over basic spending as well as the number of times we have flirted with defaulting on the national debt because as an arcane procedural vote. We don't even have a consistently functional budget process.
All of this to say that I don't have exactly high expectations for a given president, especially in terms of significant policy outcomes.
This brings us to Joe Biden. Is Biden my ideal president? All I can say for certain is that Biden is better at a couple of key parameters than his predecessor. These include not constantly lying about the outcomes of the 2020 elections, not being an obvious narcissist, taking public health seriously, and having some operative understanding of the world beyond simply what he sees on the shows. My bar is not all that high, I will confess. At a minimum, I am not a Biden fanboy nor a sycophant and my expectations are not especially lofty.
Having said all of that, I found David Ignatius's WaPo column, Biden is failing politically, and not just because of Republican obstruction, to be more than a bit silly. It is of the genre of Very Serious DC Observer who wants to show how Very Serious they are by showing that they can criticize Democratic presidents, too.
Side note: I have no problem with criticism of Biden, he deserves plenty, as does any president. But this column is a weird combo of simplistic thinking about bipartisanship (to include taking Mitch McConnell more seriously than he deserves) and an utterly unrealistic view of how much unity a US president can generate in twelve months under current conditions. (And the conflation of the two topics is poorly done, as the unity piece feels shoehorned into a column that only has one truly substantive point–the failure of a bill about computer chips to pass the House as yet).
The piece starts as follows:
President Biden hit a political wall this week in his push for voting rights legislation, just as he did last year in trying to pass his Build Back Better spending package. It's time for Biden to ask himself why he's in this morass.

It sticks in my craw to quote Senate Minority Leader Mitch McConnell (R-Ky.), who has often been a wrecker in our national politics. But he had it right when he said Wednesday that Biden was elected with a mandate to "bridge a divided country, lower the temperature, dial down the perpetual air of crisis in our politics."

Biden is failing in that mission. Republican obstructionism is a big reason, but it's not the only explanation. Biden has been losing his way politically. As he chases support from progressives in his own party, he has failed to craft versions of his social spending package and voting rights legislation that he could pass with fragile majorities. He's been spinning his wheels.
Recognizing that, in the abstract, a better job could be done (after all, better is always better!) there are several items above that I find problematic.
First, passing Build Back Better and "lower[ing] the temperature" are two different (and possibly contradictory) goals, so the whole thesis of the column is muddled.
Second, given that McConnell is dedicated to the proposition of not allowing Biden to be successful, why quote him in the first place? Why validate one of the key sources of political polarization in the country at the moment, especially in the context of criticizing Biden for not being sufficiently unifying?
Third, the notion that Biden is going to will unity into existence in our polarized political environment is folly. Note: he is still 5 days shy of even being in office a full year.
Fourth, presidents don't vote on legislation, and while it is possible he could have done, well, something (exactly what, Ignatius does not say) to pass BBB, the lack of votes of it (and on voting rights) is pretty obvious.
Fifth, have we already forgotten the American Rescue Plan and the Infrastructure Investment and Jobs Act of 2021 that were passed? I am not saying that Biden is the Tom Brady of getting bills passed, but the narrative of Biden as a failure seems to constantly forget the substantial bills that have been passed during his administration.
I will come back to those bills in a minute, as they speak to Ignatius' magical thinking on bipartisanship.
But, set my list aside, because Ignatius has a column to write:
A prime (but rarely discussed) example of Biden's loss of momentum is the failure to enact legislation to improve American competitiveness in chipmaking and other technologies. This bill, known as the U.S. Innovation and Competition Act (or USICA), passed the Senate back in June with a big majority, 68 to 32. Passage illustrated the strong bipartisan consensus that America must respond to China's technology challenge.

But USICA stalled in the House. Democrats there were miffed at what they saw as Senate attempts to dictate science policy. Some progressives didn't want chipmaking to get in the way of battles for child-care credits and other Build Back Better programs. And House Republicans wanted to sabotage any potential success for Biden.
I will admit, this bill has not received much attention (I don't think I was even aware of it), and perhaps it should. But I will note that if the bill is stalled in the House, that is because Pelosi either doesn't want to take it to the floor, or the votes aren't there. (But, of course, let's blame on the dreaded progressives, well "some" of them, anyway–which Ignatius does twice in his first four paragraphs). Whatever one might think about Pelosi, she is savvy about when to bring legislation forward and when to wait. If the bill has not come forward yet, it is reasonable to assume a strategic reason for doing so, not to assume that it is the White House's fault.
While it is certainly true Biden could try and persuade the Speaker to bring the bill up for a vote, the notion that it is the executive's failure that the legislature, an independent branch, is not behaving assumes more power than the president has.
Pelosi's aides say she wants to get a House version of the bill moving again soon. And one Senate staffer hoped a House bill could pass in a few weeks — clearing the way for a real conference to resolve differences. "We are working hard on trying to get USICA done in the House," a White House official told me Thursday. But the official said it's not clear if House Republicans will help. "To be blunt, it takes two to tango."
May I note that a bill that might have the effect, at some point down the road, improve computer chip production, is rather unlikely to have any effect on national politics? There is not going to be a massive surge of national unity over this piece of legislation.
But, bipartisan agreement is quite easy to forge in the land of columnists–all you have to do is try!
The larger question for Biden is whether there's any space left for bipartisanship and conciliation. Political divisions have worsened over the past year, and Republicans, led by McConnell, have rebuffed nearly all of his overtures. He had bigger ambitions, on social and political revitalization. But with such fragile Democratic majorities in the House and Senate, Biden will struggle now to pass meaningful legislation. USICA would be a good test. So would a scaled-back version of Build Back Better that could win support from Sen. Joe Manchin III (D-W.Va.).

Sen. Christopher A. Coons (D-Del.) thinks there's more room left for bipartisanship than many observers believe. His staff gave me a list of bills that Coons and other Democrats have co-sponsored with Republicans to, among other things, provide better background checks for gun purchasers, expand civics education, spend more on conservation and expand criminal justice reform. These are small items, compared with the larger impasse. But they're a start.
Ok, so we have here a statement that "divisions have worsened" and that the GOP has "rebuffed nearly all…overtures" but since a single Democrat Senator thinks "there's more room left for bipartisanship" so….what, then? Nothing is stopping Coons from working to pursue bipartisan legislative outcomes, I would note. Could Biden try harder? Sure. Just like better is always better one could always try a little harder. But of this wishful thinking on bipartisanship seems to assume that if Democrats just really, really, really want to pass legislation, they can will it so. A nice sentiment, but how in the world can an analyst who has written about US politics for decades (he is an associate editor at WaPo and has been reporting on American politics at the elite level since I was in elementary school) be this facile? (Is it any wonder we, as a country, don't understand our own politics?).
Note: the Republicans see no advantage in working with Democrats, after all the mid-terms are coming and legislative success redounds to the party in power, not the minority (assuming anyone actually pays attention to legislative outcomes). Moreover, the Republicans are currently engaged in a rhetorical war to undercut the 2020 election (and to more broadly attack confidence in voting in the United States). Let's not forget, the Republicans don't even want to cooperate about investigating the attack on the US Capitol.
This isn't fertile ground for bipartisan legislative projects.
Beyond even that, we are in a multi-decade polarization of the party system that has made legislating more and more difficult (especially given the growth of procedural filibusters in the Senate, among other issues).
Let's return to the two major pieces of legislation passed in the first year of the Biden administration and start with the American Rescue Plan Act of 2021 that was passed in March. This was early in the administration and was as far away from the mid-terms as you could reasonably be. It was a bill aimed at helping Americans with the pandemic. Surely, the stuff of bipartisan bonhomie, yes?
Well, the bill passed the House 219-212 with zero Republican votes in favor. It passed the Senate 50-49, with zero Republican votes.
If that bill was not going to get any bipartisan support, why in the ever-loving Hell does Ignatius think that the ground is fertile for bipartisan cooperation in a mid-term year? And why in the world is he quoting McConnell about bridging divides?
The infrastructure bill was the closest to a triumph of bipartisanship that we have seen on Biden's agenda. It passed the Senate 69-30 and the House 228-206. A grand total of 19 Republican Senators and 13 House Republicans voted for the bill, which was basically money to be spent on infrastructures in the states (for which some of the no votes then took credit for the spending in their districts!).
But, sure, if Biden would just want to be bipartisan a bit harder, the dam would break in Congress.
The Ignatius column also made me think of this tweet from a few weeks ago:
This is utter Green Lanterism of the type that really frustrates me, but that is pervasive in discussions of American politics. It assumes someone will more willpower would be more successful. I would love to know how President Warren would somehow be able to force Manchin and Sinema to behave differently. Not only is this an assumption that makes no empirical sense, but it is also an example of the tendency, which is inherent to presidentialism, to personalize politics. If only we had Person X, it would all be different! Such thinking ignores the roles played by institutions as well as by parties.
Back to the column:
The Biden administration has been a good steward. As White House officials argue, they have lowered unemployment, vaccinated 200 million people and cut child poverty. Biden hasn't delivered on uniting the country, but he has succeeded on many other things.

But successful presidencies carry a sense of political momentum, going from success to success. Sadly, President Biden has lost much of that forward drive. It's time for a restart, with less shouting and more of Biden's trademark common sense.
It is stuff like the bold above (emphasis mine) that just makes me crazy in the sense that does Ignatius think that there is some magic that Biden (or any president) could deploy to bring unity in a year after the four years prior (and in the middle of an ongoing pandemic that itself is part of the divide). I mean, yes, Ignatius is correct, Biden has failed to unify us, but did anyone with two neurons to rub together think that he would be able to do so?
The last time the country was unified was in the days after 9/11 and that was because of the biggest terrorist attack in our history, not because George W. Bush was a uniter, not a divider. I would note that he used that unity to get us involved in two massive wars of choice that did not pan out well (but that is a different conversation).
We need analysts who look beyond wishful thinking if the broader public is to truly understand our constitutional system. We also need analysts whose criticism and solutions aren't based on magic. More than anything we, as a country, need to stop looking at presidents like they are all there is to understand about our government–because that is at least partly how we keep getting into these messes.
Perhaps most importantly, we have to stop chasing the rainbow of bipartisanship as if at its end there is a pot of gold with all the legislative outcomes we need. It is okay if parties govern and pursue their agendas and then have the voters decide if they like those outcomes or not. Of course, for that really to work we need to get rid of the filibuster, so that parties can govern when they have the seats (and it would help if we didn't have elections every two years, but that isn't going to change, nor are a lot of other problems with our system). But the notion that if we just wished hard enough and magicked it up somehow that we would all just find the happy place of unity and happy bipartisanship is a fantasy that needs to be shelved with e fairy tales, not with the serious political science texts.