Unity My Ass
Are you going to believe this index or your own lyin' eyes?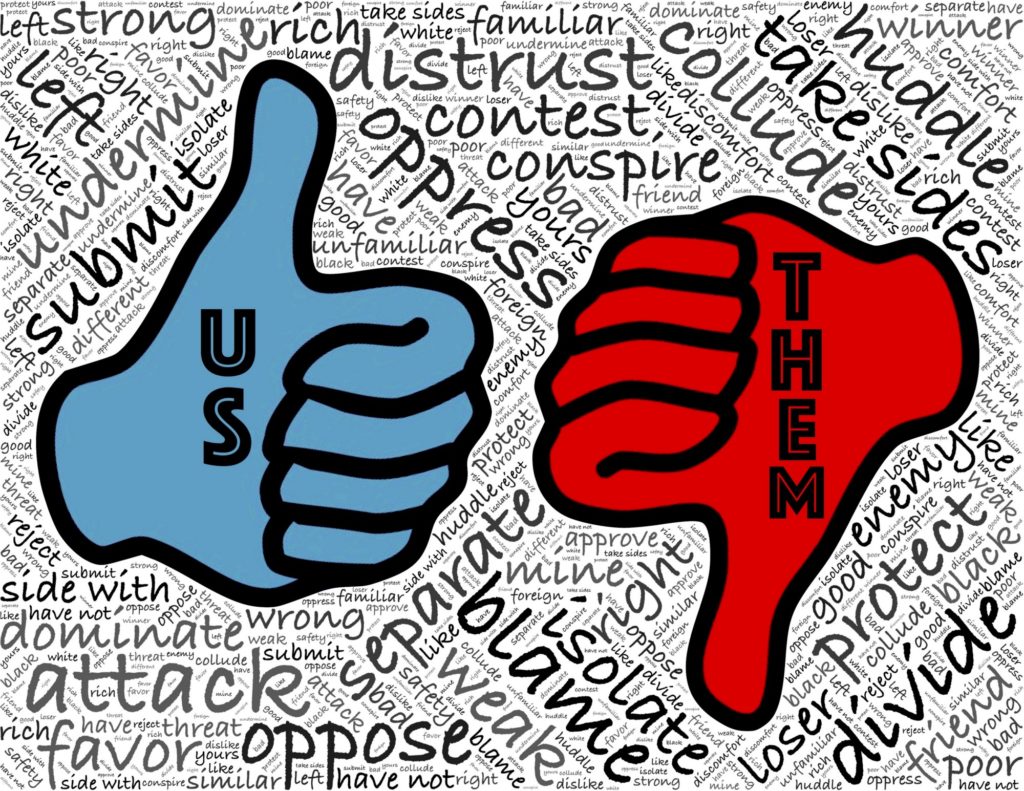 Vanderbilt political scientists John Geer and Mary Catherine Sullivan take to the Washington Post to explain "How politically divided is the U.S.? It's complicated but quantifiable."
According to the prevailing national narrative, American unity is at or near an all-time low.

There is certainly reason to believe so. You can see anecdotal evidence of extreme, possibly growing polarization every day, simply by opening your Twitter feed. Even so, we do not have good, systematic evidence about national unity — or, more important, about how it may have changed over time. Relying on social media to form an opinion is ill-advised, given its algorithmic tendency to mislead; social media feeds on itself and often makes users feel angrier and more disenchanted.

To overcome this, we sought to develop something more objective. The Vanderbilt Project on Unity and American Democracy has launched the Vanderbilt Unity Index (VUI) to estimate the state of U.S. unity. The goal is to measure unity in a systematic, replicable and reliable way. We find that while some political disunity is endemic to the contemporary United States, the country may not be as fragmented and polarized as the prevailing narrative suggests.
How so?
The VUI tracks quarterly shifts in national unity since 1981 by aggregating publicly available data across five categories: presidential disapproval, ideological extremism, social trust, congressional polarization and civil unrest.

Our work aims to capture the extremes. For instance, we record the percentage of Americans who strongly disapprove of the president, as collected by the Gallup Poll, rather than overall disapproval of the president. We also incorporate the share of Americans who identify as strong liberals or conservatives, from various pollsters, as well as those who report to NORC's General Social Survey that they do not trust most people. The VUI takes account of the ideological distance between congressional parties as calculated by political scientists at VoteView. Finally, we capture the extent of notable political unrest by recording the number of questions asked regarding political protest or unrest by several major pollsters, including Gallup, Pew and NBC. This composite thus allows us to assess U.S. unity by looking for patterns and trends over the past 40 years, without relying on pundits' hyperbole and hand-wringing.
Seems reasonable.
During the period we studied, we found the highest level of unity — 71.3 — was during the second quarter of 1991, as Americans were rallying behind George H.W. Bush in the wake of the Persian Gulf War. We also discovered that the modern United States has had only rare moments of politically unity. Since 1981, the index surpassed 70 only 12 times, or just 7 percent of the quarters we measured. Similarly, our most divided moments have not been as bleak as conventional political wisdom might suggest: Of the 165 quarters we tracked, only in three did the unity score fall below 50.
Here's how they graph it: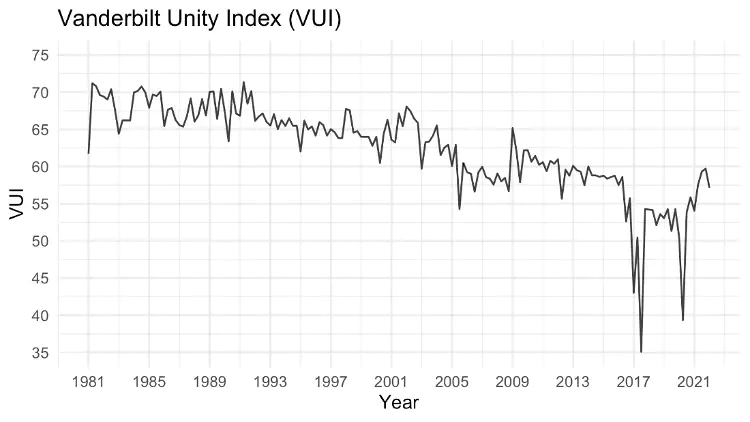 I must admit to some skepticism here. Through 2005–well into the Iraq War—the baseline was 60. And, until Trump's election, we didn't get below 50 in any single quarter. Given my lived experience, which certainly seemed to feature extreme political tension in the Clinton, Bush 43, and Obama years, this just doesn't seem right. But, really, that's just a matter of the scale.
However, the VUI does clearly find that unity has been declining over the past three decades. As you can see in the figure above, the VUI began moving downward in 1995; from 1995 to 2022, the index has averaged around 59, less than the average VUI of 68 from 1981 to 1994.
I remember the first two years of Clinton (1993-95) being pretty contentious. Granted, I was in grad school and hyper-focused on these things. But, for example, the United States military leadership was in open revolt over Clinton's attempt to allow gays to serve openly and to expand the number of career fields open to women. And there was a cottage industry of absolutely horrendous charges—up to and including murder–surrounding the Clintons.
The shift squares with conventional wisdom. Newt Gingrich's Contract with America, launched during the campaign before the 1994 midterm elections, ushered in an era in which the parties "nationalized" congressional races, a term political scientists use to indicate the centrality of national and presidential politics in shaping congressional election outcomes. Meanwhile, the culture wars were heating up, fanned by the 1996 launch of partisan news outlets Fox News and MSNBC. A decade later came the vice-presidential candidacy of Sarah Palin, the presidential election of Barack Obama and the rise of the tea party.

Finally, we see populist figures like Bernie Sanders on the left and Donald Trump on the right — and, with Trump's presidency, nine of the 10 lowest VUI scores that we measured over this period, setting a record low of 35 in 2017. The 10th came in the quarter before Trump was elected in 2016. From this, we conclude that efforts to undermine democratic institutions through oft-repeated false and misleading rhetoric endanger the idea of "e pluribus unum" — out of many, one.

The VUI's most recent quarterly snapshots suggest that some of the country's disharmony may be dissipating. The first five quarters of the Biden administration show an average of 58, a notable increase from the average VUI of 51 during the Trump era.
So, first off, while I'm far from a Bernie Sanders fan, he and Donald Trump are not similar figures with different ideologies. They're both polarizing figures, to be sure, but one is trying to help make the country better in ways I disagree with and the other is willing to burn the whole place down to further his private interests.
Regardless, I'm skeptical that our national unity has rebounded all that much over the last eighteen months. But, finally, we see that the Index is measuring something different than what I think of as "unity."
Overall, the VUI measure confirms the thesis of biographer, historian and Project on Unity and American Democracy co-chair Jon Meacham in his 2019 book "The Soul of America": "Disagreement and debate — including ferocious disagreement and exhausting debate — are hallmarks of American politics. …. The art of politics lies in the manufacturing of a workable consensus for a given time — not unanimity."

U.S. democracy, in other words, is about managing disagreement. Americans have never been fully unified. The Founders crafted the Constitution knowing that citizens naturally disagree.

By subjecting our recent past to statistical analysis, the VUI demonstrates that the country has rarely been as unified as citizens like to imagine. It also offers a basis for comparison going forward. The VUI confirms that Americans are less unified today than 40 years ago, a worrisome pattern. Since 1981, the VUI has averaged about 62. As of March 31, 2022, the index stands at a little over 57 — and has been rising. Perhaps the path to a more unified country is not out of reach.
I just don't buy it. Even by the broad Meachamite definition of "manufacturing a workable consensus for a given time," it just makes no sense to consider our current state of affairs even remotely "unified." Take, for example, a Reuters/Ipsos poll released just yesterday.
More than half of U.S. Republicans believe the false claim that left-wing protesters led the Jan. 6, 2021, U.S. Capitol riot to try to make then-President Donald Trump look bad, according to a new Reuters/Ipsos opinion poll.

[…]

Although 55% of the Republicans polled said they believed the riot was led by violent left-wing protesters, nearly all of the 840 people arrested following the attack have been Trump supporters, according to U.S. prosecutors, and FBI Director Christopher Wray has said there was no evidence leftist extremists disguised themselves as Trump supporters during the attack.

The poll found 58% of Republicans said they believed most of the protesters were peaceful and law-abiding, even though four people died on the day of the attack, at least 140 police were assaulted, and one Capitol Police officer who fought against the rioters died the next day.

About two-thirds of Republicans believe the 2020 presidential election was stolen from Trump, a persistent view even though state and federal judges dismissed more than 50 lawsuits brought by Trump and his allies challenging the election while reviews and audits found no evidence of widespread fraud.
One simply cannot "manufactur[e] a workable consensus" when more than half of those who identify with one of the two major parties is not living in reality.
Kevin Drum, meanwhile, annotates a plotline version of the data from the VUP website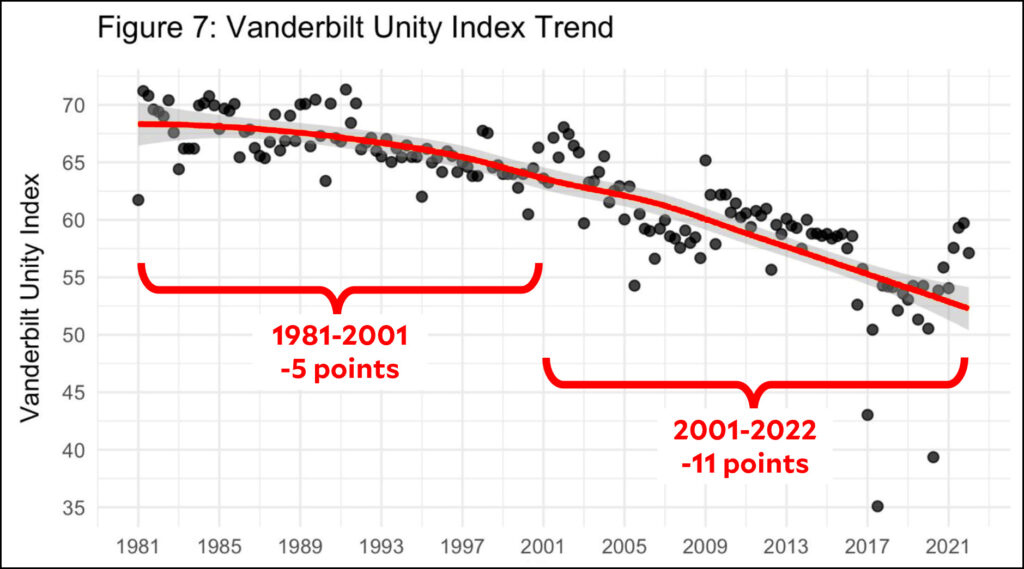 and makes this observation:
I have no idea whether this index is a good measure of what it claims to measure. However, a point in its favor is that it confirms a mountain of other evidence telling us that the long-term decline in America's political psyche got its first push in the Gingrich era but didn't really take off until the Fox News era.

By now, it might be too late to undo the damage Rupert Murdoch has done. I hope not.
Presented in this way, though, the decline looks rather steady. There's simply no question that Gingrich mastered the use of focus-group-tested buzzwords to demonize the opposition party and their programs. Or that Fox News slowly but continuously ratcheted that up. (That said, I view "the Gingrich era" and "the Fox News era" as one and the same, with the former starting in 1994 and the latter in 1996.)
Still, if the drop in whatever this instrument measures was only 5 points from 1981-2001 and 11 points between 2001-2022, surely Gingrich, who was forced out as Speaker in 1999, isn't the key variable. Rather, I'd suggest some combination of the enduring enmity over the 2000 Presidential election, the fight over the Iraq War, and the never-ending cacophony of the social media era.
Fox and MSNBC both launched in 1996 but not in anything like the form they would morph into. As I've noted since pretty much the outset of this site in 2003, all of the incentives in a world of increasing competition for eyeballs are toward ever-louder, meaner, and starker presentation. Nuance doesn't sell.
Regardless, any index of "unity" that puts our current society at "a little over 57" on a 100-point scale is measuring something other than unity.