Why Weiner?
Good riddance to Anthony Weiner. But what makes him so special?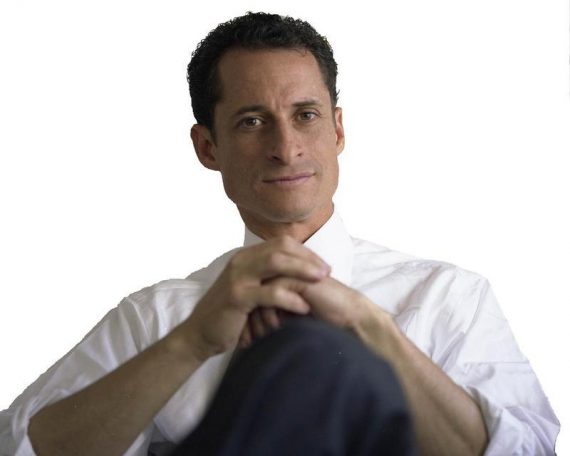 Anthony Weiner has been forced to resign by the leadership of his own party, which had long since grown tired of his weird sex scandal dominating the news cycle. And good riddance. But it's not clear why Weiner's relative minor, if hugely embarrassing, transgressions merit his ouster while so many more serious  scumbags have been allowed to stay in office.
Most notably, of course, is President Bill Clinton. While the likes of Sam Donaldson were sure he'd be forced to resign in a matter of days, he survived months and months of increasingly salacious and tawdry revelations far worse than Weiner's and emerged with increased popularity. He did far more than show pictures of his private parts to a woman not his wife; he committed adultery. And the woman was a junior staffer to boot, which is surely sexual harassment. Beyond the sex scandal, he perjured himself in front of a federal grand jury. Yes, he was impeached by the Republican dominated House on a party line vote. But the Senate spared him conviction. Yes, he was later disbarred. But it's not as if he was going to practice law, anyway.
Senator David Vitter was a regular client of a prostitution service. He was roundly condemned by his colleagues but not pressured to resign, at least partly because Louisiana's Democratic governor would have appointed his replacement. He went on to survive a primary challenge and get re-elected.
Representative Charlie Rangel failed to report $75,000 in income to the IRS. He was given a slap on the wrist by his House colleagues and survived.
Representative William Jefferson was allowed to stay on despite an FBI sting that found $90,000 in bribe money in his freezer. Rather than rebuking him, his party leadership came to his defense, pleading that the executive branch had no right to investigate a Congressman in this way. He went on to win re-election but was ousted after his conviction on 11 counts.
Then again, Weiner isn't the only one forced out. Senator John Ensign was forced out in the aftermath of revelations that he had an extramarital affair.  Representative Mark Foley was forced out after a series of embarrassing revelations about sexually suggestive emails to male pages.  And dozens have been forced out over outright criminal conduct, mostly bribery and other financial corruption or, in the case of Representative Bill Janklow, vehicular manslaughter.
Is Weiner's scandal really worse than that of those who survived? How much of his Democratic colleagues' reaction against him is personal? And how much of it is sheer electoral politics, given that he's in a safe Democratic territory and New York will be losing seats in the next Congress, anyway?