Will The Negative Press From Romney's Foreign Tour Matter In November?
Romney's foreign tour didn't go quite as well as planned, but it's unclear how much the minor gaffes will actually matter.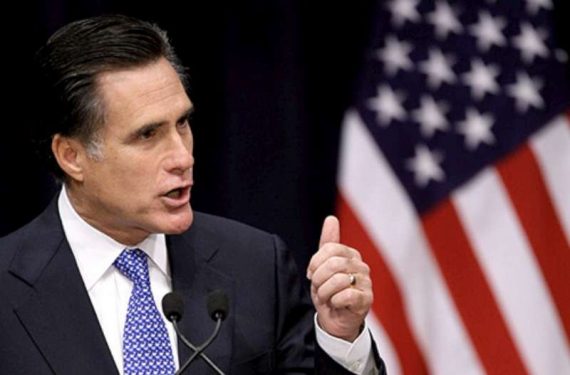 Mitt Romney's world tour hasn't gone exactly the way his campaign likely hoped it would. First, we had the candidate's comments about London's preparations for the Olympics which aired on American television the night before he was to meet with the British Prime Minister and other government officials. Justifiably or not, that became the subject of a Fleet Street feeding frenzy the day that the Olympics themselves were set to open. From Britain, Romney went to Israel where he had a largely successful trip although he did cause Palestinian leaders to express public anger over comments he made about the differences between Israel and the West Bank/Gaza andhow that has impacted their respective economies. Quite honestly, though I don't know if getting the Palestinians angry really constitutes a "gaffe" in an American Presidential election. Finally, there was the incident involving Press Aide Rick Gurka before Romney's speech in Warsaw today.
Whether it's true or not, or fair or not, the consensus in the media at this point seems to be that Romney and his campaign flubbed what was supposed to be a pleasant trip for the campaign:
So what's the best way to view Romney's overseas trip, which just concluded today in Poland? Since we're in Olympics season, think of it as a floor exercise in gymnastics. Romney picked a routine with a low degree of difficulty — a cartwheel here (visiting Great Britain), one somersault there (the stop in Israel), and a grand finale featuring a simple back flip (the last leg in Poland). There were some upsides for him: Americans saw him on their TV sets during the opening ceremony at the Olympics; he bonded with Israeli PM Netanyahu; he gave a solid speech in Israel; and got his photo-op with Lech Walesa in Poland. But because the routine was so simple, the mistakes stuck out even more. So as Romney performed his cartwheel in England, he stepped out of bounds when he questioned London's readiness for the Olympics. He lost additional points for flubbing the end of the somersault in Israel when he tried to explain the economic differences between Israel and the Palestinian Authority through a cultural prism (that may end up offending Mexican Americans as much as he appeared to offend Palestinians). And after sticking his landing in Poland, his campaign got into a spat with the judges — that is, the reporters following him.
That comes from NBC's First Read so I suppose we can forgive them the generous use of Olympic metaphors there, but it is a fairly accurate summary of how most of the press is viewing the trip, egged on in no small part by the Obama campaign and Democrats such as DNC Chairwoman Debbie Wasserman-Schultz. To be completely honest, the campaign really shouldn't be surprised about this. In the era of "gotcha" television and the 24 hour gaffe cycle masquerading as news, it was inevitable that any small misstep from the expected was going to be covered as if it were the most important thing ever. Additionally, there's not much else going on in the campaign right now, so that's giving them more opportunity to focus on things that, from a distance at least, seem petty and small. Yes, Romney's Olympic remarks were impolitic, however they were hardly inaccurate, and perhaps his comments about the Palestinians offended them somehow, but to be honest the Palestinians have made an industry out of being offended the past several decades. As for the incident with Gurka this morning, I can't see how you can hold Romney responsible for that.
The media will continue to talk about these events for a few days, no doubt, but the question is whether any of this will matter in a couple weeks, never mind on Election Day. The Fix notes that there is some potential importance for Romney in the events of the past few days, but that the course this campaign has taken so far suggests that Romney may not have much to worry about:
Call it the commander-in-chief test, which, according to the latest NBC-Wall Street Journal poll, Romney had yet to pass; in that survey 45 percent of respondents said Obama would make the better commander in chief, while just 35 percent said Romney would be superior on that front.

It's hard to imagine that Romney did himself any favors in answering lingering questions about his foreign policy acumen during this trip.

On the other hand, there is an argument to be made that nothing — literally, nothing — other than than the economy at home matters to undecided voters. And that goes double for foreign policy, which is a bottom-of-mind issue (is that a thing?) for most voters.

In a late May Washington Post-ABC News poll, 1 — yes, one — percent of people said that foreign policy was the most important issue of the 2012 campaign. One!

The problem for Romney coming off of this trip is even many of his staunchest defenders within the party seem to have fallen back on a "he's not great but he doesn't need to be great" argument.

While that argument may wind up working — no president since World War II has been reelected with anything close to the 8+ percent unemployment rate Obama is likely to face — it's not one that will inspire huge amounts of confidence in the GOP as summer turns to fall.
That last part is likely true, but the point remains that the economy is and will remain the top issue in this election. On Friday, we'll get the July jobs report and, if indications to date are any guide, it seems fairly clear that we will see a continuation of the same trend we have seen since March. Sometime next week, Romney is likely to name is Vice-Presidential running mate. After Friday, there will be three more jobs reports to come out before Election Day, the last one on the Friday before people head to the polls to vote. Does anyone really think that, at that point, people are going to be thinking about the fact that got the British tabloids or the Palestinians angry, or that his press aide cursed out the media one day in late July? That seems unlikely. There are plenty of hurdles that Romney would have to overcome to become President, I discussed some of them yesterday, but minor gaffes in the late summer aren't likely to be one of them.