Will Tonight's Vice-Presidential Debate Matter?
Sizing up the stakes for tonight's one and only meeting between the two Vice-Presidential candidates.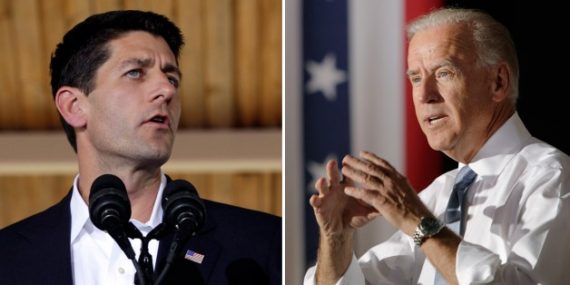 Later today, Vice-President Joe Biden and Congressman Paul Ryan will take the stage at Centre College in Danville, Kentucky the home of two Vice-Presidents itself1, for the one and only Vice-Presidential debate of the election cycle. Ever since the debate schedule was announced, the most common talking point has been that this encounter between the old hand Democrat and young Republican wouldn't garner nearly as much attention as 2008's match-up between Biden and then Governor Sarah Palin. Indeed, that Vice-Presidential debate ended up drawing more viewers than any of the three encounters between the two men at the top of  the ticket, and it seems unlikely that we'll see those kind of numbers this time around. Nonetheless, many pundits are saying that, because of the President's bad performance at the first debate last week, this debate could be crucial for the future direction of the race: 
It's widely agreed that Joe Biden has a big job ahead of him tonight. Barack Obama's disastrous performance last week gave Mitt Romney an opening to turn the race into something of a toss-up: he's moved to a 1.1 point lead in the Real Clear Politics average, and has closed the gap to less than a point in the Pollster average. At FiveThirtyEight, Nate Silver says he has nearly than doubled his chance of becoming president — to just under 33 percent — and the most recent national polls show real movement for the Republican nominee.

Biden's job, in essence, is to stem the bleeding. He may not convince undecideds to return to Obama — that's a task for the next presidential debate — but a strong performance might energize despondent Democratic voters. Given the degree to which Romney's gains have a lot to do with the post-debate wave of Republican enthusiasm, renewed Democratic excitement could go a long way towards closing the gap and stabilizing the race in Obama's favor.
John Cassidy agrees:
A strong performance by the Vice-President won't repair all of the damage that Obama did last week—only Obama himself can do that. But it would help to stabilize things for the Democrats, and to quell the near panic that has broken out in some quarters. Conversely, if Paul Ryan gets the better of Biden, and particularly if Biden provides the media with some sort of gaffe to feed upon, the Democrats will have to endure another week of negative headlines and self-flagellation. By the time Obama gets onstage in Hempstead next Thursday, his campaign could be in serious trouble.

The reason isn't just that Americans like to back winners, although there is an element of that. It is the manner in which the debates are won and lost. The most damaging thing about Obama's performance last week was that it played into Romney's narrative that he is out of his depth. In repeatedly correcting the President and enumerating his own (often bogus) policy prescriptions in neat bullet points, the Mittster gave the impression that he has a better command of the issues, and a much clearer view of what needs to be done. Ryan, another PowerPoint type, will be trying to repeat this trick tomorrow night. If Biden allows him to dominate the debate and come across as better informed, it will strengthen the impression that the G.O.P. has been trying to create all year: America needs new leadership.
Cassidy also notes something that I've pointed out before, that Vice-Presidential debates typically don't have that big of an impact on the Presidential race. Bob Dole's universally panned performance in the very first Vice-Presidential debate in 1976 didn't prevent the Ford campaign from remaining competitive right until Election Day, and indeed almost winning the election. George H.W. Bush's perceived, although the perceptions were exaggerated I would submit, bullying of Geraldine Ferraro in 1984 did nothing to slow down the Reagan-Bush juggernaut. And, of course, the most famous take down in the history of all political debates in 1988 did absolutely nothing to help the Dukakis/Bentsen ticket from going own to a landslide-sized defeat in November. Since then, it's hard to say that any of the Vice-Presidential debates have even been very memorable and, of course, none of them have really had an impact on the race.  That's why Ed Morrissey and Marc Ambinder are both on solid ground in taking the position that tonight's debate isn't likely to have a significant influence on the race.
Could things be different this year, though?
I think both authors quoted above have a good point about the role Biden needs to play tonight and what he needs to accomplish. In the immediate aftermath of the first debate last week, there were many Obama supporters who were visibly disturbed by what had happened out in Denver. After two solid weeks where the Romney campaign seemed to be floundering as the polls turned more and more negative, they saw everything fall apart in the space of ninety minutes, or at least that's how it seemed. When the polls started coming out showing Romney taking the lead nationally, even if only marginally, the worries likely became more pronounced. It's true that the Vice-President is unlikely to turn the race around with a good performance tonight, but he at least has a chance to stop the bleeding. Paul Ryan, on the other hand, has the chance with a good performance of setting up another week of bad press for the Obama campaign leading into the next debate on Long Island. So, if the Vice-Presidential debate "matters," it matters because of what happened last week in Denver and what that has meant so far for both campaigns.
Both candidates come into this debate with some weaknesses that should make tonight interesting. The Vice-President, of course, has a decades-old history of gaffes and mis-statements some of which end up being rather hard to explain. In his public speeches, he tends to wander off script rather quickly and say things that the Obama White House would no doubt wish he didn't at times. At the same time, though, Biden is a skilled and accomplished debater who has been on the national political stage since at least 1988 when he ran for President the first time. He did quite well in his debate with Sarah Palin four years ago, although he wisely chose not to go after her too aggressively and be perceived as the bully on the stage. Paul Ryan, on the other hand, will be in his first national debate and, while conservatives have what I think might be overly optimistic high hopes for him, he risks coming across as inexperienced. This would seem to be especially true if the debate shifts into foreign policy, an area  that he has little experience in. If there is one question that hangs over every Vice-Presidential debate it's "Is this person qualified to take over if something happens to the President?" While Dan Quayle's failure to pass that test didn't harm the Bush campaign in 1988, it's worth remembering that this isn't 1988. The race this year is much closer and if Ryan walks off the stage having left the impression that he isn't ready to sit behind the big desk, that could hurt the Romney/Ryan ticket.
We'll see where the chips fall tonight, but if you do plan to watch you may want to consider Salon's Vice-Presidential Debate Drinking Game.
1 The two Vice-Presidents to claim Centre College as an alma mater were John C. Breckinridge, Vice-President under James Buchanan, and Adalai Stevenson, who was Grover Cleveland's Vice-President during the second of Cleveland's non-consecutive terms.