Will Virginia Republicans Shoot Themselves In The Foot In 2016?
Virginia Republicans are deciding later this week how they will make their choice in the 2016 Presidential Race. And they may end up regretting their decision.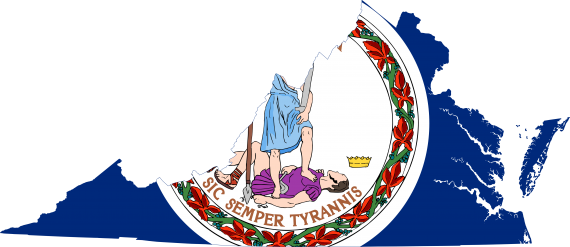 At the end of this week, the Central Committee of the Republican Party of Virginia will meet to put together plans for the party's nominating contests in 2016 and, as Norman Leahy and Paul Goldman explain, they could end up making a decision that will make Virginia rather irrelevant to the nomination process next year and harm the Republican Party in the General Election:
[U]nlike most states, Virginia allows its state parties to choose the method of nomination. Recently, Virginia Republicans have made a mockery of the party's presidential-nomination process. Normally, the state party and its local committees help presidential aspirants get on the ballot. Pro-Clinton Democrats are helping her rival, Sen. Bernie Sanders (I-Vt.), get on the ballot in New Hampshire. A real party wants to maintain the image of encouraging a free and open nomination contest.

Not so in Virginia. In 2012, only two of the many Republican presidential candidates managed to qualify for the primary because of the state's restrictive ballot-access law. The traditional help went only to establishment favorite Mitt Romney. Barely 265,000 Republicans bothered to participate in this farce, a drop of 400,000 from the Bush win in 2000.

The 2012 fiasco made Virginia a cable-news punchline. To prevent a repeat and increase voter interest, one of the authors in 2013 helped convince then-Attorney General Ken Cuccinelli (R) and Democratic legislators to make it easier for every credible candidate to get on the 2016 presidential primary ballot.

But instead of using the new law to increase voter participation, state GOP leaders NOW seem eager to choose an insular convention system for 2016.

This method stages lightly advertised party caucuses on different days and at different hours across the state. Each locality gets a fixed number of delegate slots to fill. This number remains the same regardless of local voter turnout. In many areas, there is little incentive for average Republicans to vote — assuming they even know about the caucus.

Total statewide voter participation isn't likely to exceed 50,000. This is down a whopping 80 percent from the party's 2012 debacle.
This isn't a new territory for the Republican Party of Virginia, of course. In 2013, party activists with ties to the Tea Party and the Gubernatorial campaign of Ken Cuccinelli used their power on the committee to force a convention to pick the party's 2013 statewide candidates rather than a primary. The main motivation behind was the idea that a convention would favor the conservative Cuccinelli over his then-rival for the nomination former Lt. Governor Bill Bolling. As it turned out, the decision to hold a convention rather than a primary ended up causing Bolling to withdraw from the race entirely, and indeed from the entire 2013 political process, and handed the nomination to Cuccinelli by default. It also resulted in the nomination of a candidate for Lt. Governor named E.W. Jackson Jr., a man who had no prior political experience and who was perhaps even further to the right than Cuccinelli himself. When the General Election rolled around in 2013, Republicans lost all three statewide elections for the first time in decades, and while Cuccinelli and Attorney General nominee Mark Herring came closer to winning than expected, Jackson lost the Lt. Governor's race by a huge margin which made clear that even many mainstream Republican voters in the Commonwealth who voted for Cuccinelli could not support him,. Now, virtually the same group of activists who pushed for a convention in 2013 are arguing the party should do the same thing when it picks its Presidential nominee. This would be the first time in decades that Virginia has not held a primary, and the first time that it had not done so since the state started becoming a real player in the Presidential election process in 2008.
Some Republicans are raising concerns about the convention route, such as Brian Schoeneman at Bearing Drift, among the most influential of the Republican blogs in the state:
Under existing RNC rules, the earliest we can hold a convention or primary is March 1.  With at least seven other states (and maybe more) holding caucuses or primaries on that day, we'll be competing with states that have an easy primary process, while ours is not easy.  Even after we cut in half the signature requirements that resulted in only two Republicans getting access to Virginia's ballot in 2012, our process is still not easy to negotiate. But it's far easier than a convention process, because before we hold a statewide process, potential state delegates are going to have to attend a mass meeting or some other local process to certify them as delegates to the statewide convention.  That means we'll be holding local conventions either over the holidays or during the General Assembly session.  

That's right – the same time these campaigns are gearing up for the critical Iowa caucuses and New Hampshire primary, we're going to force campaigns to scour every Congressional District in Virginia for folks to sign up to be delegates to the state convention. 

Who is going to do that?

Signing up delegates to two conventions is much harder than collecting petition signatures or running a GOTV operation. So what's likely going to happen? I'm willing to bet that a number of Republican candidates will ignore Virginia completely. They'll choose not to compete here, focusing their attention on bigger states on the same day (like Texas) or states that are critical for certain campaigns to win (like Florida).

A presidential primary for Virginia does at least two things – it ensures we are relevant to the presidential nomination process and it keeps us from losing any more credibility nationally.
There are other arguments against a convention, many of which you would think would appeal to party leaders who are supposed to have the best interests of their party in mind. For example, since Virginia has open primaries anyone can vote in a Republican primary for whatever candidate they wish. This is potentially valuable to the campaign and local party workers in the fall who will be doing "Get Out The Vote" drives because it gives you a list of people who are potential Republican voters. There isn't a record of which candidate these people may have voted for in the primary, of course, but everything else that someone doing a direct marketing "GOTV" campaign needs is there. Without a primary, campaigns are almost flying blind when it comes to figuring out who to target as their most likely voters, thus potentially creating a big turnout problem. Given that Virginia has had a series of close elections since 2008, one would think this is an important concern for party leaders. Additionally, as with the caucuses we see in states like Iowa, conventions can be expensive and inconvenient, especially for people who have families. This means that fewer people participate in your convention, and thus the nominee you pick is more likely to represent a narrow segment of the party that may not play well with the electorate in the fall. Finally, after having held a primary for the past two decades or so, the idea of Virginia Republicans essentially taking the process of picking a Presidential Nominee behind the closed doors of a convention doesn't strike me as something that's going to do much to repair the image of a party that has already suffered several disasters in recent years.
Obviously, if you aren't a Republican or a resident of Virginia this may not seem like a high priority issue for you, but given the extent to which Virginia is going to play an important role in deciding who the next President will be it is an important issue overall. As I've noted before, in order for Republicans to win the Presidency they would need to win every state Mitt Romney won in 2012 as well as Ohio, Florida, and Virginia along with at least one other state that President Obama won in the last election. This makes Virginia crucial to the outcome of the election, and anything that the state Republican Party does to potentially make the state less competitive in the fall will have a big impact on the race.  If the committee members are smart, they will stick with a primary. Given the rigidity of the activists who seem to be driving the car in the RPV at the moment, though, don't be surprised if they do the incredibly foolish thing of choosing a convention.