Women Are Not a Voting Bloc II
A quick follow-up.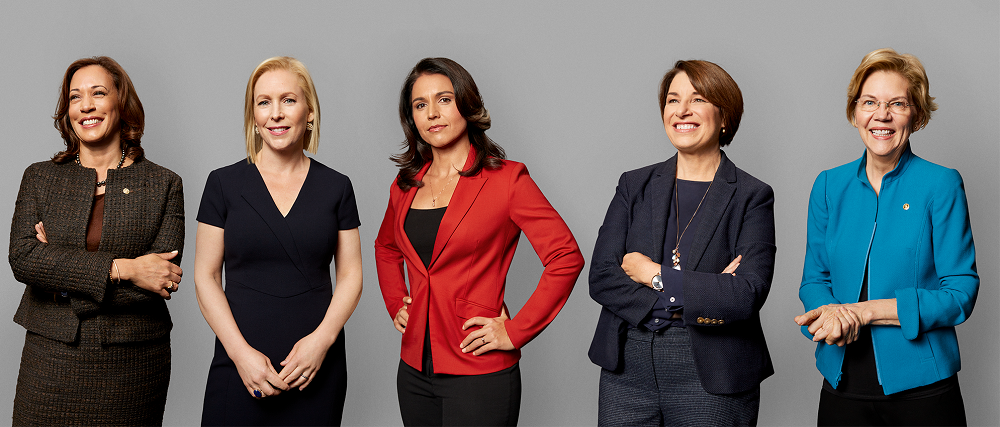 Thinking through this morning's post "Women Are Not a Voting Bloc," it occurred to me that Elizabeth Warren's poor showing on Super Tuesday was a poor test case. After all, I'd already argued that she didn't win because voters understood that she had no chance of winning and therefore didn't want to "waste" their vote.
So, let's look at races this cycle in sequence.
Iowa is a caucus state, so all we have to go on are entrance polls. But here's what they looked like.

Women constituted the lion's share of the voters in this contest, a trend that we'll see throughout. Here, we see a modest gender effect: Elizabeth Warren came in third with women and fourth with men, at 18 percent and 14 percent, respectively. Amy Klobuchar came in last with men and women but did a full five points better with women. But the more interesting thing here is that women seem to be the difference in Pete Buttigieg's "win" of the caucus and Bernie Sanders' "loss."
Let's turn to the New Hampshire exit polls:

Again, women dominated the voting. And Klobuchar got 6 percent higher and Warren 3 percent totals among women than men. But Buttigieg was, again, the winner among women, albeit by a much smaller margin this time. Klobuchar was tied for second and Warren a distant fourth among women.
Nevada was up next and, as with Iowa, we have entrance polls rather than exit polls:

The ratios here are more balanced than in the other contests. Klobuchar does 2 points better and Warren does 5 points better among women. But, oddly, Sanders is the overwhelming favorite of both sexes this time. If only women voted, Warren would have tied for second instead of being a somewhat distant third. Klobuchar was in last place with women and men.
Next, we have South Carolina:

Here, the votes are shockingly similar. Biden dominated among men and women. Sanders comes in a distant second with both men and women. Steyer is a distant third among both. Buttigieg's 8 percent is identical with women and men. Warren does do 3 points higher and Klobuchar 2 points higher with women. But, again, they're the two last-place candidates regardless. (Technically, Warren ties Buttigieg for fourth with women.)
And we've already seen Super Tuesday but let's include it again for completeness: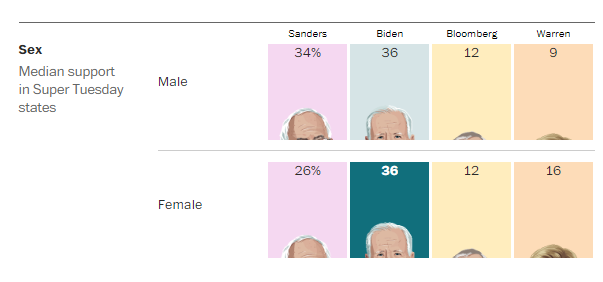 Warren is a distant third among women and a distant fourth among men. But, interestingly, Biden and Bloomberg get exactly the same percentages from both sexes—meaning Warren's increase comes entirely at the expense of Sanders.
Now, obviously, we don't have a control election where men aren't allowed to vote. It's conceivable that, starting as early as Iowa, women are shading their vote based on what they expect men to do. They're consuming much the same media and may well have been reluctant to vote for Klobuchar or Warren because they think men aren't going to do so.
But, much more likely, it's simply the fact that women don't vote solely based on their identity as women. As noted on at least two previous posts today, Warren simply isn't that popular outside affluent, white, college-educated voters. And, for whatever reason, Klobuchar simply wasn't that popular, period.