Women are Not a Voting Bloc
Four highly-qualified (and two less-qualified) women ran and lost in 2020.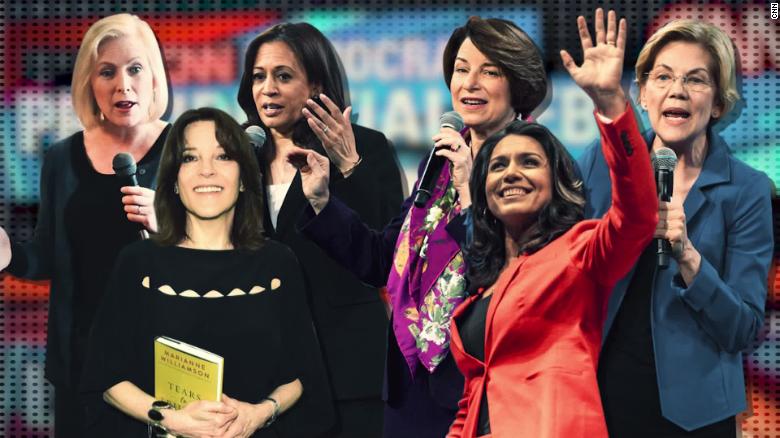 I'm seeing quite a bit of sadness and bitterness on my Twitter feed from women who supported Elizabeth Warren that, once again, a superbly-qualified woman lost out to less-qualified men.
I'm seeing heartfelt stories of how they, personally, lost out on jobs even though they were the best qualified because the men doing the hiring didn't "like" them or think they were a "good fit."
I have no doubt that this has happened and have no desire here to diminish the pain that they suffered. Or, indeed, to question that sexism played a significant role in the failure of Elizabeth Warren, Amy Klobuchar, Kamala Harris, or Kirsten Gillibrand—all superbly qualified women—to catch on.
But the exit polls from the Super Tuesday states do show us something important: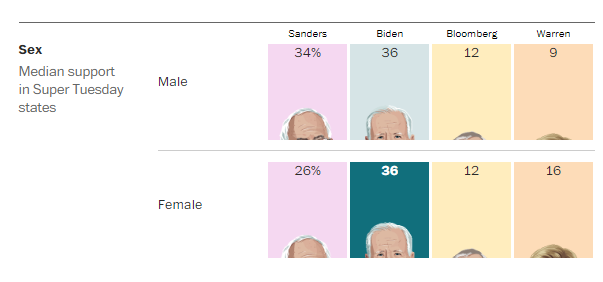 Women absolutely voted for Warren more frequently than did men. Indeed, she finished third among women and fourth among men. But she still got ten points fewer than Sanders and a whopping twenty points fewer than Biden among her fellow women.
I don't have access to the crosstabs so can't fully explain this. But I'm going to go out on a limb and guess that it's pretty much the same reason she did so poorly among men: there was a strong sense that she couldn't win, which drove people who would otherwise have supported her to choose between Sanders and Biden. Beyond that, as Matt Yglesias explained before the voting started, Warren's appeal was concentrated among affluent, white, college-educated voters who are a small chunk of the electorate.
And, lo and behold, the exit polls bear that out:

But, of course, because of strategic voting referenced above, she didn't do all that well even among her key demographic: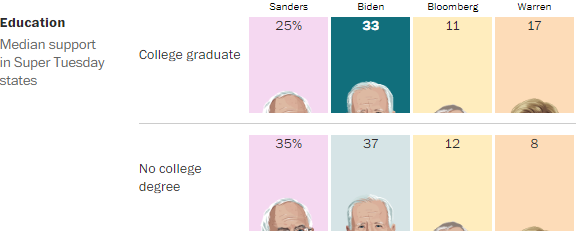 As I argued this morning, while this is obviously disappointing for Warren and her supporters, it's not an embarrassment. She decided, against all odds, to continue to fight in what may well be her last, best shot at the nomination. But, like it or not, the voters knew the odds and picked among the two candidates who could win.
Even women.
Because, as OTB regular Michael Reynolds pointed out the other day,
Women have all the power they need to nominate a Gillibrand, a Harris, a Klobuchar or a Warren. You can blame men for a whole hell of a lot, but not for the outcome of Democratic primaries.

Women are not a voting block. I've been saying this (and bemoaning it) for a long time, now. Black women are a voting block. White women are not. The assumption by many on the Left that women, like African Americans or gays, are an oppressed minority, and that women's rights should follow the Civil Rights model is simply wrong. Women are a majority, a majority which flatly rejects the notion that they are a voting block.

I wish it wasn't so, I'd love to believe this majority will swing Left en masse, but election after election, it does not happen.
Now, I'm happy that women aren't a voting block. It means that, despite a long and undeniable history of sexism in our society, women don't feel like outsiders in our country but rather see themselves as full citizens with myriad, conflicting interests. Sure, there's been a "gender gap" for four decades but it's nothing like the race gap.
African-Americans are a voting block because they were held in bondage for three hundred years, held down by Jim Crow for another hundred, and have seen one political party as organized against their collective self-interest for the last half-century.
In my ideal world, the Republican Party will reinvent itself in such a way that African-Americans who are considering voting for its candidates don't feel like traitors for doing so.